How Lady Gaga Got Her Role On American Horror Story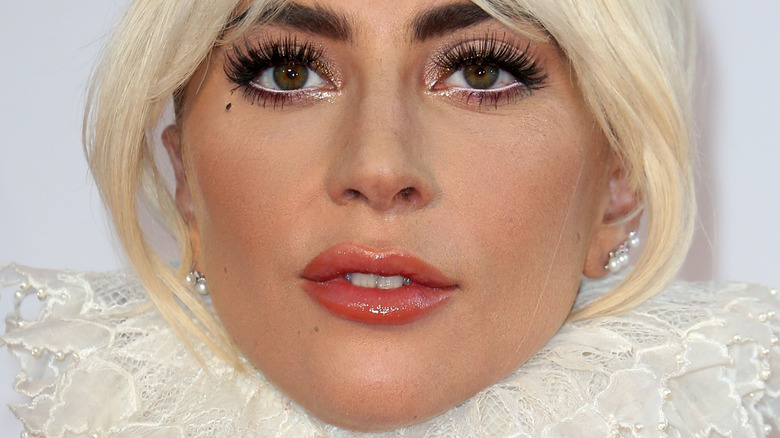 Cubankite/Shutterstock
It feels like Lady Gaga has been in the world of acting for quite some time now, particularly because of her outstanding performance as Patrizia Reggiani in "House of Gucci." However, the multitalented performer has really only been juggling her role as an actor for a handful of years. Between her transformation in "House of Gucci" as well as her co-starring role in "A Star is Born," it's hard to believe that it's only been six years since Gaga made her acting debut.
Unsurprisingly, the pop star known for her elaborate music videos, outlandish costumes, and showstopping moments chose an equally momentous show on which to strut her stuff. In 2015 fans of the superstar were introduced to Gaga as Elizabeth the vampiress hotelier in Season 5 of "American Horror Story." In "AHS Hotel," Elizabeth (or The Countess) owns the central location of the season the Hotel Cortez which becomes the perfect setting for serial killers and bloodthirsty vampires to play. It's clear that Gaga's acting chops were part of the reason the "Hotel" season became the highest-rated "AHS" season of all time, per Billboard, but how did she actually land her role on the show?
Lady Gaga took a risk that paid off
When Lady Gaga calls you, you answer. That's a lesson "American Horror Story" creator Ryan Murphy learned when he received an unprompted call from the pop icon. According to Entertainment Weekly (via USA Today), back in 2015, Gaga called up Murphy (put him on hold) and asked to be on the next season of "AHS." It's as simple as that. Murphy told the outlet that he thought the call was a prank at first but immediately agreed to put Gaga on his show. He also said during a press event at the time, per Billboard, that Gaga is "very collaborative and incredibly fun" and that "when you work with somebody like her, you sign up for something that I think is larger than life."
The whole experience of playing Elizabeth in "AHS Hotel," and working with Murphy too, felt like "destiny" to Gaga, according to Billboard. Gaga is no stranger to being misunderstood as an artist which is precisely why she wanted to work with Murphy in the first place. "Ryan and I have both experienced the same sort of criticism over the intention of our work," she told the mag. "My whole career has been built on this perception that I'm trying to evoke attention because of the things I'm interested in, when it's not that way at all."
Gaga has proved again and again that she takes her acting seriously, even if it's to the point of taking things "too far."
Lady Gaga always goes deep for a role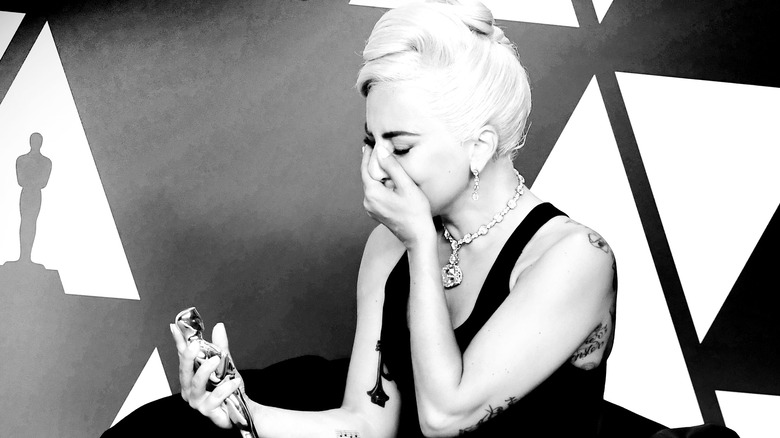 Frazer Harrison/Getty Images
On December 20, IndieWire predicted that Lady Gaga will earn a Best Actress nomination for her role as Patrizia Reggiani in "House of Gucci." They also predicted it won't be her last nomination after the explosive role proved how dedicated she is to her craft. Gaga even told IndieWire that she ad-libbed the now meme-worthy line "Father, Son, and House of Gucci:" She explained, "That was something that I used to say all the time, just in character as [Reggiani] while I was living in Rome, and then when I was doing the scene with Jared [Leto] that day, I did it."
Even so, Gaga knew that she needed to protect her mental health while trying to live as Reggiani for 18 months in preparation for filming. She told Variety, "I don't think that any actor should push themselves to that limit. And I ask myself all the time why I do that. I've done some pretty extreme art pieces throughout my career — the things I've put my body through, my mind." She added, "I think that the best answer I could give you is I have a sort of romantic relationship with suffering for your art that I developed as a young girl, and it just sometimes goes too far."
Of course, if Gaga didn't push herself to the limit — or took wild chances (calling Ryan Murphy out of the blue is one for the books!), then we wouldn't get to enjoy her mesmerizing on-screen moments, which includes her performance in "AHS: Hotel."