The Real Reason Lady Gaga Consulted A Psychiatric Nurse On Set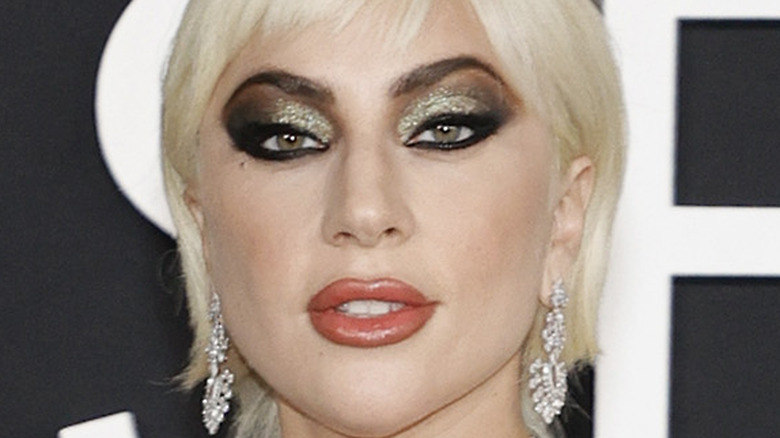 Amy Sussman/Getty Images
Lady Gaga is known for pushing boundaries when it comes to art. She's made headlines for everything from wearing a dress made of raw meat and walking a mile wearing sky-high platforms. Many of her songs and music videos have turned heads and raised eyebrows due to outrageous costumes and explicit scenes. The same goes for her acting, too. In her role as Patrizia Reggiani in "House of Gucci," Gaga has gone to extremes to prepare for the part.
For nine whole months, she tried her best to embody the character. She spoke in an Italian accent even after the cameras stopped rolling. Moreover, the singer came to a point where she had disassociated from reality and experienced "psychological difficulty," she told British Vogue. "I was either in my hotel room, living and speaking as Reggiani, or I was on set, living and speaking as her." The Academy Award winner added, "I remember I went out into Italy one day with a hat on to take a walk. I hadn't taken a walk in about two months and I panicked," Gaga revealed. "I thought I was on a movie set."
Lady Gaga's total immersion in her craft is nothing new, but for "House of Gucci," even she is aware that she took things "too far" — which is why she called in professional help.
Lady Gaga hired a psychiatric nurse for House of Gucci to feel safe
Speaking to Variety, Lady Gaga said she "brought the darkness with me home [from the "House of Gucci" set] because my life was dark." This realization had encouraged her to have a mental health professional on board to help her. "I had a psychiatric nurse with me towards the end of filming. I sort of felt like I had to. I felt that it was safer for me," she explained. "It's okay to ask for help. If you're feeling like that, ask for help. No matter what."
Gaga also noted that she never wants to "glorify" her complete absorption to playing her part. "I don't think that any actor should push themselves to that limit. And I ask myself all the time why I do that," she questioned, recalling her past work as well. "I don't know why I'm like that. I think that the best answer I could give you is I have a sort of romantic relationship with suffering for your art... and it just sometimes goes too far. And when it does go too far, it can be hard to reel it in on your own."
In an interview with The Hollywood Reporter, the singer said that her routine on the set of "House of Gucci" involved waking up at 3 a.m. to begin her physical transformation into Patrizia Reggiani. She would also often experience nausea from "some mixture of anxiety, fatigue, trauma, exhaustion, commitment, and love." But fortunately, Gaga realized that none of what she was doing is healthy — and that's why she's speaking up about it now.
If you or anyone you know is struggling with addiction issues, help is available. Visit the Substance Abuse and Mental Health Services Administration website or contact SAMHSA's National Helpline at 1-800-662-HELP (4357).