Messy Details About 90 Day Fiance's Chantel Everett And Pedro Jimeno's Divorce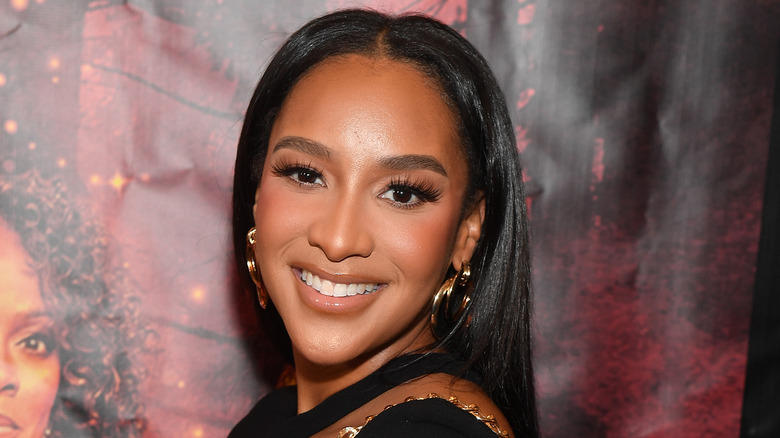 Paras Griffin/Getty Images
After years of tense family dynamics and a rough patch documented for all the world to see, "90 Day Fiancé" alums Chantel Everett and Pedro Jimeno split in 2022. However, if their marriage was fraught with friction, their divorce proved to be much the same. 
News that Everett and Jimeno were divorcing first broke in July 2022 — the month after the fourth and final season of "The Family Chantel" hit screens. Sure enough, much of the show's final season centered on the challenges Jimeno and Everett were facing as a couple. From cheating accusations from Everett, to Jimeno complaining that his wife of five years wouldn't give him space to think about the future of their relationship, it was pretty clear that the two were at an impasse. And, after Us Weekly confirmed that both parties had filed for divorce — with Jimeno being the first to do so in May, the remainder of the season only shined a brighter spotlight on the end of their marriage. By the time the finale aired, they had already separated, and the show ended with Jimeno determined to go through with their divorce. 
However, their decision to split didn't mean an end to the drama. Far from it. That was just the beginning. 
There were restraining orders
Divorce papers weren't the only thing filed in May 2022. Per ET, court docs show that both Pedro Jimeno and Chantel Everett were issued restraining orders against one another.
According to InTouch, that restraining order saw the once-lovebirds ordered to not only stay away from each other but to avoid any messiness during the divorce proceedings. That meant no canceling insurance policies, no selling of their joint assets, and no changes to home utilities, among others. Given what had transpired during their separation, and what was featured on the show — we're talking Jimeno kicking Everett off their phone plan, and Everett withdrawing more than $250,000 from their joint account — that was probably for the best. 
In July, they were issued additional restraining orders. This time they were ordered, once again, to keep away from each other. As for whether that order still stands today, there haven't been any further updates. However, it certainly seems as though both are committed to keeping out of one another's lives. Since announcing the divorce, neither has spoken about the other publicly. Not by name, anyway. In a since-deleted TikTok posted in December 2022, Everett seemed to reference at least one aspect of their divorce when she jumped on the "Things my ex did while cheating on me" challenge. 
... and some damning allegations were made
That Chantel Everett would hint at infidelity in her marriage isn't exactly surprising. After all, in the final season of "The Family Chantel," she repeatedly questioned Pedro Jimeno's faithfulness. In one particularly heated scene, the nurse confronted him about a sparkly water bottle she found in their home, as well as his increasingly erratic behavior. "You're leaving items in the house that don't belong to me. When I ask you where you're going, you tell me it's none of my business, and you come home drunk," she complained. 
Needless to say, despite Jimeno's protestations, Everett cited infidelity as one of the reasons for their union falling apart. However, that was just the tip of the iceberg. On top of her accusations of adultery, per ET, she also alleged that he had been abusive toward her, both mentally and even physically. Unlike her "Things my ex did while cheating on me" video, though, Everett has continued to stay mum regarding her experience. As for Jimeno, he hasn't publicly responded to the claims. 
Everett and Jimeno sure went through some tempestuous times together, and their divorce wasn't a much easier ordeal. It's unclear if anything has been finalized, as of yet — but here's hoping for healing all around after a decidedly toxic situation finally comes to an end.