How Paul Rudd Supported Jeremy Renner After His Snowplow Accident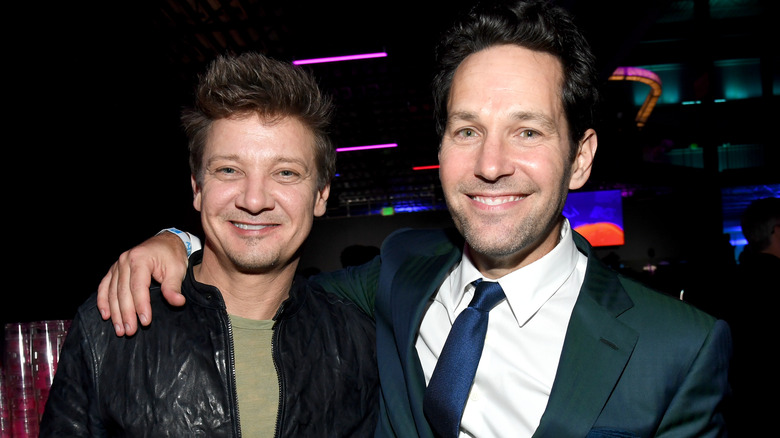 Kevin Mazur/Getty Images
Jeremy Renner and Paul Rudd were pictured together, smiling and having fun during the Oscars in 2013, so it can be inferred that the two have been friends since then (at least). At the time, Renner was attending the award show with his fellow Avengers cast members, but Rudd had not yet been cast. Nevertheless, the "Hawkeye" actor and "Ant-Man" lead have become close buddies since Rudd's casting in "Captain America: Civil War," and fans got to watch the friendship in action as they were paired up to do press interviews for "Avengers: Endgame."
And during an interview on "Jimmy Kimmel Live," Renner showed up donning a t-shirt with Rudd's face on it. The late-night talk show host asked the actor about the decision to promote a made-up movie called "50 Year Old Virgins" that supposedly starred the two Marvel actors. "We were doing a press tour about a movie," he said as he mentioned "Avengers: Endgame," and then mentioned that he couldn't exactly talk about it due to the "no spoilers" rule the Marvel actors have to follow during interviews leading up to a movie's release. "Paul and I decided during part of this press tour to make up a movie that we actually could talk about." 
And it seems that the friendship has gone beyond the cameras, as Rudd stayed by Renner's side throughout the "Mayor of Kingstown" actor's scary snowplow incident.
Paul Rudd showed his support as only he could
Jeremy Renner and Paul Rudd are good friends, so it makes sense that the "Ant-Man" actor would send some encouraging words to his fellow Avenger as he recovers from his snowplow accident. On the April 11 episode of "Jimmy Kimmel Live," Renner explained that Rudd visited him in the hospital as he was promoting a movie, and he also received a video message in the form of a fake Cameo message. "I didn't even ask him to," Renner said. "He made a fake one like I paid him money for a Cameo."
The late-night talk show host then played the video for the audience. "Hey, Jerry," Rudd said in the video. "I heard you were a little banged up — got into a fight with a snow blower, apparently?" The "Clueless" actor then said that he hopes his friend is feeling better, calling him a "tough guy," and joked that they could possibly meet each other one day. "In the meantime, take care, and take it easy for a while," Rudd continued. "And, next time, maybe just let the snow melt. Feel better, Jerry."
Jokes aside, Rudd has been there for his buddy through it all, and has provided updates on the "Wind River" actor's recovery. "He's doing alright," he told Entertainment Tonight on February 6. "He's doing well. [I] talked to him yesterday. He's the best guy and he's awesome."
Avengers assemble to support Jeremy Renner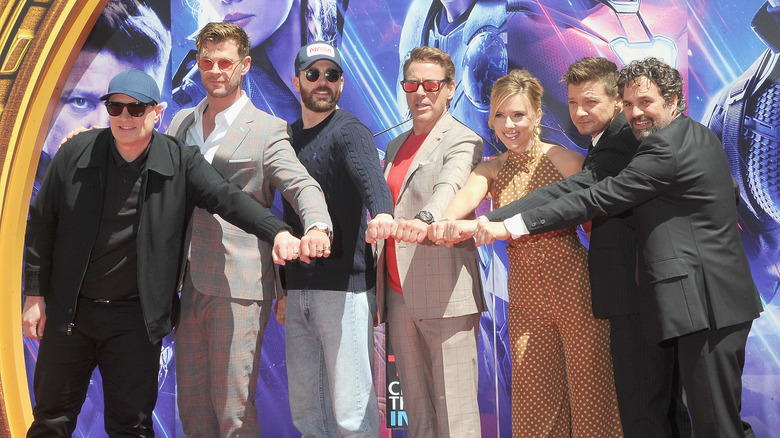 Albert L. Ortega/Getty Images
Besides Paul Rudd, a handful of Jeremy Renner's Marvel co-stars took the time to publicly send love as he recovered from his snowplow accident injuries. In "Jeremy Renner: The Diane Sawyer Interview — A Story of Terror, Survival and Triumph," the actor told Sawyer that Anthony Mackie went above and beyond when it came to supporting him. "Mackie was there at my bedside in Reno," he said, according to People.
Chris Evans also showed some love, calling Renner "one tough mf'er" in a tweet, and then joking about how the snowplow that injured him is doing. Evangeline Lilly told Access Hollywood that she had visited Renner that her fellow Avenger was recovering "like a mofo," and that it was a "straight-up miracle" how much he's improving every day.
It's clear that Renner is loved by many, as the support didn't stop there. Upon posting his first update since the injury from the ICU on Instagram, he has received kind and encouraging words in the comment section from a plethora of Marvel stars such as Chris Pratt, Tony Dalton, Taika Waititi, Cobie Smulders, Paul Bettany, and The Russo Brothers.