Bobby Brown's Crush On Janet Jackson Didn't Stop Her Friendship With Whitney Houston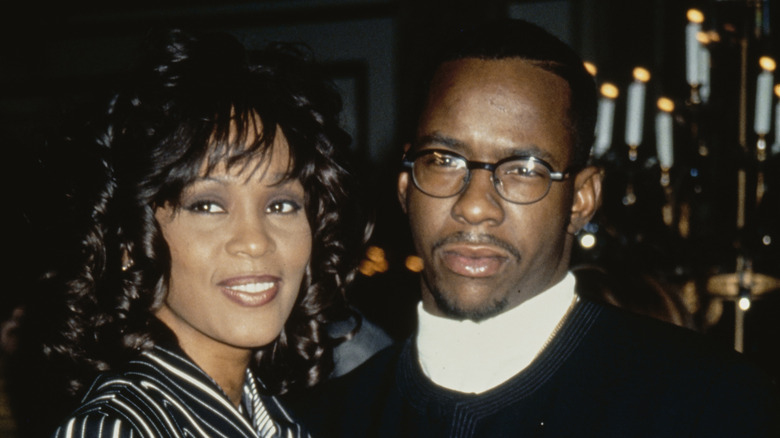 Michael Ochs Archives/Getty Images
Bobby Brown and Whitney Houston had an infamously turbulent marriage. The two married in 1992, and even then the "My Prerogative" artist hinted at having a wandering eye. "I think women are God's gift to this earth," Brown told Vanity Fair in 1992. "I love women." Their marriage lasted 14 years, with Houston filing for divorce in 2006. In addition to being romantically linked to Brown, the "I'm Every Woman" singer was professionally linked to Janet Jackson throughout most of her career. 
There was a love triangle of sorts between Brown, Houston, and Jackson. The New Edition artist developed feelings for Jackson long before he ever dated Houston. "I fell in love with [Janet] when she was Penny on 'Good Times,'" Brown told Us Weekly in 2016. "It goes back that far, you know, my infatuation with her," he added, referencing Jackson's appearance on the TV show in the '70s.
Although Brown had a long marriage to Houston, he said his feelings for the "Rhythm Nation" singer were impactful. "Janet was the crush of my life," he said in his "Biography: Bobby Brown" documentary that aired in 2022, via Fox News. According to Brown, he and Jackson had a relationship that predated his romance with Houston, but their tryst was cut short because Jackson's father disapproved of Brown and his background. But, apparently, that didn't affect Jackson and Houston's own friendship.
The two stars were close in the '80s and '90s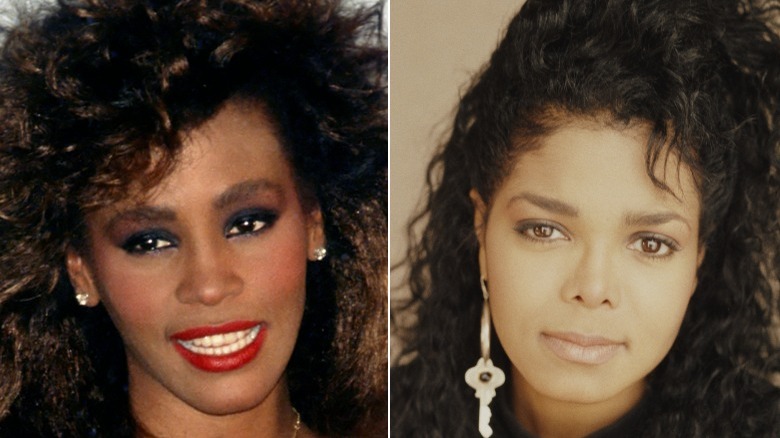 Michael Ochs Archives/Getty & undefined & Tim Roney/Getty Images
Despite their shared history with Bobby Brown, Whitney Houston and Janet Jackson maintained a strong friendship in the early years of their music careers. Following Houston's untimely death in 2012, Jackson was stunned. "I couldn't believe it. Immediately I started shaking ... I was speechless," Jackson said about Houston's passing, while appearing on "Anderson Cooper 360°." The "Any Time, Any Place" artist added, "She was such a sweet, sweet soul." 
Jackson also shared that she and Houston were closest in the '80s and '90s. "It doesn't matter if we were doing an awards show. We would always take the time out to find one another," Jackson said. Coincidentally, that was around the same time that the "Poetic Justice" actor reportedly dated Brown. In 1990, Fresh magazine featured a photo of the potential couple on its cover with the headline "Janet and Bobby! Together on Top." An interview from 1989 shed some light on their romance. "As you know I'm madly in love with her and can't be with her," the "Don't Be Cruel" singer shared on BET's "Video Soul," via People. 
Bobby Brown claimed Whitney Houston cheated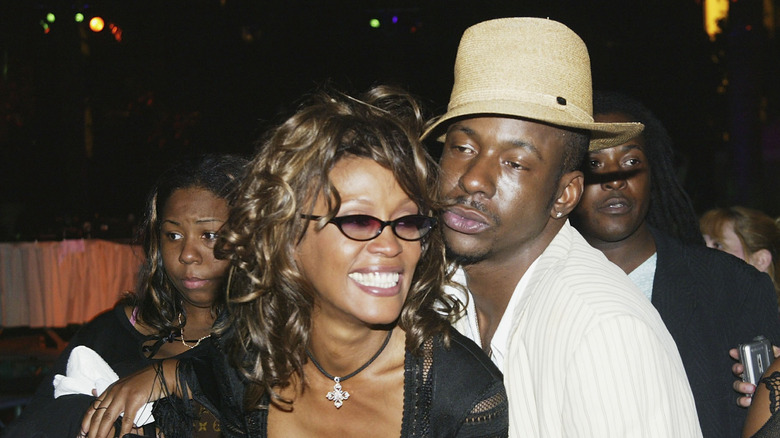 Frazer Harrison/Getty Images
Bobby Brown's love for Janet Jackson also wasn't at the root of his relationship issues with Whitney Houston. Part of their marital issues centered around both singers reportedly stepping out on their marriage. A few years after Houston's death, Brown claimed that they both were unfaithful at some point. "There was infidelity in the marriage, yes, on both parts," he shared in a Lifetime special in 2015. "Both of us cheated on each other — period ... people make mistakes. We're human."
A year later, Brown elaborated on those supposed infidelities. In his "Every Little Step" memoir, Brown claimed that Houston had an affair with Tupac Shakur. In fact, according to the "Roni" singer, Houston did her "share of cheating" with several other artists and producers, but only mentioned Shakur by name. During a 2016 interview, the same year his memoir was released, Brown claimed that his ex-wife also was attracted to women. "There are some things we talked about that were personal to us," he told Us Weekly, while alleging that Houston had a romantic relationship with her friend and assistant, Robyn Crawford. However, Brown believed that Houston was bisexual. "I'm a man and she was attracted to me!" he added.