Ant Anstead Was Still Married To His First Wife Louise When He Met Christina Hall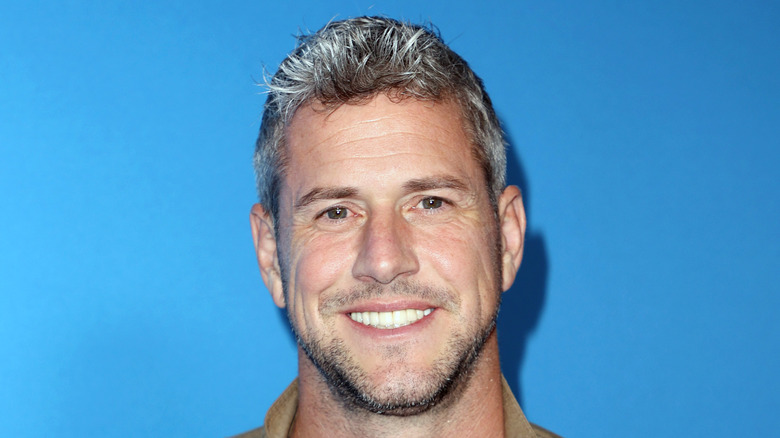 Kevin Winter/Getty Images
When Ant Anstead and Christina Hall met, she was known as Christina El Moussa. The two started dating in October 2017, an insight he gave when he celebrated their first six months as a couple in late April 2018 in a now-deleted Instagram post, according to E! News. Anstead became aware of Hall through a mutual friend, but they bonded virtually before meeting eye-to-eye. "A year ago today @ant_anstead called me for the first time and we spoke for 29 mins," she captioned a since-deleted October 2018 Instagram post.
Hall and Anstead didn't make plans to meet then. Instead, he surprised her with another call. "Two days later while he was at Sema he FaceTimed me ... we spoke for 2.5 hours," she wrote. "Two days later we met for the first time and we've been inseparable ever since." At that point, Hall was still legally married to Tarek El Moussa, though she had filed for divorce two months prior following some high-publicized drama involving a 911 call and a gun.
The divorce was finalized the following January, when she and Anstead publicly announced their relationship on social media, People noted. In December 2018, Hall officially became Christina Anstead when she said "I do" to the British TV presenter. But it wasn't just Hall who was still married when she met Anstead, from whom she has since divorced. Anstead was also still legally bound to his first wife Louise when his friends first gave him Hall's number. 
Ant Anstead's divorce from Louise was finalized in 2018
When Ant Anstead met Christina Hall, he had been separated from his wife of 12 years, Louise Anstead, now Storey, for just three months, The U.K. Sun noted. But they were still in the process of dissolving their marriage and remained officially married well into Anstead's relationship with Hall, People reported. The "Flip Flop" star didn't mind her beau's civil status. "I've been through it myself, so I understand the process and am very supportive," Hall told the outlet in July 2018, nine months into dating Anstead.
Ant and Louise, who had been together most of their lives and share daughter Amelie and son Archie, ended their relationship on good terms. "We spent 22 years together from teenagers to adults and to this day remain very close friends and we stay in regular contact. Almost daily," he told People in January 2022, when Louise married a second time. Louise, who like Ant is British, prefers to keep a low profile and has set her Instagram page to private. 
But Amelie shared a few snippets from the special day, indicating her mother and stepfather got married in Rome. Ant had nothing but good vibes for Louise ahead of this new chapter. "I wish them a lifetime full of happiness," he said. For Ant, the former couple's children would always bind them together. "We have two amazing kids together who we are incredibly proud of and we will forever be family," Ant gushed.
Ant Anstead was also married when he met Renee Zellweger
Ant Anstead and Renée Zellweger keep their relationship pretty private, so the details of when they got together were a bit murky early on. In June 2021, TMZ reported they started dating earlier that month after meeting on Anstead's Discovery+ show "Celebrity IOU Joyride." However, Anstead indicated he and the Oscar winner filmed the episode in April 2021. "One year ago today! Sat on the back of a fire engine on the final day of filming  ... Amazing what can happen in just one year," he captioned an April 2022 Instagram post. 
Anstead had split from Christina Hall seven months before, though their divorce was finalized in late June 2021. That means that for two months into his relationship with Zellweger, Anstead was officially a married man. Despite keeping a low profile, Anstead and Zellweger weren't exactly hiding their romance. In August 2021, the unlikely pair even attended a public event as a couple, Us Weekly reported. 
Anstead has also shared a few pictures of them on social media, as the one featured above. Zellweger addressed the relationship for the first time in an April 2022 interview with Harper's Bazaar, when she discussed how she became motivated to participate in Anstead's show after watching Brad Pitt's "Celebrity IOU" episode. In April 2023, Zellweger and Anstead reportedly took their romance to the next level. "[They] found a house that they both love and are moving in together," a source told People.