Jennifer Gates' Husband: Who Is Bill Gates' Son-In-Law, Nayel Nassar?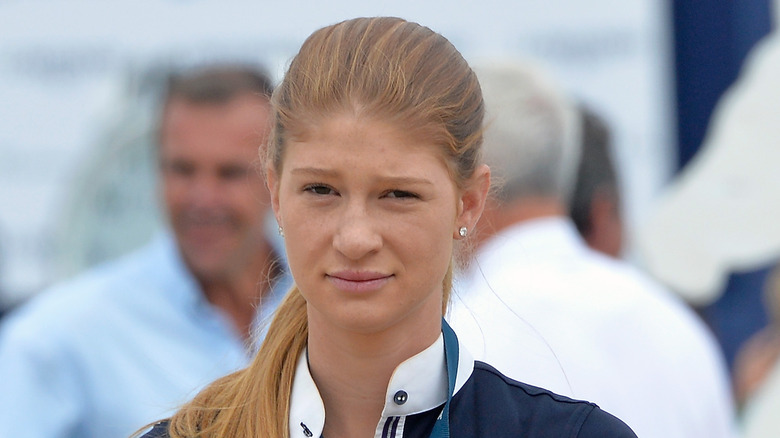 Aurelien Meunier/Getty Images
Over the years, Bill Gates has fallen to number four on Bloomberg's billionaire list. Still, it's unlikely the slide will have impacted the amazing life of Gates' daughter. Because you've got to imagine that things are still pretty fabulous when your dad's worth $121 billion — even if Elon Musk does have $50 billion more. Jennifer Gates certainly seems to think so, and her life has grown more fabulous by the day since marrying her husband, Nayel Nassar, and becoming a first-time mom.
Jennifer took to Instagram in January 2020 to announce she was engaged. "Nayel Nassar, you are one of a kind. Absolutely swept me off my feet this past weekend, surprising me in the most meaningful location over one of our many shared passions," she captioned an adorable photo of them. "I can't wait to spend the rest of our lives learning, growing, laughing, and loving together. Yes, a million times over." In October 2021, she posted a stunning pic of her and Nassar embracing under "yellow lights" on their special day. 
Thankfully, Jennifer's wedding wasn't complicated by her famous parents' shock split. Bill and Melinda French Gates had finalized their divorce just two months prior to her walking down the aisle, but they managed to play nice for their daughter. "Being able to celebrate our wedding with our closest friends and family was a dream come true," Jennifer told Vogue about her first day with her new husband. So, who is Bill Gates' son-in-law, Nayel Nassar?
Rich, smart and sporty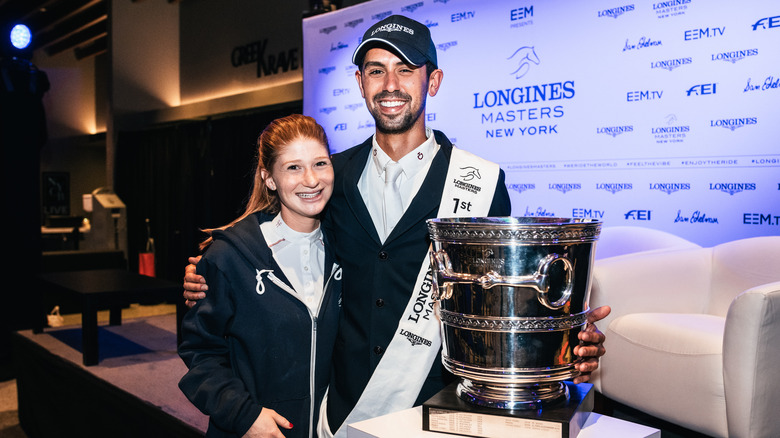 Jean-louis Carli/alea/Getty Images
Bill Gates lost his wife, Melinda French Gates, in 2021 when she divorced him but he gained a son-in-law, Nayel Nassar, after his daughter, Jennifer Gates, married. People reports that Jennifer is the oldest of Bill and Melinda's three children, and she clearly shares a close bond with her dad. On her 26th birthday, he posted a gorgeous photo of the two dancing on her wedding day. "I'm incredibly proud of everything you've accomplished," Bill wrote.
It's got to be intimidating to join the Gates family, but Jennifer's husband slid right in. According to Harpers Bazaar Arabia, Nassar was born in Chicago to Egyptian parents and then raised in Kuwait. He speaks English, French, and Arabic. Nassar met Jennifer when they were studying at Stanford. However, they started dating four years after they graduated. Nassar isn't just smart; he's also sporty. He shares Jennifer's love of horses and is a professional equestrian specializing in championship jumping. Nassar has represented Egypt at events worldwide and is "a rising star in the world of show jumping."
Per People, like his wife, Nassar also comes from a wealthy background. However, his folks are just millionaire rich, not Gates rich. Still, that hasn't prevented Bill and Melinda from welcoming him with open arms. The couple cheered on their future son-in-law when he competed at the Tokyo Summer Olympics in 2020. "We are so proud of you, Nayel (and Igor)!" Melinda posted on Instagram. "Good luck, Nayel!" Bill wrote.
And baby makes three
Bill and Melinda Gates' daughter Jennifer and her husband Nayel Nassar made the former couple proud grandparents in 2023. Jennifer announced her new arrival on Instagram. "Sending love from our healthy little family," she captioned a pic of two tiny feet. "There is nothing quite like holding your first grandchild," Melinda captioned a photo of her and the baby.
Bill shared his excitement before the baby's arrival, admitting the news fuelled his commitment to equality, human rights, and accessible healthcare for all. "When I think about the world my grandchild will be born into, I'm more inspired than ever to help everyone's children and grandchildren have a chance to survive and thrive," Bill wrote. He took to Instagram to share his joy after his granddaughter arrived. "I can't wait to watch you discover the world," Bill captioned a photo of himself with the little girl.
Per The Independent, the new grandpop had always vowed not to leave his three kids any money in his will, insisting the bulk of his fortune would go into the family's foundation. "I definitely think leaving kids massive amounts of money is not a favor to them," Bill explained in a Ted Talk. "Warren Buffett was part of an article in Fortune talking about this in 1986 before I met him, and it made me think about it and decide he was right." However, Bill changed his mind in 2017 and announced his daughters and son would get $10 million each.