What Happened To Val Kilmer's Voice?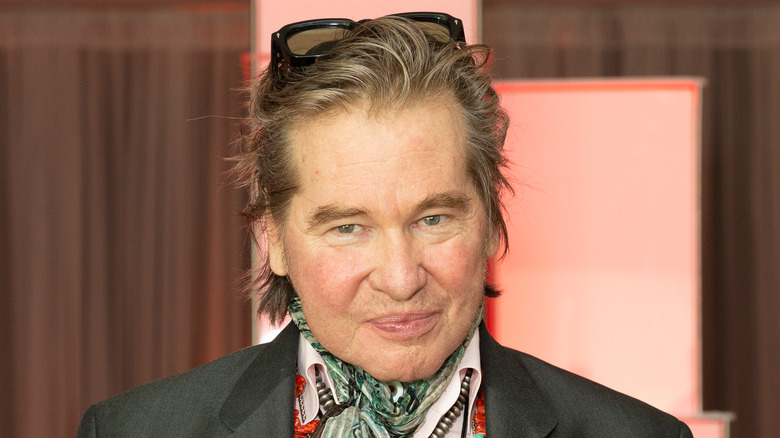 lev radin/Shutterstock
It must be incredibly difficult for an actor to lose one of their most valuable tools: their voice. Actors must project, enunciate, and manipulate their voice to play different characters, and many actors are singers as well. And yet, that nightmare is exactly what happened to Val Kilmer.
Kilmer used his singing voice in his very first screen role, crooning six songs as the Elvis-like rock'n'roller Nick Rivers in the 1984 comedy "Top Secret!" He starred in the much-beloved cult films "Real Genius" and "Willow" and hit the mainstream opposite Tom Cruise as Iceman in 1986's "Top Gun." He gained critical acclaim with his 1991 role as Jim Morrison in Oliver Stone's "The Doors," where he embodied the rock frontman so closely that even the other band members couldn't tell their voices apart. Kilmer performed 15 of the 50 songs he learned on screen, capturing the incredible experience of seeing the Doors live.
After roles in "True Romance" (again channeling Elvis), "Tombstone," and as the legendary caped crusader in "Batman Forever," Kilmer broke his Batman contract to appear in "Heat" and the box office disappointment, "The Saint." Kilmer also lent his voice to the animated hit "The Prince of Egypt" twice, as Moses and uncredited as God — yet surprisingly, he didn't sing in the movie. His reputation eventually took a hit, as he became known as difficult to work with. However, he continued his career through the 2000s until he took a hiatus in 2015 for health reasons that deeply and permanently affected his voice.
Val Kilmer was treated for throat cancer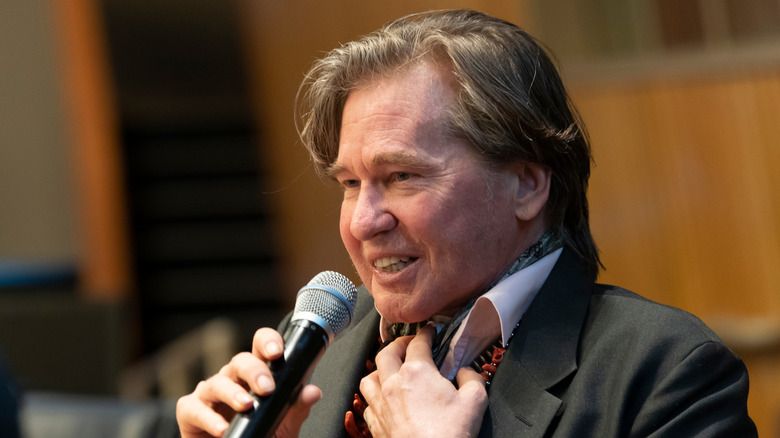 lev radin/Shutterstock
After a successful career spanning three decades, Val Kilmer stepped away from the spotlight for health reasons. While working on a passion project about Mark Twain and Christian Scientist founder Mary Baker Eddy in 2014, Kilmer discovered a lump in his throat. He had symptoms, including waking up in a pool of his own blood, and he was eventually diagnosed with throat cancer — or, as Kilmer, a Christian Scientist, called it in The New York Times, the "suggestion of throat cancer." He prayed to fight the disease and was fortunately persuaded by his ex-wife and two children (who are not Christian Scientists) to seek medical treatment. Kilmer underwent surgery on his throat — two tracheostomies, followed by chemotherapy and radiation that he said: "zapped my whole throat, and it's still dry as a bone." He was left with the tracheostomy tube, and it's very difficult to speak.
"Speaking, once my joy and lifeblood, has become an hourly struggle," Kilmer wrote in his autobiography "I'm Your Huckleberry" (via Men's Health). He can only be barely understood, something he credits to his acting lessons and the vocal exercises he learned as one of the youngest students ever to attend Juilliard. He now describes his voice as "Marlon Brando after a couple of bottles of tequila. It isn't a frog in my throat. More like a buffalo." But fortunately, technology has offered Kilmer a way to continue using his voice, as fans saw in the 2022 movie "Top Gun: Maverick."
Val Kilmer can use his voice again through technology
Fans were overjoyed to see Val Kilmer's Iceman reunite with Tom Cruise's Maverick in the "Top Gun" sequel, where Iceman had experienced the same medical diagnosis and treatment as Kilmer did in real life. And some very special technology made it possible, allowing Kilmer to once again use his voice as people remembered it.
Kilmer has been working with the London-based software company Sonantic which was acquired by music-streaming service Spotify in 2022. Sonantic uses AI voice technology to closely simulate the human voice from text in a very realistic way. Using old footage and recordings, the Sonantic technology was used to recreate Kilmer's voice in a way that very much sounded as it used to. They also demonstrated Kilmer's computer-generated voice in a YouTube video. "I was struck by throat cancer. After getting treated, my voice as I knew it was taken away from me," Kilmer says in the powerful video, explaining that he felt like the same person he always was, with dreams and ideas, even though people had trouble understanding him. "But now I can express myself again. I can bring these dreams to you and show you this part of myself once more. A part that was never truly gone, just hiding away."
This technology seems like it could be incredibly beneficial to people with disabilities who can no longer use their voices. And Kilmer, fortunately, is reportedly cancer-free, and his powerful appearance in "Top Gun: Maverick" has brought representation and hope to cancer patients the world over.