Who Is Adam Lambert's Boyfriend, Oliver Gliese?
Go buy yourselves a new suit and a crate of confetti, Glamberts, because Adam Lambert's relationship with his boyfriend, Oliver Gliese, is getting serious. In fact, the Queen frontman may have officially ended the search for his King as it continues to get hotter and hotter between the couple.
Lambert has never been left lacking in love from his fans. The Glambert army is one of if not the most loyal and adoring fan bases out there. "We believe in Adam, and we believe in the amazing gift that he brings to this universe," a Glambert army member told Billboard. "We are the wind beneath his wings. To make sure he flies as high as he possibly can, we give him everything we know how to give to help him stay aloft and soar higher and higher," they continued.
However, Lambert's romantic love tank started running seriously low before he met Gliese. Because, sorry, but nothing went on between Lambert and Sam Smith, despite how much fans wished differently. Per Smooth Radio, aside from a short fling with model Javi Costa Polo in 2019, the last serious relationship was when Lambert and Sauli Koskinen dated for three years. He split with the Finnish reality star in 2013, though, and Lambert's insane work schedule has made it difficult to squeeze in some quality man time for any longer than a week here and there. Well, until the super cute Gliese entered the picture in 2020. So, who is Adam Lambert's boyfriend, Oliver Gliese?
Creative minds and fashion fierce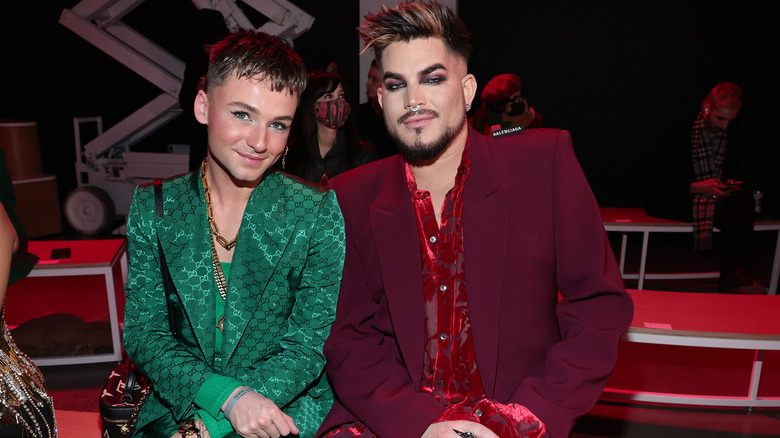 Jamie Mccarthy/Getty Images
Adam Lambert's relationship with Oliver Gliese started off hot and heavy and hasn't cooled — judging by their steamy PDAs — and they seem to be a perfect match. According to his LinkedIn, Gliese is "a creative mind with a sustainable and social soul." He currently lives in Copenhagen, Denmark. Like his glamorous boo, Gliese has an eye for style and the willingness to go all out on the fashion front. He works part-time as a client advisor for Ganni A/S, the hottest Scandi label de mode that offers "high-end luxury without having a high price tag," according to In Style.
Gliese previously worked as the "Innovation Forum Assistant, Global Partnerships" for Global Fashion Agenda. Which their website translates as meaning ensuring stuff gets done during the Copenhagen Fashion Summit. The site also shares that Gliese is studying for a Bachelor of Science in Business Administration and Project Management.
It's unclear when and exactly how Lambert and Gliese met. Still, they first cropped up together in Talum, Mexico, in November 2020, working up a smoochy sweat on the beach. Both were shirtless, with Lambert clad in zebra print shorts and the svelt Gliese in skimpy blue speedos. When the photos hit the web, Lambert beat the inevitable trolls to the punch by quipping about his "dad bod," per Just Jared. Well, Lambert's successful modeling career indicates there are plenty who love his bod, and going by Gliese's Instagram, despite being "99% gluten and dairy," he's 100% Glambert.
Taking their love on the road
Adam Lambert and Oliver Gliese went Instagram official in February 2021 after Gliese posted a pic of the singer kissing his cheek. Lambert's been a regular fixture on the page ever since, and Gliese has cropped up on Lambert's, along with some cryptic missives. "Done and dusted," Lambert captioned an adorable black and white pic of them in March 2022. In an interview with "ET Canada," he shared that Gliese always gives him honest feedback on his music — positive or not. He admitted they have "very different music tastes" and that Gliese has no problem telling Lambert if he thinks a track sucks. "That's fine," the musician said. "I just like to hear an opinion about it." 
Meanwhile, the two have taken their love on the road — and Gliese's family came along for the ride. Lambert posted a video on his Instagram stories (via YouTube) of the couple and his potential inlaws perusing Paris' Palace of Versailles in August 2022. Lambert told Seventeen that the most significant thing he's learned from past relationships is always going with your gut instinct. 
"If you're feeling like you're noticing a red flag, be very aware of it," Lambert said. "And don't ignore it, 'cause it's probably true." He later admitted that his celeb crush is Ezra Miller because "he's got good style and he's funny." So, it looks like Oliver Gliese is ticking all the right boxes and won't be another one that bites the dust.