What Really Went On Between Adam Lambert And Sam Smith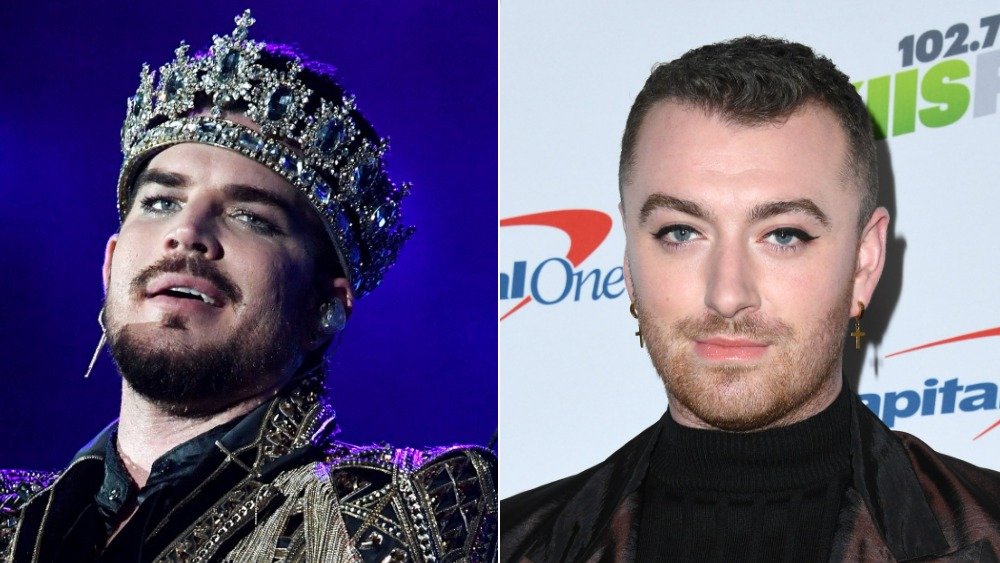 Kevin Mazur, Jon Kopaloff/Getty Images
Adam Lambert and Sam Smith are openly queer artists with a long history of supporting one another, and occasionally, hitting the clubs too. Rocker and vocal powerhouse Lambert — Queen's current frontman and (in an upset) the runner-up on the eighth season of American Idol — came out publicly in June 2009, per Rolling Stone. 
"'Come out' is so funny to me because I've never been in," he told ABC News at the time. "I've always been out...I wanted the focus to be on my ability as a singer and as an entertainer — not on my private life," he said
According to Variety, Lambert brought LGBTQ tolerance to middle America, paving the way for future openly gay artists such as Troye Sivan and ... Sam Smith. Smith officially came out as soon as their debut album did in 2014, per Rolling Stone. In March 2019, Smith made another announcement; that they were non-binary, as they told Vanity Fair. A few months later they also publicly announced they were changing their preferred pronouns to "they/them." 
"I'm really happy for Sam that they've found their truth and they're feeling liberated by it," Lambert told NME in October 2019, but is there more to discuss about the connection between these two musical stars?  Let's take a closer look at the dynamic relationship between Adam Lambert and Sam Smith.
Adam Lambert and Sam Smith share a special bond
What's the real deal between Adam Lambert and Sam Smith? According to The Huffington Post, their bond dates back to 2016, when the pair posed for photos out on the town in London and Mykonos. Then in 2018, Smith caught flack for a video in which they expressed their distaste for Michael Jackson on Instagram, saying "I don't like Michael Jackson, but this ["Human Nature"] is a good song," per USA Today (Smith's opinion of Jackson probably wouldn't fuel backlash today). Lambert defended his friend at the time, telling People that Smith's assessment of Jackson "was a sliver of a fuller conversation that was actually quite interesting. I think people need to give [them] a break."
Have Lambert and Smith ever been more than friends? Some fans have speculated that there's more to this relationship, but the official answer is no. On Watch What Happens Live in 2019, Lambert told host Andy Cohen that there was no truth to the romance scuttlebutt. "I love that rumor, actually. The minute I heard it, I texted him," Lambert said (via Entertainment Tonight). He then praised Smith, noting, "He's such a nice guy. He's so funny." 
However, Lambert did divulge that he and Smith have had some wild nights together. "We did ride a rickshaw in London from one club to another, wasted, at like 3 a.m. in the morning," he recalled. "So, there's a lot of bonding." 
Is it wrong to say we're a little disappointed? These two would make an adorable couple, and just imagine the duets.