The Simple Trick Meghan Markle Uses To Change Her Look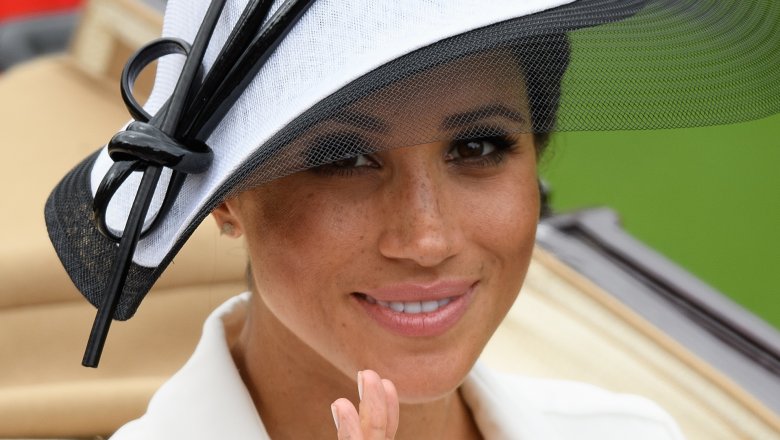 Getty Images
Meghan Markle's stylish fashion, makeup, and grooming tricks were making headlines long before she married into the royal family, but it's her ever-changing eyebrows that have everyone talking these days.
People reports that the royal newlywed debuted a new take on her signature "Audrey Brow" at the Royal Ascot event held on Tuesday, June 19, 2018. While donning a stunning white Givenchy dress and matching Philip Treacy hat, the Duchess of Sussex transformed her appearance by simply darkening and reshaping her brow look into a thinner arch for the royal outing.
Inspired, of course, by Audrey Hepburn, the "Audrey Brow" was cultivated by brow stylist Sherrille Riley. The Nails and Brow salon owner, who has personally styled Markle's eyebrows since 2016, previously told the magazine that the affordable treatment is achieved through "maintenance, tinting and threading and a bit of tweezing."
She added, "It's particularly flattering on Meghan because it's a really natural style and it really compliments her features — she's a beautiful woman."
This isn't the first time Markle's style transformation, however subtle, has dominated royal press. Even before tying the knot with Prince Harry in May 2018, it was revealed that the former Suits actress would be expected to follow certain royal dress codes, including keeping her knees covered and avoiding exposed shoulders. However, it wasn't long before the 36-year-old broke with tradition. As Nicki Swift previously reported, Markle was slammed shortly after the royal wedding for sporting an off-the-shoulder look at Queen Elizabeth II's annual birthday parade in early June. 
The duchess' flawless appearance has been both praised and criticized after virtually every royal engagement. With Prince Louis' christening just around the corner, we can't wait to see what new trendsetting trick Markle unveils next.