Jamie Foxx Still Seems Tight With Kanye West Despite His Controversies
Kevin Winter/Getty Images
Kanye "Ye" West is no stranger to controversy, and while Kate Hudson thinks he deserves to be canceled, the rapper still seems tight with Jamie Foxx — who has been open about how Ye played a role in helping him achieve musical success. The pair teamed up for "Slow Jamz" alongside Twista, which topped the charts in 2004, and again in 2005 for the track "Gold Digger," which proved to be a smash hit. Prior to collaborating, the pair did not have much of a relationship.
In 2017, Foxx recalled when he first met the "Jesus Walks" rapper and how that led to them recording together. Foxx said he was hosting a star-studded party when he noticed Ye. "This kid walks in with a backpack on, and his jaw is busted," the "Project Power" star said while appearing on "The Graham Norton Show." As part of an initiation process Foxx asked Ye to rap for him. "Then he said to me, 'I have this song that, that I think you will be great on if we could go to the studio and do the song,'" Foxx recalled.
That track was "Slow Jamz," and while Foxx had reservations about the song, it eventually led to more opportunities for the actor. "I'm glad that I got a chance to meet Kanye, meet people that could take me from the funniness and make real records," he said on Power 106 Los Angeles in 2015. Over the years, Foxx has continued to support Ye, despite the controversies that surrounded the rapper.
Why Jamie Foxx will not trash Kanye West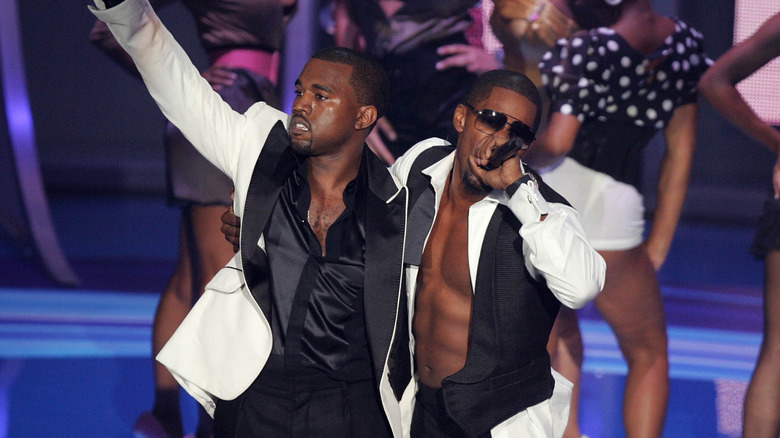 Kevin Winter/Getty Images
Kanye "Ye" West made headlines in 2022 for multiple incendiary and racially-charged remarks that hurt the rapper, both personally and professionally. While many looked to distance themselves from the "Flashing Lights" artist, Jamie Foxx kept it positive when asked about his relationship with his former collaborator. "The last studio session was a while ago, but the last time I ran into Ye, it was a good meeting," the "Django Unchained" star told HipHopDX in August 2022, as Ye was mired in controversy. "I won't divulge the details but just hugged that brother and said 'I love you man,'" Foxx added.
Following the murder of Migos rapper Takeoff in November 2022, TMZ asked Foxx for his insights on the state of the rap game and how he felt about Ye. "All those guys that you mentioned, every time I talk to them, I hold them up," Foxx said when asked about his take on Ye. "All those dudes are my homies. That's my friends. So I'm never gonna talk sideways about them," he added. The "Baby Driver" actor mentioned that he encouraged rappers — such as Ye — to ignore the negative press and focus on having fun again.
Years earlier, when Foxx and Ye were nominated for best song Grammy for their work on "Gold Digger," Foxx had a similar sentiment for the rising rapper. "[W]hat I try to tell him to do is just have fun," Foxx told CBS in 2006 while speaking about Ye's growing popularity. Foxx has often defended his friend. 
How Kanye West helped Jamie Foxx land a major movie role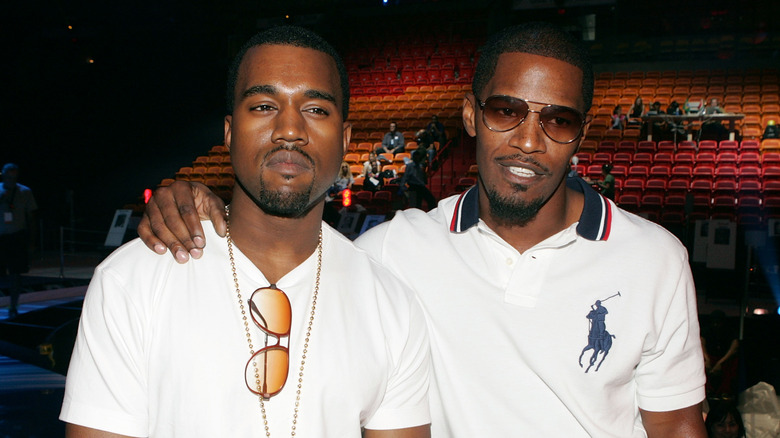 Kevin Winter/Getty Images
Kanye "Ye" West's mercurial temperament has been well-documented throughout his career. Even though he and Jamie Foxx found success with "Slow Jamz," there were some tense moments while working together. Footage from the documentary "Jeen-Yuhs: A Kanye Trilogy" showed Ye losing his cool while shooting the video for the Foxx-assisted song. "I'm gonna keep repeating myself over and over and over again. Y'all are forcing me to be the a**hole," Ye said in the documentary (via Time). Despite the occasional outburst, Foxx was complimentary when discussing the maligned rapper. "Kanye's brilliant because he goes beyond rapping. He gives everybody an opportunity to hate him," Foxx said while appearing on "The Howard Stern Show" in 2019.
Foxx struggled to get his music career off the ground for years until he found success collaborating with Ye. "I still wanted to sing. I never knew if it would ever reach people on any large scale, but I continued making music I liked and let the rest worry about itself," the "Collateral" actor told The Guardian in 2006.
Foxx was able to parlay the success of "Slow Jamz" into landing the role of Ray Charles in the biopic "Ray." Before Foxx was allowed to play the part, however, he had to sing the blues with the real-life Charles. "I hit one wrong note and he stopped," Foxx told Today in 2004. "He said, 'Don't do that. Don't hit wrong notes,'" the actor added.