How Alex Cooper Met Her Fiance Matt Kaplan (& The Nickname Their Introduction Inspired)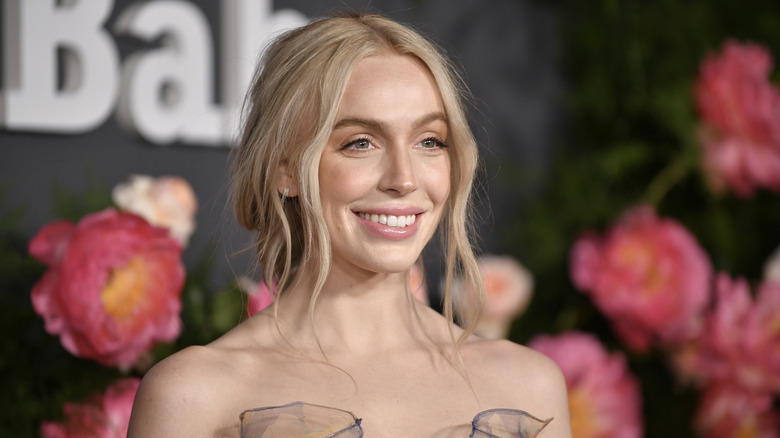 Rodin Eckenroth/Getty Images
"Call Her Daddy" podcast host Alex Cooper has had a handful of public relationships, specifically with athletes. During her sophomore year of college, she dated a Boston Red Sox player but has kept his identity under wraps. She and New York Mets Pitcher Noah Syndergaard were in an on-and-off relationship in 2017. There were rumors that she had a few flings here and there before meeting Matt Kaplan, who is a film producer and the founder of Ace Entertainment.
Cooper hid the identity of Kaplan well, referring to him as "Mr. Sexy Zoom Man" on her podcast. Fans speculated that the mystery beau was the producer, but she didn't confirm it was him until she announced her engagement on Instagram on April 24, 2023.
The podcast host opened up about her thoughts on marriage, mentioning that at first, she didn't feel like it was for her until she met her now fiancé. "We had a really great dynamic early on that I didn't have in previous relationships," she told W Magazine, adding that the way they communicate has a lot to do with how strong their bond has been. "Having that foundation of honesty and trust allowed us to get through things in life that made it so I couldn't envision anyone else by my side." Other than announcing her engagement, Cooper also revealed how she met Kaplan.
Alex Cooper and Matt Kaplan met on a Zoom call
Alex Cooper's popular podcast, "Call Her Daddy," is all about love and relationships. So naturally, she tells her listeners stories about her own relationship experiences. It can be inferred that she and her fiancé, Matt Kaplan, met in 2020, and at the time, she called him "Mr. Sexy Zoom Man" on the podcast to keep his identity private.
The podcast host detailed Kaplan's proposal in her interview with W Magazine, mentioning that he set up a little scavenger hunt. "There was a computer and the screen said 'play me,'" she said, describing one of the first clues in the hunt. She then revealed that she met the film producer during a business meeting on Zoom, which is how he got his famous nickname. "I played the video, and it was Matt wearing the same exact outfit that he wore on our first Zoom meeting together," she continued.
Kaplan isn't the first man who got a nickname from Cooper, as she is known to keep the names of the men she talks about hush-hush. For example, she has named her ex-boyfriends "Red Sox," "Door #3," and "Slim Shady" on her podcast.
Alex Cooper is learning how to filter herself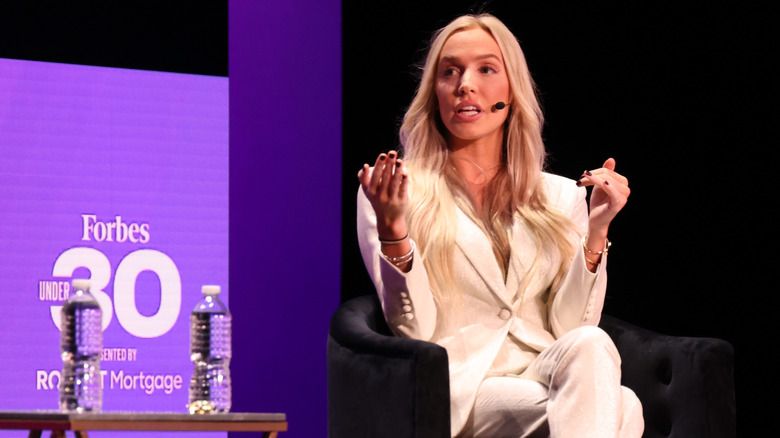 Taylor Hill/Getty Images
The "Call Her Daddy" podcast is all about diving deep into the romantic lives of the show's guests, as well as the show's host Alex Cooper. The description of the podcast literally says that they "exploit the details of their lives," which calls for the host and the guest being okay to share personal details about their relationships — past and present.
After a string of relationships and flings, Cooper told her listeners that she was seeing someone. She also mentioned that she wanted to keep things private, indicating that the relationship was pretty serious. But now that everything is out in the open, especially the identity of her fiancé, the podcast host is learning how to control what she shares with her fans.
"When I started ["Call Her Daddy"], I was so open about everything, maybe at times to the detriment of my personal life," she told W Magazine, admitting that she would sometimes share things on an impulse as they happened in real-time. "Now I've finally found a healthy balance of sharing things, but also having enough respect for my personal relationship to keep some things sacred." She also added that her fiancé is a private person, which helps her decide which details she can and can't share.