Don Lemon Once Reportedly Complained About Working With Anderson Cooper At CNN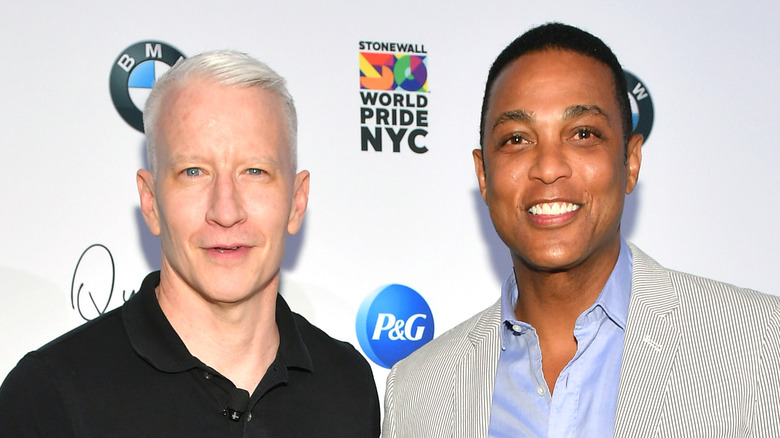 Mike Coppola/Getty Images
Don Lemon understandably has a bone to pick with his former employer, CNN, especially after he was fired publicly and abruptly. However, it turns out that he also harbored disdain for some of his colleagues, including Anderson Cooper.
On April 24, 2023, CNN announced they were severing ties with Lemon, one of the network's most popular hosts. CNN refused to provide any explanation and instead issued a statement that thanked Lemon for his work over the past two decades. "Don will forever be a part of the CNN family, and we thank him for his contributions over the past 17 years," CEO Chris Licht wrote in a staff memo. "We wish him well and will be cheering him on in his future endeavors." Lemon, for his part, blasted CNN over his termination on Twitter, writing that he was "stunned" by CNN's decision. "After 17 years at CNN I would have thought that someone in management would have had the decency to tell me directly," he claimed. "At no time was I ever given any indication that I would not be able to continue to do the work I have loved at the network." But CNN immediately fired back, declaring that he "was offered an opportunity to meet with management but instead released a statement on Twitter."
While the exact reason for Lemon's departure remains unclear, the decision can likely be traced back to his problematic behavior, as detailed in a bombshell exposé published by Variety. The revelation also highlighted his one-sided beef with Cooper as a result of his insatiable need to be the network's golden boy.
Don Lemon was not happy about Anderson Cooper getting more airtime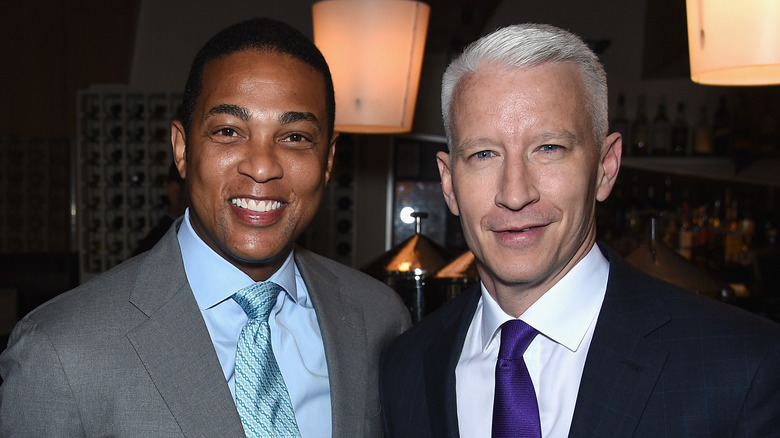 Dimitrios Kambouris/Getty Images
There's no arguing that Don Lemon and Anderson Cooper are among CNN's most prominent anchors, but there seems to be some tension between the two — at least on Lemon's part.
In Variety's bombshell exposé on Lemon, the embattled host reportedly expressed aggravation when Cooper was given more airtime than him. The incident dates back to 2009 when Lemon was assigned to cover Michael Jackson's memorial at the Staples Center while Cooper and Soledad O'Brien were stationed outside for additional reporting. According to sources familiar with the situation, Lemon complained about Cooper receiving more TV exposure than him, which led to intervention by network executives. "That led to a come-to-Jesus moment," a network executive told the outlet. "Don was told, 'Look, you've got to address your behavior. Your performance as a reporter is great. It's your behavior that's gotta improve. It's what's going to derail you if you're not careful.'"
But Lemon's contempt for Cooper is laxer than his alleged treatment of his former co-anchor Kyra Philipps, whose desk he vandalized after she was chosen for an assignment he wanted. In a statement to The Wrap, however, Lemon maintained his innocence. "The story, which is riddled with patently false anecdotes and no concrete evidence, is entirely based on unsourced, unsubstantiated, 15-year-old anonymous gossip," his spokesperson told the outlet. "It's amazing and disappointing that Variety would be so reckless."
Sources say Anderson Cooper refuses to help Don Lemon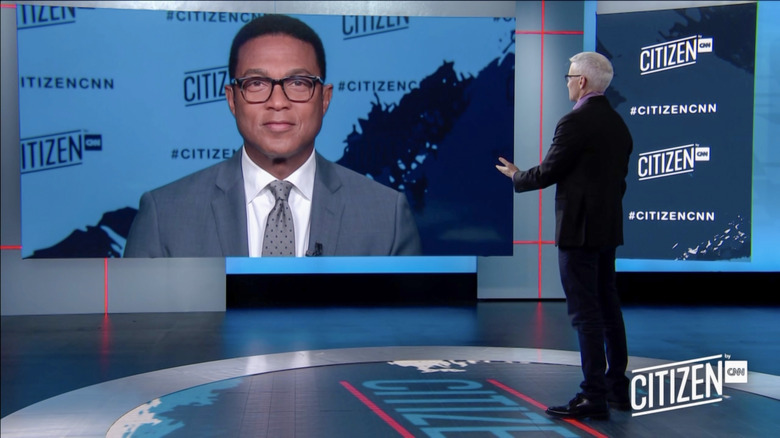 Getty Images/Getty Images
Poppy Harlow and Kaitlan Collins, Don Lemon's co-anchors on "CNN This Morning," immediately addressed his firing on the show, with Harlow noting that Lemon was one of her "first friends" at the cable giant and that she's "thankful to have worked alongside him and for his support for nearly 15 years." Collins also acknowledged that Lemon "was a big part of this show over the last six months" and that everyone "wishes him the best."
You probably won't hear a peep from Anderson Cooper, despite his history of working with Lemon. Sources told Radar that he's trying to distance himself from the situation and Lemon entirely, considering his tanking reputation. "Anderson wants nothing to do with Don anymore. People inside CNN run when they see Don coming down the hallway," the insider dished. "No one wants to end up on the wrong side when Don messes up again — and he will! He's a ticking time bomb."
Lemon's battle with CNN is far from over, as the host reportedly enlisted the help of entertainment attorney Bryan Freedman to see if he can get more money from the network. "Don was signed on a high seven-figure deal for the morning show last September, and is assured by CNN he will be paid the remainder of his contract, which runs until 2026," a source told Page Six. "He has retained lawyer Bryan Freedman to conclude this deal, and also to investigate if Don could be eligible to further damages surrounding the conditions of his exit."