Sharon Osbourne Makes Powerful Decision After Plastic Surgery Crossed The Line
Steven Ferdman/Getty Images
Fans know Sharon Osbourne for her spunky personality and sense of humor, and there's no doubt that both shine through when she talks about pretty much any topic — including plastic surgery and her medical history. In December 2022, Today reported that the outspoken star was rushed to the hospital following an "unspecific medical emergency." At the time, a rep for Osbourne revealed that the reality star fainted, requiring her to stay in the hospital for observation. TMZ added that Osbourne was shooting an episode of "Night of Terror" when she became ill. Luckily, she recovered relatively quickly. The day after the news broke, Osbourne took to Instagram to let fans know she was on the mend. "Back home and doing great! Thank you for all the [love]," she wrote in the update. 
Still, the medical issue caused a lot of stress on Osbourne's loved ones, and family members grew concerned over the state of her health. "The whole Osbourne family are really worried for Sharon right now — this recent health scare has made them realize how precious life is, and how she needs to take good care of herself," a source told Express after Sharon's episode. The article also called out a few plastic surgery procedures that Sharon has had over the years, including a tummy tuck, eye lift, gastric band, and abdominoplasty — to name a few. Sharon has also been pretty vocal about altering her face and is now making a drastic decision to change her habits. 
Sharon Osbourne vows to put a stop to plastic surgery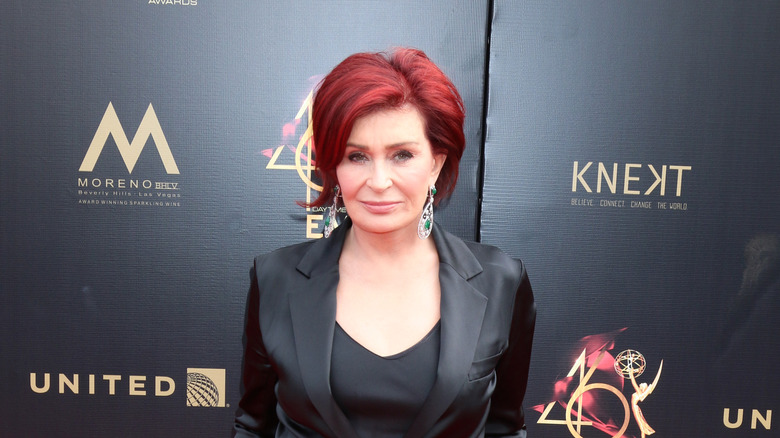 Kathy Hutchins/Shutterstock
Sharon Osbourne says she won't be going under the knife again following a botched procedure. The former "The Talk" host is usually an open book on pretty much any topic, and that holds true for her plastic surgery. In an interview with The Sun, Sharon revealed that the facelift she got two years ago scared her away from doing anything else. The star even joked that the procedure caused her to look like a Cyclops. "That one put me off and it frightens me. I really f**king pushed it with the last facelift, and I am now like, no more," the former reality star told the outlet. "Time is against me; I cannot have another facelift," she added. 
This is not Sharon's first time speaking out about the botched facelift in question. In April 2022, the "TalkTV" star chatted with The Times in an interview similar to the one with The Sun. "I had a full facelift done in October, and I looked like one of those f**king mummies that they wrap [with bandages]. It hurt like hell. You have no idea," Sharon confessed. The star added that her husband, rocker Ozzy Osbourne, was not a fan of the results either, and he didn't shy away from telling her. "He said, 'I don't care how much it costs, we'll get it redone,'" Sharon recalled to the outlet. Hey, at least both of them have been honest about it!