Kim Kardashian Adds Wedding Officiant To Her Many Job Titles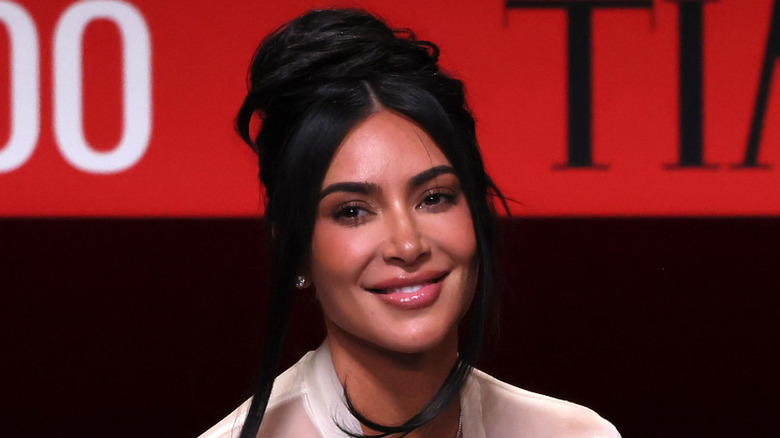 Jemal Countess/Getty Images
Kim Kardashian somehow finds the time to do it all. The reality television star is a single mom to four young kids, whom she shares with her ex-husband Kanye "Ye" West, while running her multi-billion dollar brand SKIMS, as well as her beauty line, SKKN. To top it off, she announced her plans to become a lawyer in 2019 and passed the baby bar exam in 2021. "For anyone who doesn't know my law school journey, know this wasn't easy or handed to me. I failed this exam 3 times in 2 years, but I got back up each time and studied harder and tried again until I did it!!!" she shared on Instagram.
Through all her endeavors, Kardashian still has time for fun — and her friends. On April 23, she was seen at the Daily Front Row Fashion Awards presenting her close friend, hairstylist Chris Appleton, with the Hair Artist of the Year award, per E! News. During his speech, Appleton thanked his partner Lukas Gage for being his "rock" and gave a shout-out to Kardashian as well. That wasn't the only celebration that weekend, though, as Appleton, Gage, and Kardashian shared an extra special touching moment in Las Vegas.
Kim Kardashian had a special role in Chris Appleton and Lukas Gage's wedding
Chris Appleton and Lukas Gage are officially married and it's thanks to Kim Kardashian. The hairstylist and "The White Lotus" star got married in a hush-hush ceremony in Las Vegas with only six guests in attendance, including Kardashian, Page Six reported. However, according to Entertainment Tonight, the reality star had a special part in the wedding as Appleton and Gage's officiant. Singer-songwriter Shania Twain was also present and serenaded the happy couple.
Appleton shared pics of the happy moment on Instagram, including shots of him and Gage wearing matching black leather pants and furry black coats. One picture showed Kardashian standing in front of the couple as they gazed into each other's eyes. In a video clip, Shania Twain is singing "You're Still the One" while strumming a guitar. "We did it. Big thank you to @kimkardashian & @shaniatwain," Appleton wrote.
The wedding came less than two months after they got engaged. While they remained pretty private about their new status, a source told People, "Friends in their circle are definitely shocked at how quick it happened, but they're happy for them. They seem like the real deal." Another insider shared, "Chris has been looking for something real for a long time. This has moved fast but he is dazzled by Lukas." Throughout the whirlwind romance, Appleton has shared that he is "very much in love" and here's hoping for a long and happy marriage.