Tucker Carlson Admits What He's Looking Forward To After Fox News Firing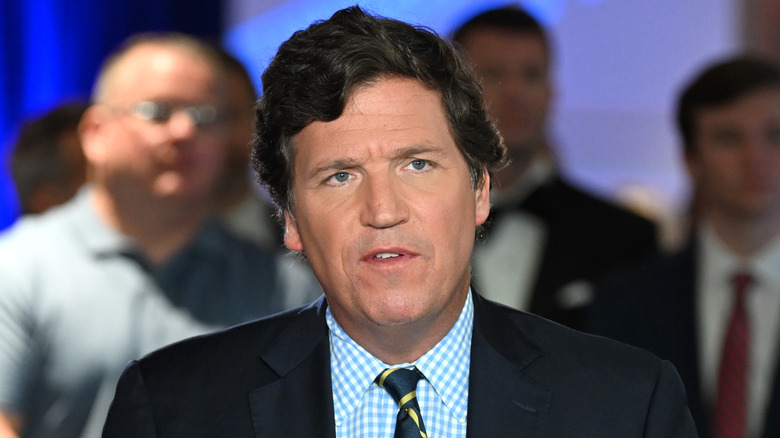 Jason Koerner/Getty Images
Tucker Carlson has opened up about his future after being fired from Fox News earlier this week. For over ten years, the conservative TV journalist made waves for his controversial opinions and dramatic on-air showdowns while hosting various programs for the aforementioned network. However, on April 24, his run on Fox News came to an abrupt end when they announced that they would be parting ways with the political commentator. "Fox News Media and Tucker Carlson have agreed to part ways. We thank him for his service to the network as a host and, prior to that, as a contributor," Fox said in a statement. The announcement came three days after he filmed his final appearance on Fox News Tonight.
Shortly after his departure was announced, rumors began to circulate on why the former "Tucker Carlson Tonight" host was ousted from the network –– with many speculating that it had to do with Dominion Voting Systems' lawsuit against Fox News. While Carlson remained mum at the time of his firing, he has recently opened up about his future in a brief statement.
Tucker Carlson says he's enjoying his retirement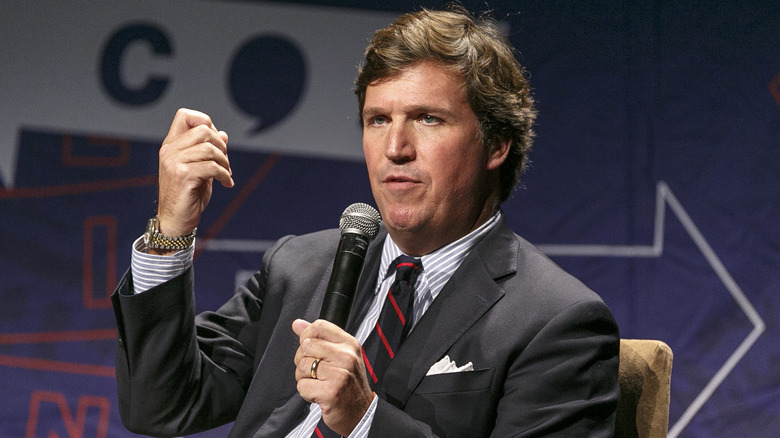 Rich Polk/Getty Images
Since Tucker Carlson was abruptly fired from Fox News, many have wondered how he really feels about his departure and future. After keeping a low profile for a day, the controversial journalist broke his silence for the first time to Daily Mail UK on April 26. While leaving his Florida-based home, Carlson told the news outlet that "retirement is going great so far." The conservative commentator even expressed happiness in being able to have dinner on weeknights with his wife Susan, again. However, when asked to give further insight into his overall future, Carlson coyly responded: "Appetizers plus entree."
While the TV journalist seemingly displayed a carefree front, his reaction to his firing was reportedly less positive. According to Vanity Fair, Carlson was "blindsided" by his surprise firing because he was negotiating a new contract with the network at the time. A source also said that the conservative figure had no idea why he was let go from the network. While Carlson's firing has remained a mystery, The Wall Street Journal recently revealed that his behavior towards network leadership played a part in his exit. During Fox News' recent court battle with Dominion Voting Systems, various text messages sent by Carlson were featured in the case –– including one where he called a network executive an offensive and vulgar word. While most of Carlson's messages were redacted, a source claims Fox News officials were worried over the potential backlash the information would cause if it were made public.