Todd Chrisley Falls Further From Grace With New Serious Allegations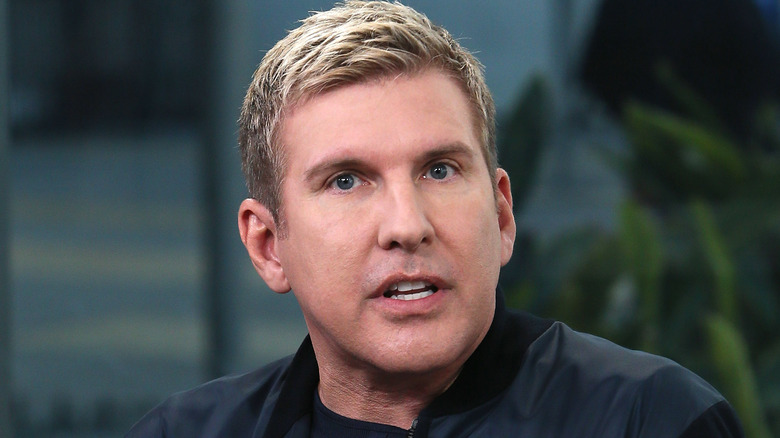 David Livingston/Getty Images
The past keeps coming back to haunt Todd Chrisley. For years, he and his wife, Julie Chrisley, lived large and indulged their expensive tastes, inviting viewers to watch them flaunt their wealth on their USA Network reality series "Chrisley Knows Best." But behind the scenes, the couple was using dishonest means to keep up appearances; in November 2022, Todd and Julie were sentenced to a combined 19 years in prison for bank fraud and other financial crimes, per the United States Attorney's Office for the Northern District of Georgia. However, this time around, it's Todd's mouth (and his apparent thirst for revenge), not his shady methods of obtaining money, that have landed him in hot water yet again.
It was Todd's lack of a filter and sassy, Southern gentleman persona that helped popularize "Chrisley Knows Best." But according to Kyle Chrisley's ex-wife, Alexus "Lexi" Whilby, the barbed-tongued big spender has said things to her that possibly would have got him canceled long ago if they'd been captured on camera. According to the Daily Mail, Whilby, who divorced Kyle in 2018, even has potential evidence that Todd threatened her because she cooperated with the Georgia Department of Revenue when it was investigating him for tax evasion. Todd's habit of taunting his enemies on social media also revealed an ugly side of the reality show star when he lashed out at Whilby publicly.
Todd Chrisley's alleged racist attack on Alexus Whilby
Alexus Whilby and Kyle Chrisley got married in 2014, the same year "Chrisley Knows Best" premiered. Kyle and Todd Chrisley had a contentious relationship, and Kyle decided to cooperate with the Georgia Department of Revenue to offer proof of his dad's financial crimes in 2017. Whilby did as well, saying that Todd then left her a series of threatening voicemails. "You don't need protection, you need an attorney. Call your brothers and find out about that fake trust that you got that has that $100 million dollars in it because I am coming to get a part of it," Todd's allegedly heard saying in one of the recordings, according to the Daily Mail.
Whilby previously told the Daily Mail that Kyle regretted turning against his father and wanted to take back his claims about Todd's wrongdoing. "I was under pressure to do the same and when I didn't that's when he [Todd] went crazy," she said. But even before the 2017 investigation, Todd was lashing out at Whilby on Twitter. As of this writing, one racist attack from 2015 has not yet been deleted. "Bye you tired a** weave wearing ashy skinned HO," it reads, in part. 
In an interview with Hollywood Life, Whilby revealed that Kyle told her that Todd didn't want them to get married because she's Black. "I endured the bullying comments for years in silence, but Karma dealt with it so that I didn't have to," she told the Daily Mail.
Todd Chrisley accused Alexus Whilby of extortion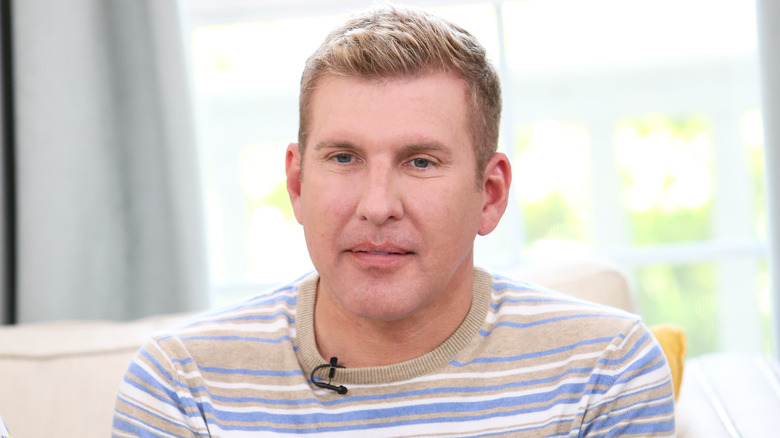 Paul Archuleta/Getty Images
Todd Chrisley made his own allegations against Alexus Whilby in 2014. On Twitter, the "Chrisley Confessions" host accused Whilby of extortion, claiming that she had demanded that the Chrisleys pay her $20,000 to keep her from going to the media and saying that the family is racist. He also threatened to take her to court. Whilby told the Daily Mail that she never did any such thing and that Todd never took legal action against her. The following year, Todd tweeted, "Alexus Whilby stop being silly u fame seeking w****.. U can't count high enough to reach me."
While tweeting back and forth with his followers, Todd claimed that Whilby wasn't happy that the family was on good terms with Kyle Chrisley's first wife, Angela Johnson. Kyle and Johnson had one child together, Chloe Chrisley, who was later adopted by Todd and Julie Chrisley. Whilby mentioned Chloe while speaking to the Daily Mail about some of the racist behavior she claims that she witnessed from Todd. "To see a grown man and public figure, who is the grandfather to a beautiful Black child say those horrible things was shocking," she said. 
What Alexus Whilby would like from Todd Chrisley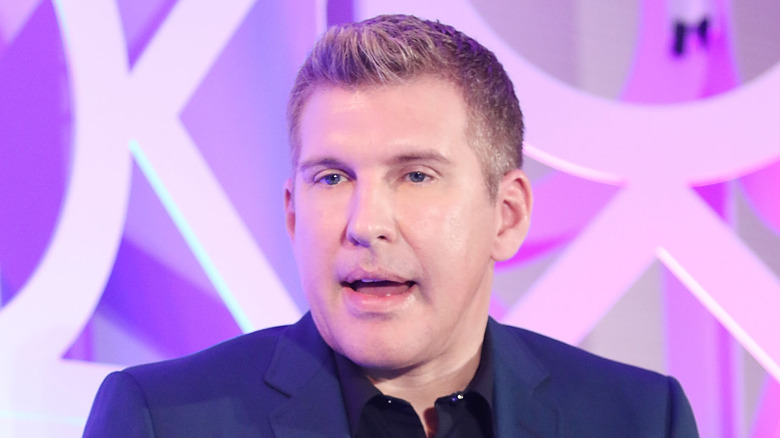 Aaron Davidson/Getty Images
Alexus Whilby claims that Todd Chrisley is so vindictive that he attacked her from the witness stand in 2020 when she and Kyle Chrisley were in court battling over whether their post-divorce financial arrangement would remain the same. "The judge actually asked him to step off the stand because it was just a full-on attack on me," she told the Daily Mail. According to Whilby, she's had to pay high legal costs out of her own pocket while dealing with the Chrisleys, but what she wants from Todd isn't money. "I would like an apology for the hurtful remarks made on public broadcasts about me and for his attempts to undermine me," she told Hollywood Life. However, she predicted that she won't be getting any such thing from him.
While Whilby said that she has forgiven the Chrisley family, she believes that Todd and Julie Chrisley actually deserved longer prison sentences than their combined 19 years for their crimes. "They're the modern-day Bonnie and Clyde," she said.