Jerry Springer Once Made A Morbid Joke About What He Wanted On His Tombstone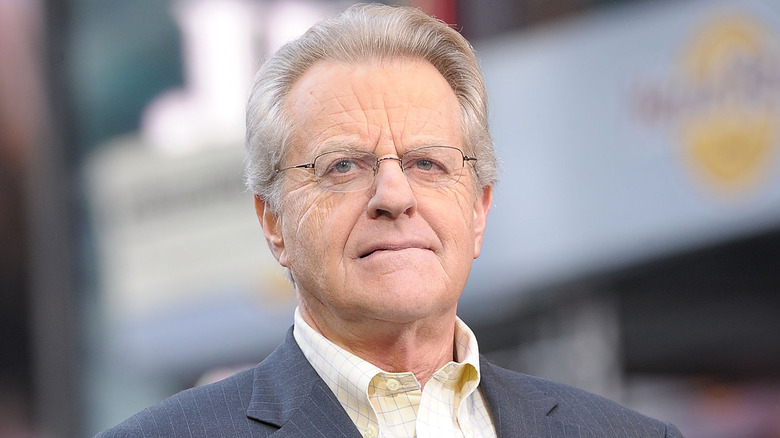 Michael Loccisano/Getty Images
The world was hit with some sad news on April 27 when it was announced that the legendary TV talk show host Jerry Springer had died. Springer, of course, was most famous for being the host of the car crash series "The Jerry Springer Show," which is widely regarded as one of the tent pole shows that paved the way for reality TV as we know it today.
Springer's family confirmed the sad news in a statement issued via their spokesperson, sharing, "Jerry's ability to connect with people was at the heart of his success in everything he tried whether that was politics, broadcasting or just joking with people on the street who wanted a photo or a word. He's irreplaceable and his loss hurts immensely, but memories of his intellect, heart and humor will live on."
No doubt, heart and humor are one of the best ways to describe the star, as he certainly knew how to poke a little fun at himself. And that was no more evident than when Springer made a morbid joke about his own tombstone seven years before his sad death.
Jerry Springer had his tombstone picked out 7 years before he died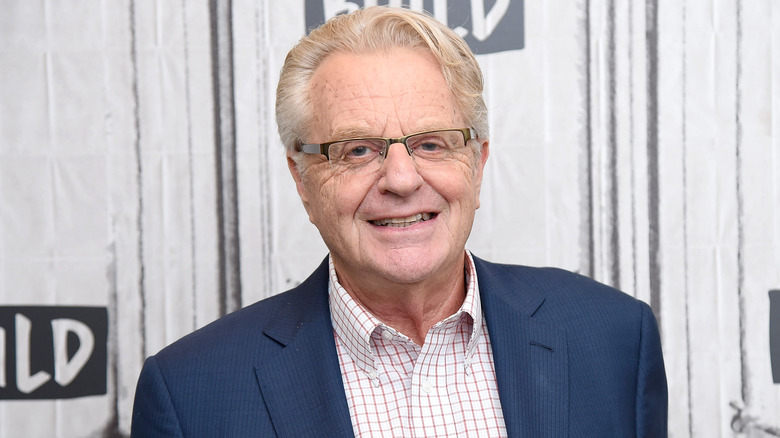 Gary Gershoff/Getty Images
Jerry Springer joked about his eventual death during a 2016 interview with Entertainment Tonight, quipping that he'd already picked out what he wanted on his tombstone. In typical Springer fashion, he was all about poking some fun at himself, telling the outlet, "I know what I'm going to put on my tombstone. 'I won't be right back.'" Of course, one of Springer's famous catchphrases was "we'll be right back," as he uttered the words countless times on his shows to introduce ad breaks.
But that was far from the only time former "America's Got Talent" host Springer was candid about the end of his life. In 2022, Springer appeared on the podcast "Behind the Velvet Rope," where he had a good sense of humor about his show's contribution to reality TV and what that might mean for him in the afterlife. When asked by host David Yontef is he considered himself the "Granddaddy of reality TV" because of how it influenced modern programming, Springer admitted he didn't and joked he wasn't exactly super proud of its legacy. "No. I just apologize. I'm so sorry. What have I done? I've ruined the culture," he jested. "I just hope hell isn't that hot, because I burn real easy. I'm very light-complected."
Jerry Springer's family encouraged people to do good after his death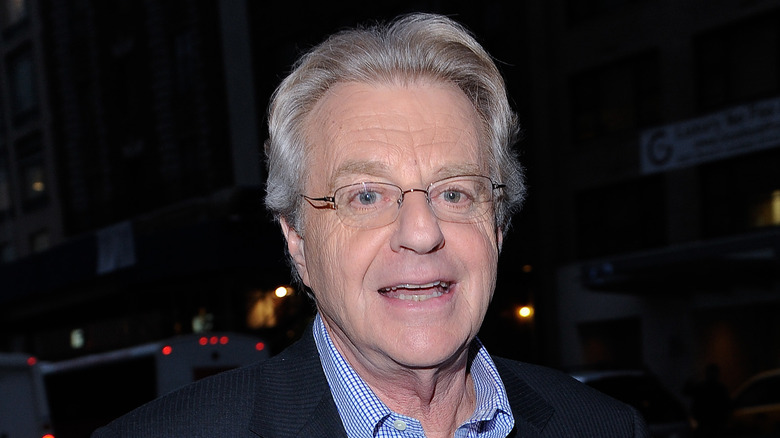 Ray Tamarra/Getty Images
Although Jerry Springer quipped that he wasn't always too proud of what "The Jerry Springer Show" gave the world before his death, his family made sure those who loved him were all about giving back after the fact. when confirming his death, the Springers touchingly asked that his fans put good out into the world in his memory. "To remember Jerry, the family asks that in lieu of flowers you consider following his spirit and make a donation or commit to an act of kindness to someone in need or a worthy advocacy organization. As he always said, 'Take care of yourself, and each other,'" they said in a statement. The family also confirmed that plans were being made for his funeral.
The star's family didn't share further details on Springer's death in the message, though TMZ claimed sources shared that the TV star died following what was described as a "brief illness," as he'd been diagnosed with pancreatic cancer just months before he passed. They added that his passing was, thankfully, peaceful, and he died at his home in Cincinnati.