Everyone Shawn Mendes Has Supposedly Dated After His Split With Camila Cabello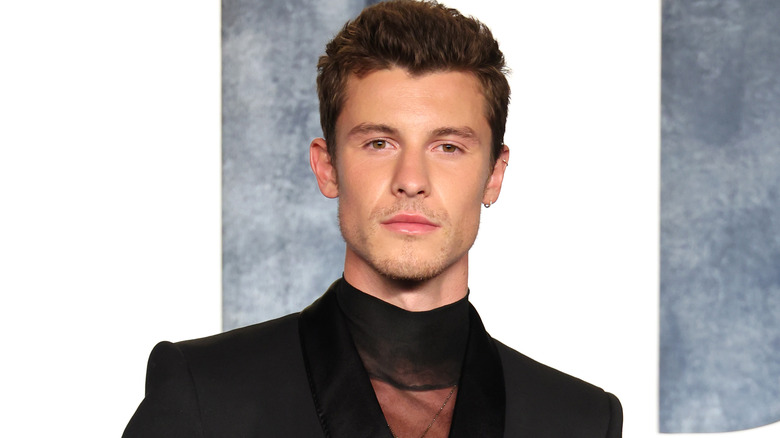 Daniele Venturelli/Getty Images
For years, it seemed like everyone knew that Shawn Mendes and Camila Cabello would date, even before they did. The two musicians first met in 2014, when their relationship started as friends. But between collaborations and constant hangouts, it was obvious that the pair felt something more for one another.
By July 2019, Mendes and Cabello began exploring their romance. From Instagram posts to steamy performances, the two were head over heels in love. Cabello once shared in a tweet, "I love u @ShawnMendes thank u for being so there for me yesterday, and every other day. u have the most caring and beautiful heart in the world!" The couple had gotten so serious, that they were even considering a major milestone. After being asked about a potential engagement by ET, Mendes confirmed they have had talks about the future, saying, "I think for me, it's always been if I'm not willing to talk about that stuff, then I kind of check out a little bit." He continued, "...I don't know, I really think when you know, you know."
But, over time things changed between Mendes and Cabello, and they ended up calling it quits in November 2021. The exes wrote a joint statement saying, "Hey guys, we've decided to end our romantic relationship but our love for one another as humans is stronger than ever. We started our relationship as best friends and will continue to be best friends." And, since their breakup, Mendes has reportedly explored other relationships.
Shawn Mendes was connected to his 51-year-old chiropractor
Shawn Mendes sparked some serious conversation after he was spotted with Jocelyne Miranda following his split from Camila Cabello. In the summer of 2022, the "Treat You Better" singer and the 51-year-old chiropractor kindled dating rumors after they were photographed grabbing groceries with one another. Despite pushback from fans that their relationship was strictly professional, the musician and chiropractor were seen on several more outings. In February 2023, Mendes was out on a supposed hiking date with Miranda. Not long after, the pair apparently attended a Grammy party with one another, per Hollywood Life.
With all the speculation surrounding Mendes and Miranda, it didn't take long for people to discover that the chiropractor had been working with the "Stitches" singer for years. According to Miranda's business website, she's been Mendes' chiropractor since 2018 and has worked with celebrity clients including Justin Bieber and Hailey Bieber. Because of this, many fans believed that their speculated romance was just a friendship. In March 2023, a source revealed to ET, "He was never dating Dr. Jocelyne Miranda and it has never been romantic between them." This seems to be true because the musician ended up moving on with someone another popular musician in the industry.
Sparks fly between Shawn Mendes and Sabrina Carpenter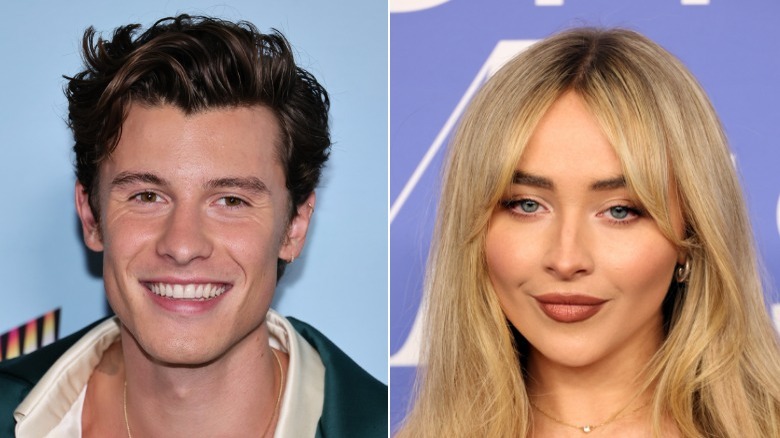 Theo Wargo & Monica Schipper/Getty
We're not talking "Nonsense," because Shawn Mendes and Sabrina Carpenter were reportedly seeing one another. In February 2023, the two musicians set the internet ablaze after they were spotted on a stroll in Los Angeles.The two looked comfortable with one another in laid-back outfits as they appeared as though they were on a date. Rumors about their supposed romance only grew when they were seen leaving Miley Cyrus' album party, although they didn't leave hand in hand. However, a source confirmed to ET in March 2023 that they were exploring their relationship. The source shared, "Shawn and Sabrina are seeing each other. They have been hanging out a lot and trying to keep things lowkey." The source even revealed that the "In My Blood" singer was happy with how things were going with Carpenter.
However, Mendes had a different side to the story, and if anything was happening with Carpenter, he was keeping it all under wraps. While promoting his collaboration with Tommy Hilfiger, the musician revealed to RTL Boulevard his status with the singer. "We are not dating," Mendes said, quickly changing the subject. "...I think we should talk about Tommy Hilfiger probably more than Sabrina. But thank you." It seems like Mendes was telling the truth, because just a month after that interview, he was spotted making out with ex-girlfriend, Camila Cabello, at Coachella. So, the former couple may not be finished after all.