What Billy Gardell And Melissa McCarthy's Relationship Is Like In Real Life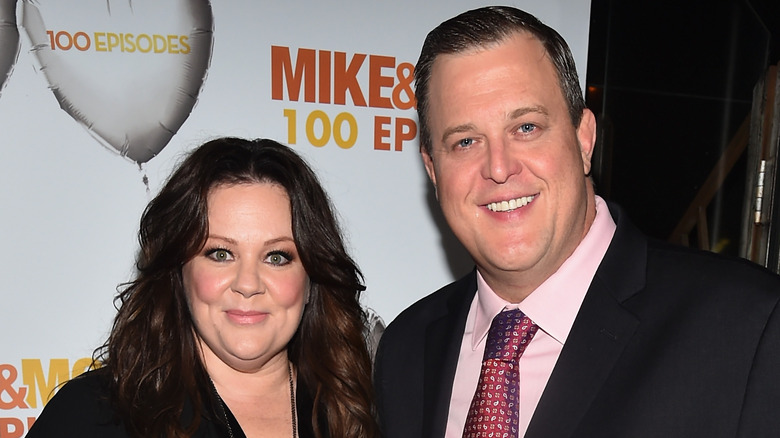 Alberto E. Rodriguez/Getty Images
Billy Gardell and Melissa McCarthy met for the first time when they landed their respective roles on "Mike and Molly" in 2010. The two actors' characters, Mike and Molly, meet during an Overeaters Anonymous group and eventually fall in love and get married. On acting with McCarthy for the first time, Gardell told The Oklahoman, "There's been a trust since day one between me and her, and it really comes through on-screen ... We both just sat down, honestly, before the start, and said, we need to make up these people as real as possible."
In 2015, Gardell and McCarthy celebrated the sitcom's 100th episode, which the "Bridesmaids" star had the honor of directing. "We had a great beginning, I felt like it was meant to be. The second we read (together) I think I audibly went, 'Oh!'" McCarthy shared with Variety. "I did the same thing. I walked out of there thinking, 'If I have any shot, it's because I read with her,'" her co-star agreed. "Mike and Molly" was canceled after six seasons and the cast went on to do other projects. Gardell and McCarthy's six years together naturally caused them to form a tight relationship and the stand-up comedian revealed just how he feels about his former television wife.
Billy Gardell says Melissa McCarthy is like family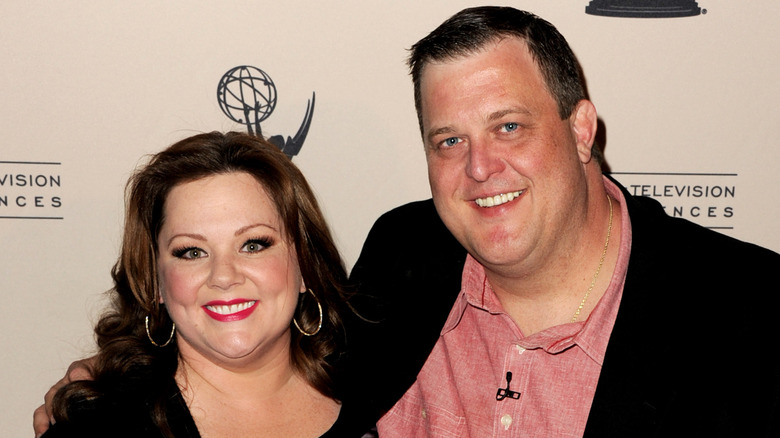 Kevin Winter/Getty Images
While on-set drama between co-stars is pretty common, there was nothing but love between Billy Gardell and Melissa McCarthy during their time on "Mike and Molly." Years after the show ended, Gardell shared, "[McCarthy] and I have a brother and sister relationship. I love her and think she's special. The first time I read with her and something was there right away," per CBS. Gardell went on to say that after they nailed their takes, McCarthy would improv a scene "because she just has that brain," adding that she is a "powerhouse."
Gardell revealed to People that his and McCarthy's final table read for "Mike and Molly" was emotional and that "everybody was weeping." He reiterated that the cast was like family and only had good things to say about McCarthy's career, particularly her "Saturday Night Live" impression of Sean Spicer. "I'm not surprised when she does anything. I've been around her long enough that something's just going to happen and it'll come out of the sky like a meteor. That's what she does and she's just amazing," he gushed. Although the two have moved on from the show and their characters, Gardell and McCarthy still remain close friends to this day.
Billy Gardell and Melissa McCarthy still keep in touch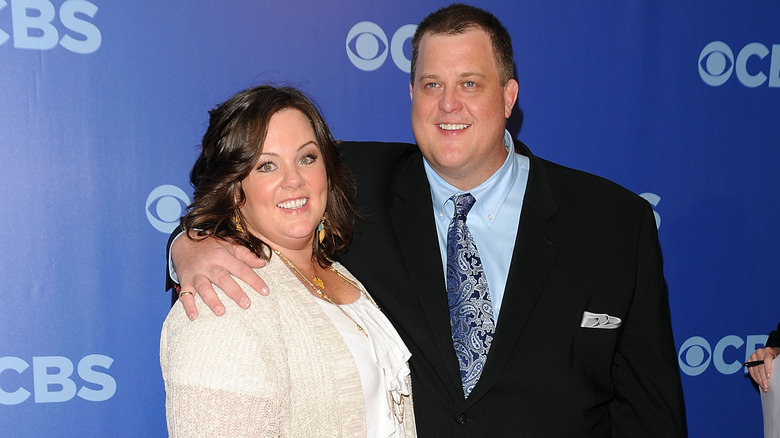 Andrew H. Walker/Getty Images
Billy Gardell paid Melissa McCarthy the highest compliment by comparing her to Eddie Murphy's rising stardom in the 1980s, per Build Series. "She came to work the same person every day — humble, hardworking, kind, giving," he stated. Gardell then joked that McCarthy was "insane" because she wanted to do her own stunts. "It would make the rest of us nervous when we'd have to do something on the show, like, 'Please, you're the golden goose. Don't get hurt,'" he quipped.
And Gardell and McCarthy's friendship hasn't waned after years of not working together. During an appearance on "The Jam TV Show," Gardell was asked if he and his former co-star still talk and he replied, "Oh God yes, absolutely. Our whole cast still talks. We were all over 40 when we hit with 'Mike and Molly,' so nobody was crazy." Joking that the cast cared about their parking spots and health insurance, he went on to say, "She's absolutely lovely. I was rooting for her — I texted her before the Oscars and said, 'I'm rooting for you. We're team Melissa' and she just said, 'I'm just happy to be nominated.'" Gardell and McCarthy haven't worked together since "Mike and Molly" ended, but their time together obviously created a strong bond that looks like it'll last for years to come.