Josh Brolin's Wife Kathryn Boyd Brolin Was His Assistant Before They Got Married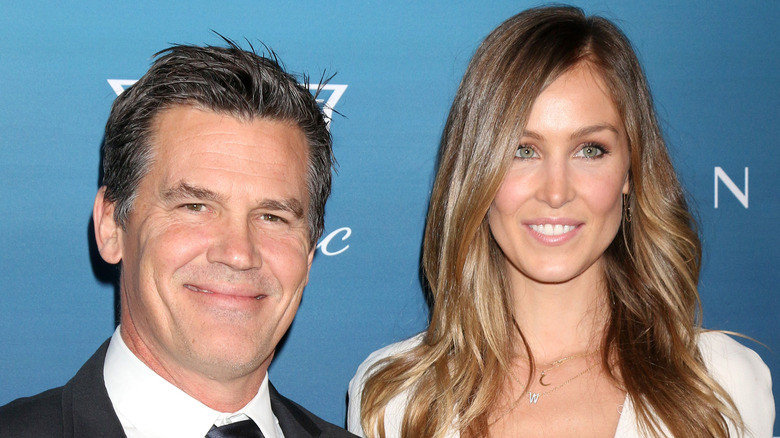 Kathy Hutchins/Shutterstock
Josh Brolin's current significant other is someone he previously collaborated with professionally. 
Brolin's first spouse was Alice Adair, whom he wed in 1988 and divorced in 1992.  As reported by People, Brolin and Adair share two adult children, Trevor and Eden. Following his split from Adair, the "Goonies" star went on to marry Diane Lane in 2004. This union, however, ended in divorce by 2013, E! News reported. At the time, a source told the news outlet that the two had separated on cordial terms. "It is very amicable," the source said. "It's not ugly, it's just over."
By 2014, Us Weekly noted that Brolin had found a new love interest in Kathryn Boyd. At the time, the two were seen sharing a kiss during an outing in Rome. The magazine also announced that the couple had become engaged the next year. Per USA Today, Brolin and Boyd then got hitched in 2016. The love connection between Brolin and Boyd began following a years-long work relationship.
Kathryn Boyd Brolin was Josh Brolin's assistant for two years prior to their romance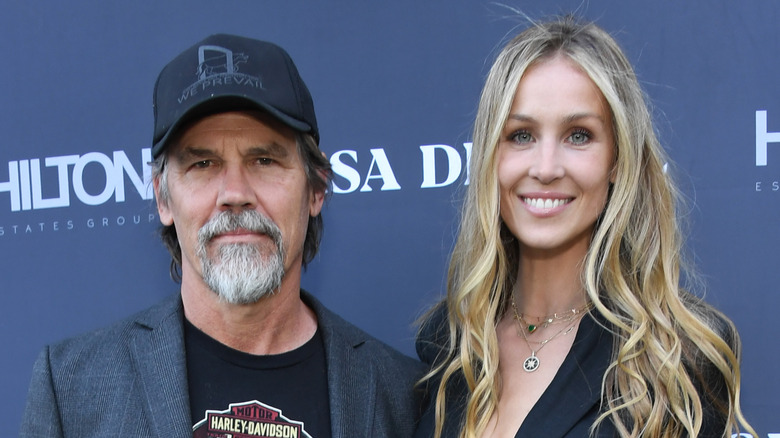 Jon Kopaloff/Getty Images
Josh Brolin and Kathryn Boyd Brolin tied the knot after Kathryn served as his personal assistant. Wide Open Country shared that the couple crossed paths through their professional relationship, which consisted of two years during which Kathryn worked for Josh. Additionally, Kathryn is also a former model and a businessperson, according to a 2020 Art Institutes interview. Her company, Midheaven Denim, is a high-quality clothing brand made for a variety of body types. 
During her chat with The Art Institutes, Kathryn shared how Josh has inspired her to take initiative in her work life. "Something that I've learned a lot through my husband is, you can do work in the area that interests you, no matter if people are watching it or collaborating with you or not," Kathryn said. "If you want to be a filmmaker, you have every resource now. You have no excuse to not make little movies or shorts. Or if you're a writer, you have no excuse to not sit down and work on your writing every single day." According to her Instagram bio, Kathryn also specializes in photography and film, and is a Leica Camera USA ambassador. In April 2023, she posted images showing her collection of photos on display at the Leica Gallery Los Angeles. Aside from pursuing her passions, Kathryn has taken on parenthood with Josh.
Josh Brolin and Kathryn Boyd Brolin now have two kids together
Josh Brolin and Kathryn Boyd Brolin started a family! In May 2018, Josh announced on Instagram that Kathryn was pregnant with their first baby together. "There's a new sheriff in town, and she's no bigger than a sweet potato. Hang on to your hats," Josh wrote alongside images of Kathryn showing off her baby bump. One month later, Josh discussed his emotions as he prepared to become a father once again. "I'm nervous, but I'm excited," he told Us Weekly. Kathryn then shared a short video of her and Josh's child, Westlyn Reign, via Instagram after giving birth in November 2018. "Nothing compares to this... My heart is totally different forever. @joshbrolin thanks for this little life of ours," Kathryn wrote.
In 2020, Kathryn shared in a now-deleted Instagram post that she had become pregnant again, per Us Weekly. As Entertainment Tonight reported, the couple's second daughter, Chapel Grace, was born on Christmas Day 2020. Josh dedicated a sweet Instagram post to his four kids in December 2022, writing, "I've been a parent my whole adult life, and there is nothing more important what has happened in my life than by being blessed with Trevor, Eden, Westlyn and Chapel." Days later, he took to Instagram to post a photo of himself and Kathryn kissing. "As things wind down for the year, a reminder that you wind me up @kathrynbrolin," Josh stated.