The Moment Drake Bell Knew His Friendship With Josh Peck Was Over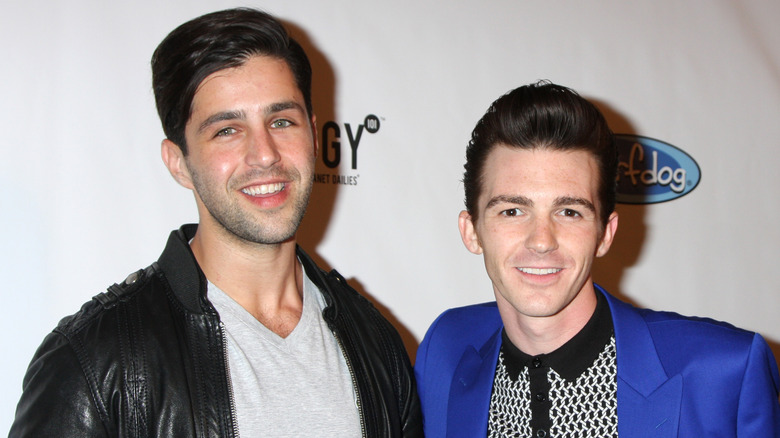 Kathy Hutchins/Shutterstock
Anyone who spent countless hours watching Nickelodeon in their younger years was probably once convinced that Drake Bell and Josh Peck were the best of friends. The two starred in "Drake & Josh" from 2004 to 2008 and acted as on-screen brothers for four seasons and two films. On the show, they portrayed two teens with contrasting personalities who were forced to live under one roof when their parents married. Despite butting heads pretty much 24/7, the brothers always had each other's backs, especially in sticky situations.
With Bell and Peck playing brothers for nearly half a decade, it's easy to assume that the bromance extended behind the scenes. And it did — at least for a little while. In an interview with Seventeen, Bell dished that since they had been friends for so long, nothing could tear them apart. "We're such a big part of each other's lives. Like our history goes back before 'Drake & Josh' and before 'The Amanda Show.' I knew him before we even stepped in front of a camera together," he shared. "We're always going to be brothers. But even outside this whole facade of 'Oh we're brothers,' we really are good friends."
Regrettably, the friendship between Drake Bell and Josh Peck fizzled out, which was further cemented when Peck neglected to invite Bell to his wedding with Paige O'Brien.
Drake Bell knew his friendship was over when he didn't get invited to Josh Peck's wedding.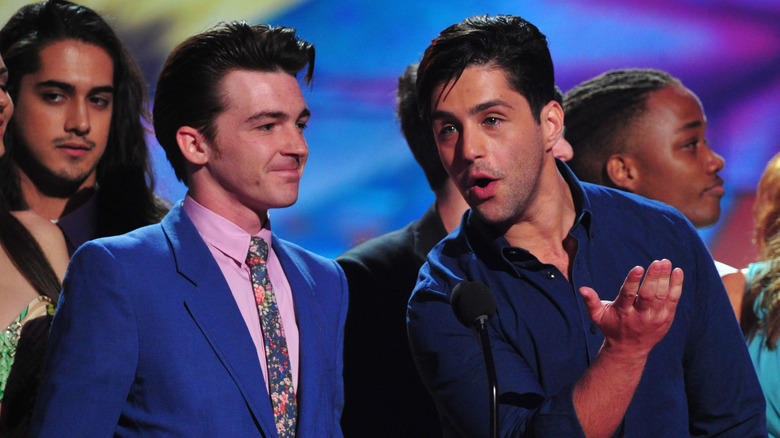 Frazer Harrison/kca2014/Getty Images
In the years since "Drake & Josh" ended, there were only a handful of times when Drake Bell and Josh Peck showed any indication that they were still in contact with one another. But in 2017, when Peck walked down the aisle with cinematographer Paige O'Brien, it became clear that they were no longer as close as they used to be. You see, Peck didn't invite Bell to his nuptials — leading to the musician throwing a tantrum on Twitter.
"True colors have come out today," he wrote in a since-deleted tweet. "Message is loud and clear. Ties are officially cut. I'll miss you brother." He also wrote, "Loyalty is key... ALWAYS remember where you came from."
While Bell scrubbed the tweets off his page, they still caused a commotion among fans who thought he was still BFFs with Peck even after all those years. He later explained his reaction to E! News, admitting that he genuinely felt hurt for not being invited and thought it was some sort of betrayal. "I kinda shot from the hip. I was like, 'This is wrong! Why am I finding out about this on social media?'" he divulged. "I just felt like a bummed out brother, just kind of hurt. But it does nothing to our relationship."
Josh Peck no longer considers Drake Bell his friend
Drake Bell and Josh Peck eventually kissed — or more like hugged — and made up the same year, when they both attended the MTV Video Music Awards. At the time, Peck shared a photo of them exchanging a hug, captioning it with "Hug me (brotha)," his signature line on "Drake & Josh." A month later, Bell told Us Weekly that he was able to hash things out with his longtime friend, and even claimed that the conflict brought them closer together. "It's interesting, we're actually closer than we've been in a while ... It's totally great. It's all love," he divulged. 
Peck, however, did not share the same sentiment. In an appearance on the "BFFs" podcast, he shared the actual state of his relationship with Bell, which is, well, non-existent. According to the "How I Met Your Father" star, he and Bell are far too different that they just drifted apart after their show. "'Drake & Josh' is something I'll be synonymous with forever and I'm proud of it. And I want to like the guy that my name is attached to forever, but unfortunately, it just sort of worked out the way that it did," he said, adding that when he didn't invite Bell to his wedding, it was because they had not spoken in years. "Drake and I didn't stay in touch for the 10 years since we had made the show," he said. And when asked if he still considers Bell his friend, he simply said: "Not really. No."