What Steve Howey's Relationship With Reba McEntire Is Like Today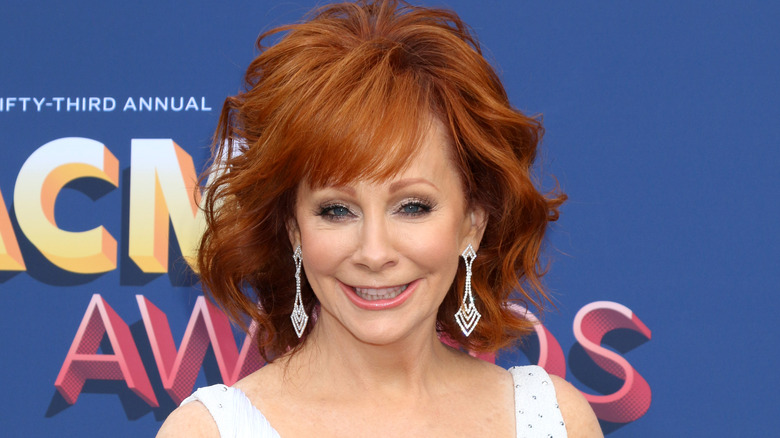 Kathy Hutchins/Shutterstock
You know what they say — a cast who plays together stays together! There's no denying that "Reba" was once one of the hottest sitcoms on television, and the casting director did a great job because we couldn't imagine the series with any other stars! The CW series first graced our televisions (and our hearts) in 2001 and remained on air for six seasons before the finale aired in 2007. 
Although McEntire proved to be the biggest name in the series, fellow cast members Steve Howey and Joanna Garcia Swisher saw their stars rise while playing the roles of Van Montgomery and Cheyenne Hart, respectively. While there have been rumors of a possible reboot, nothing has materialized yet. "We've really been trying hard to do a reboot of the 'Reba' show," she said on The Bobby Bones Show in 2020. "I really want to work with the people that I got to work with during that six and a half years." One of the people McEntire is eager to work with again is Howey, who played her son-in-law on "Reba." The two had a great dynamic on screen, leading many to wonder if the two are still close today. Here's everything we know about the relationship between McEntire and Howey 15 years after "Reba" wrapped up production.
Steve Howey has nothing but love for Reba McEntire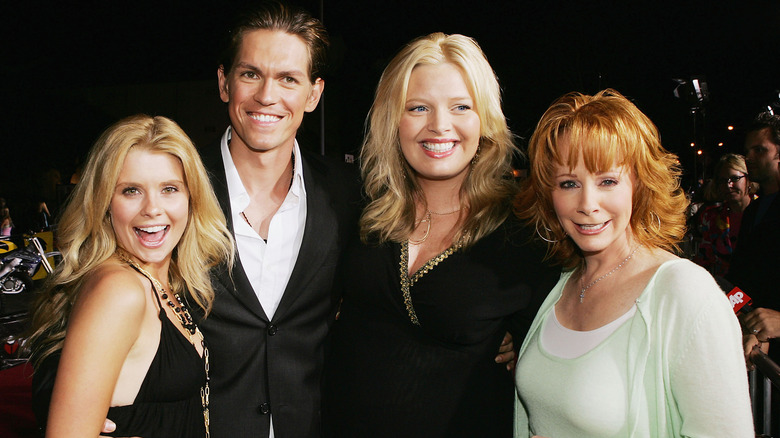 Kevin Winter/Getty Images
Even after all these years, Steve Howey and Reba McEntire remain close. In March, Howey spoke with Entertainment Tonight about the hit sitcom while also dishing that he still talks with McEntire and even had plans to see her in concert. The star also pushed for a mini-reunion. "I pitched a whole thing that she shot down. I was like, 'Can I come out on stage and say, 'Hey Mrs. H?' And she was like, 'Well, I gotta go change, and then we come out and I sing 'Survivor,' and that's when she's like, 'We don't have time. I don't have time,'" Howey explained, joking that McEntire "kicked down" his dreams of appearing on stage.
In the same interview, the actor expressed his desire to do a reboot, even if things would be pretty different than the initial storylines. "Yeah, I mean, I don't even know because when I played Van on that show, I was in my early 20s, and to see where Van is now and where the family is, I mean I would do anything," he explained. "Reba says, 'Jump,' and I'll say, 'How high?'"
Meanwhile, Melissa Peterman — who played fan-favorite Barbra — recently took to Instagram to share of photo of her with Howey and Joanna Garcia Swisher at the Hollywood Bowl, giving fans a look at their cute mini-reunion. And we're not going to lie; we'd totally be on board with a reboot!
Reba McEntire loves her former co-stars
While there's no doubt that Steve Howey has very fond memories of his time on the hit series, it appears that Reba McEntire feels the same way. In 2017, she told Fox News she remains close with her former cast mates, including Howey. "I stay in touch with all of them," she said, adding that she recently reunited for a birthday party with a few of her "Reba" co-stars. "Out of all the things I get to do, whether it's music, TV, Broadway, whatever it is, making the friends and getting to stay in touch with them that's the icing on the cake." Ugh, it just makes us want a reboot even more! However, the country music star shot down the possibility of a reboot idea at the time. "It would be very hard to do a 'Reba' reboot because Steve Howey is on 'Shameless,' Melissa [Peterman] is really busy on 'Baby Daddy.' Chris Rich is doing a movie in Oklahoma right now," she explained to the outlet, adding that Joanna Garcia just had a second baby, making it difficult to bring the cast together, though her tune has since changed.
In addition, McEntire has shared a few photos of Howey on social media, including in a 2016 Facebook post. The image captured McEntire, Howey, and Melissa Peterman grinning for the camera, and McEntire's caption was just about as sweet as you'd expect. "I love these two crazy people with all of my heart!" she wrote, making sure to tag Howey and Peterman in the post.