Why Jessie James Decker Wanted Her Husband Eric To Quit His NFL Career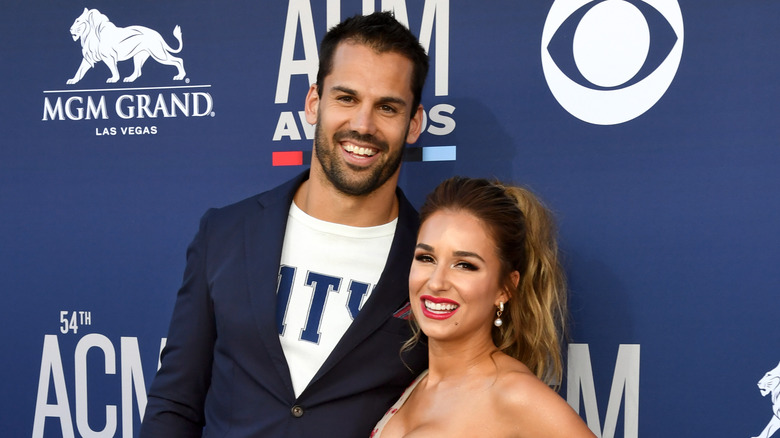 Ethan Miller/Getty Images
Singer Jessie James Decker and former NFL player Eric Decker are #couplegoals, but that didn't mean Jessie wasn't happy to see her husband hang up his helmet for good. The pair first met in 2011 after being introduced by a mutual friend and have been inseparable ever since. "[Eric] was in Arizona training, and I got a text from my girlfriend who said, 'I'm having dinner with this guy I'm seeing, and this other guy just showed up, and he's stunning,'" Jessie told Access Hollywood (via Bustle) as she recalled their sweet love story. "Show him a picture of me," she replied. "And see if he's into it.'" 
She and Eric talked on the phone for a month before they finally met and officially started dating. Soon, they were engaged, and in June 2013 tied the knot at a church in Colorado while Eric was still playing in the NFL as a wide receiver for the Denver Broncos. They have since welcomed three kids, their daughter Vivianne and sons Eric Jr. and Forrest.
After Eric announced his retirement from football in 2018, following a stellar eight-season NFL stint, Jessie publicly expressed her support for her hubby in a touching tribute on social media. "I couldn't be more proud of him and his decision. I cried, smiled, and ultimately respected his choice to finish this chapter to start another," the country singer wrote. She also may have let out a huge sigh of relief, as Jessie didn't always have a very optimistic outlook on her husband's professional football career.
Jessie James Decker was concerned about Eric's safety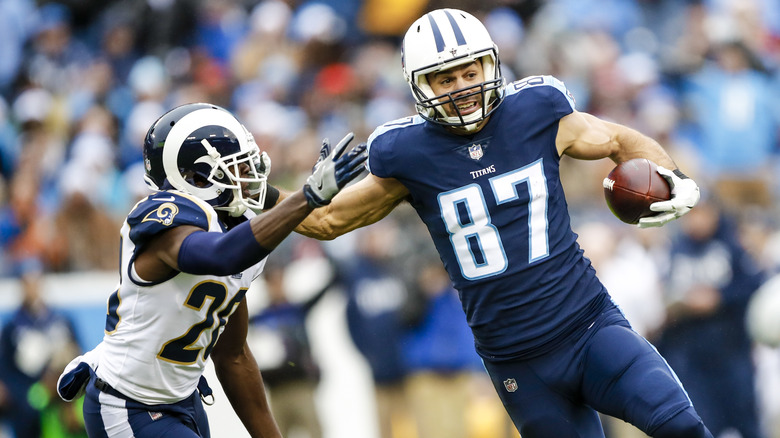 Wesley Hitt/Getty Images
Eric Decker announced his decision to retire from football in a statement on Instagram in August 2018. "It has been my childhood dream and my passion to play the game of football. I was very fortunate and blessed to have had the opportunity to have those dreams fulfilled," the former wide receiver wrote. Eric's retirement followed a brief and unimpressive preseason stint with the New England Patriots. He also played for Denver Broncos, New York Jets, and Tennessee Titans during his eight-year career in the league. "I love football and always will," Eric said. "It will continue to be part of my life."
Eric's wife, Jessie James Decker, supported his decision to finally "hang up his helmet" after expressing concern for his physical safety in a 2014 interview with USA Today's For the Win. When speaking about Eric's former Denver teammate Wes Welker — who'd suffered six reported concussions before his retirement in 2017 — Jessie said she would want her husband to quit playing if he suffered similar injuries. "I think any wife would be really, really concerned for their husband," the singer said. "Of course I would tell Eric to stop." Fortunately for Jessie and Eric, the former NFL pro was never burdened by concussions or head injuries during his time on the field. However, he did undergo surgery after sustaining a shoulder injury in 2016 and was placed on injured reserve by the Jets after being forced to miss two games.
Jessie James Decker continues to support her husband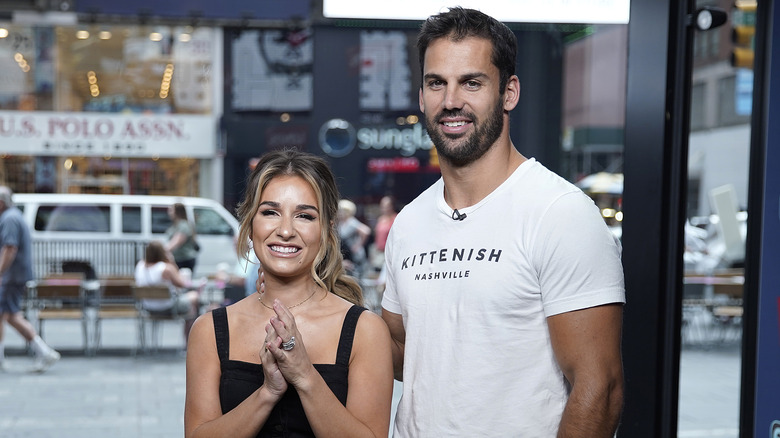 John Lamparski/Getty Images
Following his announcement, Eric Decker spoke to USA Today Sports about his decision to retire from football after eight seasons in the NFL. The retired athlete said he was already considering quitting when he received an offer to play for the New England Patriots ahead of the 2018 football season. "I could not say no to that opportunity," he said. But soon after training camp, Eric knew he wanted to stop playing. He spent the rest of the offseason debating whether to continue his career or retire. He chose the latter. "You know when you know," Eric said. "Ultimately, I was kind of checked out. ... I was kind of emotionally and mentally checked out of football at that point." 
Speaking with People about her husband's retirement, Jessie James Decker said she was a little bit surprised herself. "I thought he was going to play longer," she said. "But, you know, he had definitely voiced to me that he had just been feeling a certain way and I just respected it." Since his retirement, Eric has shifted his focus and has enjoyed spending more time with Jessie and their kids at home. He and the country music star — who will celebrate their 10th wedding anniversary this June — have been open about their marriage and family life, including their desire to expand their brood.