Mia Goth And Robert Pattinson Were Co-Stars When Their Exes Started Dating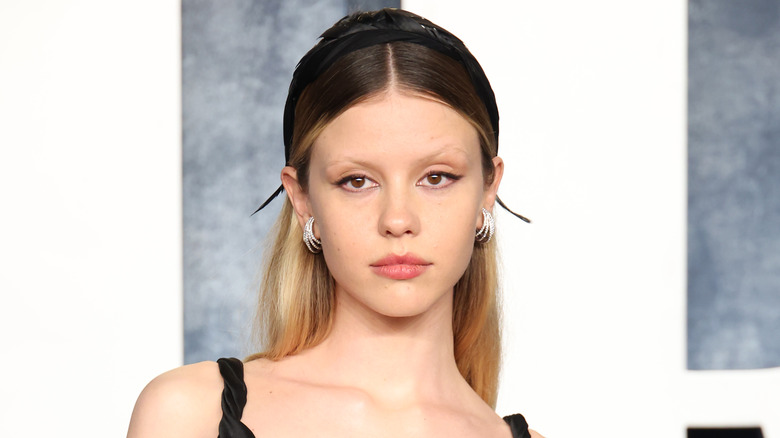 Daniele Venturelli/Getty Images
The following article includes allegations of domestic abuse.
Mia Goth and Robert Pattinson made headlines when they broke up with their long-time partners, and they likely didn't expect their exes to start dating each other while they were working on a project together.
After a two-year engagement, Pattinson and FKA Twigs parted ways in 2017. According to sources close to "The Batman" star, he had grown dissatisfied with how their relationship had fizzled in the months leading up to the split. "With so much ­history between them, though, there are still strong feelings there," the insider told The Sun at the time. A few years later, during a 2019 interview with Zane Lowe, Twigs spoke about how "unmeshing" her life from Pattinson was vital to her own personal growth.
Similarly, Goth and her husband, Shia LaBeouf, filed for divorce in 2018 after two years of marriage. "The separation is amicable and all details pertaining to the divorce proceedings will remain private," a rep for the couple told People at the time. Soon after filing for divorce, LaBeouf was romantically linked to Twigs. This created a unique dynamic for Goth and Pattinson, as the two were working on a project together while this was all going down. 
How Robert Pattinson helped Mia Goth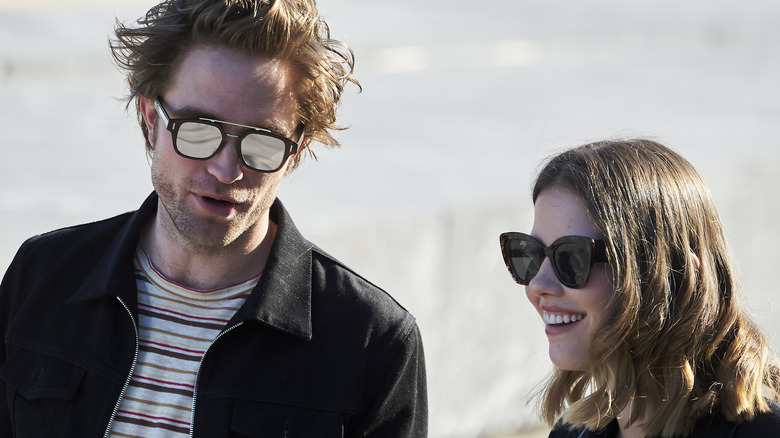 Carlos Alvarez/Getty Images
Mia Goth and Robert Pattinson starred in the 2018 sci-fi/drama film "High Life." While promoting the film, news broke that their ex-partners — Shia LaBeouf and FKA Twigs — had started dating. The actor presumably met the "Cellophane" singer while filming his 2019 film "Honey Boy," and a romance blossomed not long after. It came as no surprise to Goth and Pattinson, who thought the whole thing was "comical," at least that's what one insider told E! News. Reportedly, Pattinson was unfazed that his ex was dating LaBeouf, but Goth was more upset, so the "Twilight" actor helped support her through the difficult time.
To prepare for filming "High Life," the cast trained at a space station for three weeks, which subsequently helped them forge strong relationships. "[W]e all got very comfortable with each other," Goth told SciFiNow in 2019 when speaking about the experience. "[A]ll that time just bonding and getting to know one another really helped," she added.
Goth and Pattinson showed their comfort with one another during an interview to promote their film — a clip of which went viral in 2022. The "Pearl" star revealed she was not a fan of the "Twilight" franchise. "Anything you've done, I just don't get it," Pattinson jokingly replied. Later, their exes broke up, and Goth's relationship with LaBeouf reignited.
Mia Goth starts a family with Shia LaBeouf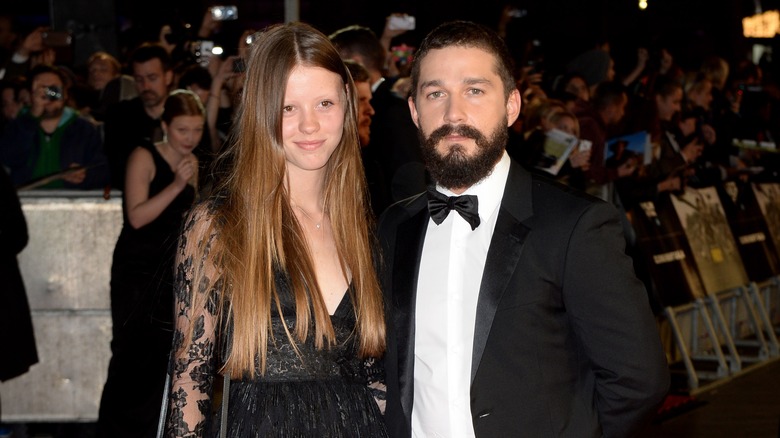 Dave J Hogan/Getty Images
The relationship between Shia LaBeouf and FKA Twigs came to a disastrous end. In 2020, the singer filed a lawsuit against her ex-boyfriend, citing "relentless abusive behavior," The New York Times reported. In 2021, Twigs gave insight into her tumultuous relationship with "The Tax Collector" actor. "It's a miracle I came out alive," she told Elle at the time. "I was very intimidated living with him. He had a gun by the side of the bed and was erratic," she revealed.
LaBeouf gave his own emotional recounting of the relationship, admitting that he mistreated Twigs during their time together. "I was a pleasure-seeking, selfish, self-centered, dishonest, inconsiderate, fearful human being," he said on Jon Bernthal's "Real Ones" podcast in 2022. "I f***ed up bad," he added. After filing for divorce in 2018, Mia Goth and LaBeouf started dating again in 2021. "[She] saved my f***ing life," LaBeouf explained on the "Real Ones" podcast.
By April 2022, the reconciled couple welcomed their first child. LaBeouf detailed his love for Goth in an email to Olivia Wilde after he unceremoniously exited her film, "Don't Worry, Darling." According to Variety, in August 2022, he wrote, "Mia, my wife & I have found each other again & are journeying toward a healthy family with love and mutual respect." Later that year, LaBeouf and Goth appeared on great terms as they were spotted enjoying family time together at Disneyland with their baby girl.
If you or someone you know is dealing with domestic abuse, you can call the National Domestic Violence Hotline at 1−800−799−7233. You can also find more information, resources, and support at their website.