Khloé Kardashian's Troubling Health History With Melanoma Explained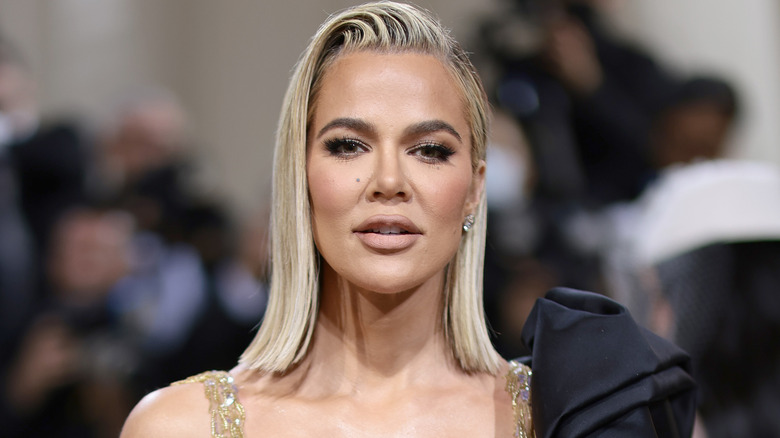 Dimitrios Kambouris/Getty Images
Khloé Kardashian has always been an open book when it comes to matters of her health. When she experiences health concerns that significantly affect her quality of life, she makes it a point to share them with her fans in hopes of raising awareness, as well as reassuring those going through the same thing that they are not alone.
For instance, back in 2015, she opened up about having contracted a staph infection. "Staph infection is no joke. Mine was exacerbated by stress which is not a great combo," she tweeted. "I'm under great medical care & receiving tons of love!" Then in 2019, on "Keeping Up With the Kardashians," she shared her experience with debilitating migraines that render her incapable of doing even the smallest of tasks. "Literally my whole head feels bruised because it's been pounding for so long and it's terrifying," she noted at the time, and even took to Twitter to express her exasperation over people minimizing her struggle. "I get so frustrated when people tell me to push through and it's just a bad headache. if only they knew!!" she penned. "That feeling is torturous and indescribable. I can't believe I left home without my migraine medication."
It's admirable that Kardashian doesn't shy away from sharing her health struggles, but in the latest season of "The Kardashians," the Good American co-founder opened up about having undergone a health scare that she described as "deadly."
Khloé Kardashian had a tumor removed from her face
In the teaser for the third season of "The Kardashians," Khloé Kardashian opened up about experiencing a skin cancer scare, with everyone around her expressing concern over her well-being at the time. Kendall Jenner noted that Kardashian "doesn't sleep" and has "lost a lot of weight," while her best friend, Malika Haqq, dished that she had never seen her "this low." Kardashian then revealed that her health scare had something to do with melanoma. "This is way more serious than I anticipated it to be," she said.
While she didn't detail the condition in the teaser, she has opened up about her experience with melanoma in the past. In October 2022, Kardashian took to Instagram Stories to share that she discovered a blemish on her face that turned out to be a tumor. "I decided to get it biopsied 7 months after realizing it was not budging," she said. "A few days later I was told I need to have an immediate operation to remove a tumor from my face."
The good news is the surgeon was able to "remove everything," but that meant leaving her with a temporary scar. "You'll continue to see my bandages and when I'm allowed, you'll probably see a scar (and an indention in my cheek from the tumor being removed)," Kardashian continued. "But until then I hope you enjoy how fabulous these face bandages look."
Khloé Kardashian first battled melanoma in her teens
As it turns out, Khloé Kardashian has long battled with melanoma, with the first incident dating back to when she was 19. In the same series of Instagram Stories, she shared that she had undergone surgery for the same condition then, so her recent health scare was something with which she was already familiar.
"At 19-years-old, I had melanoma on my back, and I had a surgery to remove that as well," she noted, while also urging her followers not to be complacent about their skin concerns. "I am someone who wears sunscreen every single day, religiously so no one is exempt from these things. Please take this seriously and do regular self-exams as well as your annual checkups."
And, indeed, Kardashian practices what she preaches. In her interview with Health, the reality star pointed out that she's actively carrying out healthy habits in her day-to-day life. "I have to think of it as a lifestyle rather than thinking I want to try this diet or some other thing someone was talking about. I'm so over that stage in my life," she said. "It's cliché, but it's all about mind, body, and soul. If I am not mentally strong then I physically feel like I can't do what I want to do."