How Whoopi Goldberg's Secret Boyfriend Got Exposed By Her Granddaughter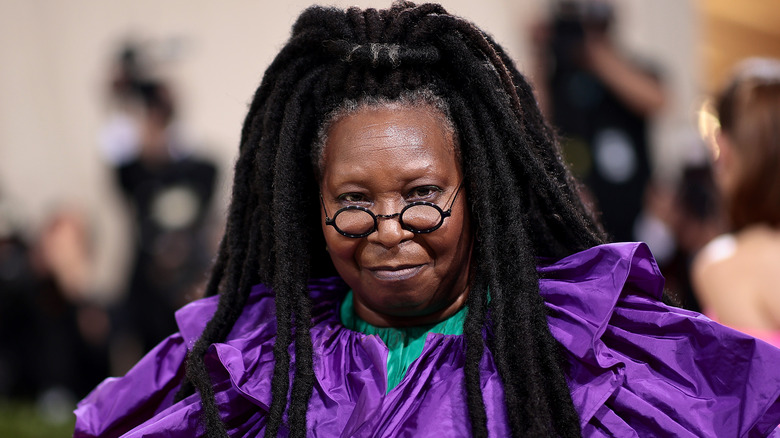 Dimitrios Kambouris/Getty Images
After three failed marriages and a string of romantic relationships that included a controversial affair with a fellow actor, Whoopi Goldberg now considers herself a fervent skeptic of the whole institution of marriage. The EGOT winner has vowed never to exchange "I Do's" with anyone, ever again, not because she abhors the idea of romance, but because she realized that she enjoys not being encumbered by someone else.
"People keep saying 'Well, you'll find somebody,'" the longtime "The View" moderator said in a "The Tamron Hall Show" appearance in 2019. "I'm not looking for anyone. I am very happy. I don't want to live with anybody." She does, however, enjoy the company of her pet cat, Oliver. "I have a cat. A 20-year-old cat who is attitudinal. So he will leave little treats for anybody that's not me in the bed," she dished.
But while Goldberg has shunned relationships, save for feline companionship, it doesn't mean she no longer engages in fun little trysts here and there. Her granddaughter Amara Skye, was apparently privy to some of the "Sister Act" star's flings, and even once revealed that Goldberg had a boyfriend she refused to let anybody know about.
Amara Skye revealed that Whoopi Goldberg had a secret boyfriend on a reality show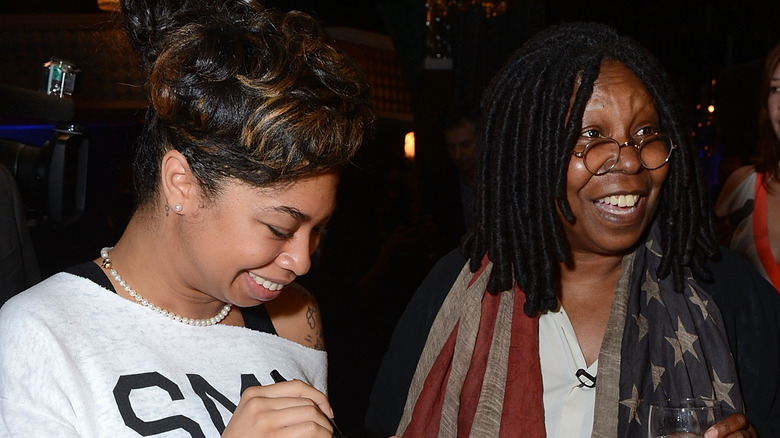 Shahar Azran/Getty Images
Amara Skye, one of Whoopi Golderg's grandchildren from her only daughter, Alexandrea Martin, had a stint on the show "Claim to Fame," a reality series that put together celebrity relatives under one roof. On the program, she got too comfortable airing out some of their family's secrets — including her grandmother's secret affairs.
Aside from revealing that Goldberg had an affinity for the video game, "Diablo," Skye let it rip that once upon a time, the "Ghost" star had a secret lover. "She had a boyfriend that was like 90 years old and she used to go hang out with him," Skye divulged (via The U.S. Sun), adding that he was some "old white man named John or some s**t and he was like a billionaire." Throughout the relationship, Skye noted that Goldberg would "sneak off and get her sex appointments randomly," which she thought was interesting because she had nary an idea that her grandmother "was still having sex."
While Goldberg never confirmed if she really had a secret billionaire boyfriend, Skye did express regret over dishing details about her grandmother's personal life. "No one knew about that — I barely found out about that. So I was just like, 'Oh, man. I think I just put my grandma's business out there, and I don't really know if she's going to be OK with this,'" she told USA Today. "But my grandma's really, really cool and pretty open. So, I don't think I did so bad."
Inside Whoopi Goldberg's relationship with Amara Skye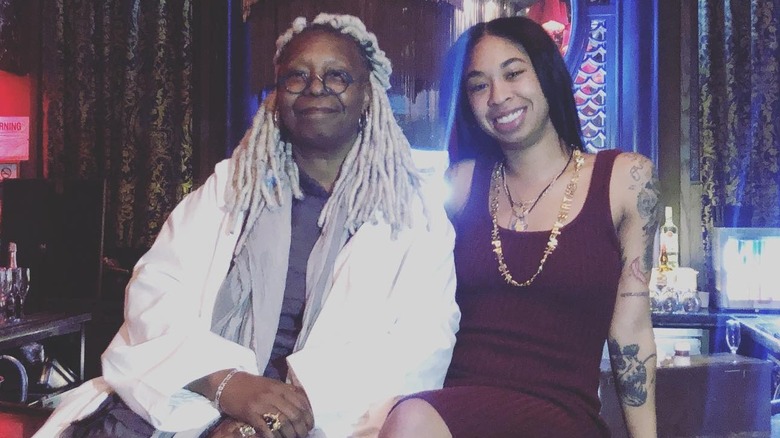 Even though Amara Skye aired out Whoopi Goldberg's personal business on national television, the actor would probably forgive her granddaughter anyway. After all, Skye did say that they were "very close." She also dished that Goldberg was "pretty secretive" and would only fill you in on some things "when she wants" to, which makes one wonder how she found out about the supposed secret boyfriend.
Whatever the case, Goldberg was also supportive of Skye's participation in "Claim to Fame." Speaking with Pop Culture, the artist shared that when she brought up how she was tapped to star in the show, Goldberg offered words of encouragement. "She was like, 'Alright, go for it!" Skye said, noting that the veteran actor shared fired off some tips while at it. "She was trying to tell me, 'Don't talk to a lot of people, just lie, lie, lie.'"
Skye also shared with Essence that while Goldberg is supportive of her and her endeavors, she never takes advantage of whatever her grandmother can provide for her. "She wants us to be real people. Stuff is not just handed to us. It could be, but it's not," she said. "I just want people to know that I really worked hard for my position and the stuff that I did. I did a lot without my grandmother's help. But the fact that she's there to give me the help, you know, I don't want to run it up. I want to do what I can do."