RHOA: What Is Kandi Burruss' BFF And Former Assistant Carmon Doing Now?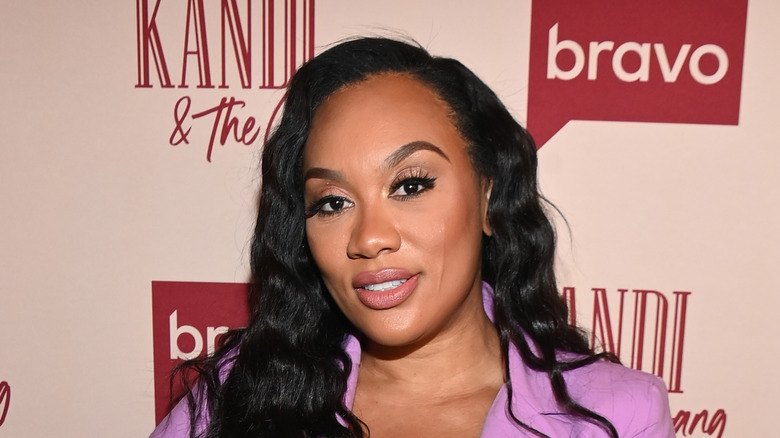 Paras Griffin/Getty Images
While viewers watch "The Real Housewives" for the main stars of the franchise, sometimes the "friends" make just as much of a memorable impression. Carmon Cambrice was introduced as Kandi Burruss' friend in "The Real Housewives of Atlanta" Season 4 and made appearances on the show as the "No Scrub" writer's sidekick. During her time on "RHOA," Cambrice worked as Burruss' assistant, so she was often around her and her husband, Todd Tucker. However, their friendship was threatened by a rumor spread by Burruss' mother, Mama Joyce, about Cambrice and Tucker having an affair. "For 27 years she was like a mother to me and I know that it really is hard for Kandi that we can't be in the same room together," Cambrice shared, per Bravo.
Ultimately, the stress of dealing with Tucker and Mama Joyce became too much for Cambrice, and during an episode of "Kandi's Wedding," she tearfully quit as her assistant. "I have to worry about how this s*** affects our friendship, I have to worry about how it affects my job. This s*** is not easy," she told her BFF. Cambrice stayed on "RHOA" as Kandi's "friend" until Season 15 and since then, she's been busy with a career that has her being her own boss.
Carmon runs her own insurance agency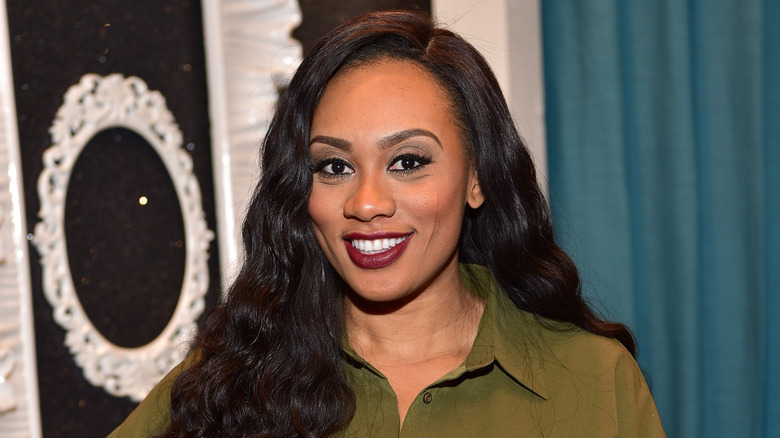 Prince Williams/Getty Images
Carmon Cambrice started her career in insurance in 2003 and it was when she got laid off from her job in 2013, that she started working for Kandi Burruss. After quitting as her assistant, Cambrice went back to doing what she loves. The entrepreneur owns her own agency called The Cambrice Agency and is affiliated with Farmers Insurance. It appears that Cambrice is passionate about helping others and her LinkedIn profile states, "My goal for my agency is to build long-lasting relationships with my clients. I want to be your agent for life and for the generations to come. I will help you select the best coverage for a value price. I'm always available to help with all of your insurance questions and concerns."
Besides selling health and life insurance, Cambrice also helps small business owners. In 2021, she posed next to her client inside his new establishment. "Congrats to my client @geesmalls and his husband @juan_smalls on the opening of their new restaurant @eatatbreakfastboys," she shared. In 2019, Cambrice won an award for her hard work. "Another one for the record books. Get you and [sic] Insurance Agent that does both," she wrote while posing with a blue trophy. The former "RHOA" friend seems to be thriving in her career and thankfully, the drama from being Burruss' assistant didn't get in the way of their friendship and they continue to support each other.
Carmon still shows up for Kandi Burruss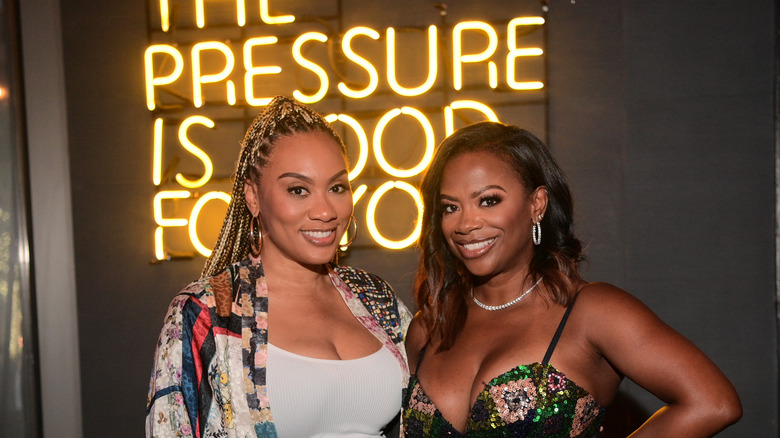 Prince Williams/Getty Images
The drama that happened between Carmon Cambrice and Kandi Burruss in "The Real Housewives of Atlanta" didn't derail their friendship and they remain as close as ever. On March 6, Cambrice celebrated an honor Kandi received from BET. "It was my great pleasure and honor to support my bestie @kandi and celebrate her @bethertv Love Award. Her love for family, friends and community is unmatched. Congrats @kandi," Cambrice gushed on Instagram. She also helped promote her friend's sex shop enterprise, Bedroom Kandi, on Valentine's Day. "This Valentine's is brought to you by @bedroomkandi. Tonight he will be in for a sweet treat," she captioned, while sharing a sultry pic of herself.
Besides her career, Cambrice is also a dedicated mother of her college-aged son, whom she called "God's greatest gift" while sharing a pic on National Sons Day of him standing in front of Lousiana State University. On April 10, 2021, she gave him a birthday shout-out on Instagram. "Happy Birthday To My Wonderful Son. No matter how big you get or how far you go, I'll always be here, right beside you. Have a great birthday!" she wrote. Although it remains to be seen if Cambrice will ever return to "RHOA," she was definitely an unforgettable friend on the show.