How Oprah's Guidance Helped Jamie Foxx Get His Life Back On Track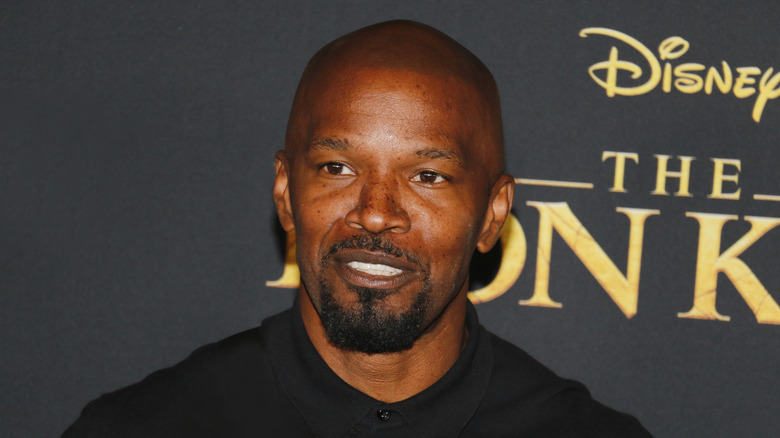 Tinseltown/Shutterstock
Oprah Winfrey's actions helped lead Jamie Foxx to improving his lifestyle. In April 2023, Foxx entered the hospital to seek treatment for a "medical emergency," as reported by TMZ. Additionally, Foxx's daughter, Corinne, wrote via Instagram that her father was "already on his way to recovery" following "a medical complication." However, in a more recent update, TMZ stated that Foxx is still in the hospital with sources asking that fans send positive prayers to the performer.
Foxx opened up to Men's Health about his healthy routine in 2021. "That's what I try to do, is eat right, get a little workout in ... just moderation," he said. Separately, Foxx has spoken about his past days of hosting eventful gatherings in Los Angeles. "At a certain point, our parties were, like, notorious," Foxx said during a HOT 97 interview in 2015. Winfrey interviewed Foxx back in 2005 for O, The Oprah Magazine and said to him, "Brian McKnight has said that you're the guy to call for a great party." In response, Foxx stated, "With just $430, I can guarantee you the most incredible time of your life. Just give me two hours to pull it together." When Foxx's partying got a little out of hand at one time, Winfrey and some of her famous friends stepped in to share advice with Foxx.
Oprah Winfrey's guidance led Jamie Foxx to his Oscar win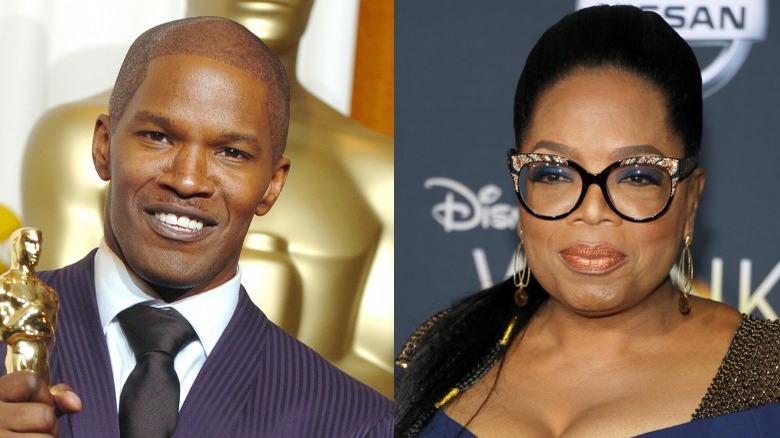 Tinseltown/Shutterstock & undefined & Steve Granitz/Getty
Oprah Winfrey changed Jamie Foxx's outlook by taking him to a star-studded gathering. Back in 2015, Foxx chatted on "Steve Harvey" about getting nominated for an Academy Award for his performance as Ray Charles in "Ray." "When we got nominated for an Oscar, I thought, there's no way we'd win," Foxx said. "So I used that as an excuse to throw parties ... Let's turn up." He went on to detail how Winfrey reached out to him, telling Foxx that he was "blowing it," and she "need[ed] to help [Foxx] with it." 
Next, Winfrey brought Foxx to the home of Quincy Jones. Foxx met Hollywood legends such as Jones and Sidney Poitier, who praised Foxx's acting skills and offered words of wisdom. Poitier told Foxx, "'You're responsible for your art — you're responsible for this moment,'" Foxx said before adding, "That's the Oprah Winfrey who took that moment to where I could've blew it in the club, and we ended up walking through and making history." In 2005, Foxx was awarded an Oscar for "Ray," and he took a moment to acknowledge people like Winfrey and Halle Berry in his acceptance speech, per the Academy of Motion Picture Arts and Sciences. "I see Oprah, and I see Halle, and I just want to say your names. I want to talk to you later. Both of you," Foxx said. Winfrey and Foxx have remained friendly in the years since.
Jamie Foxx 'loves' what Oprah Winfrey offers as a TV host and friend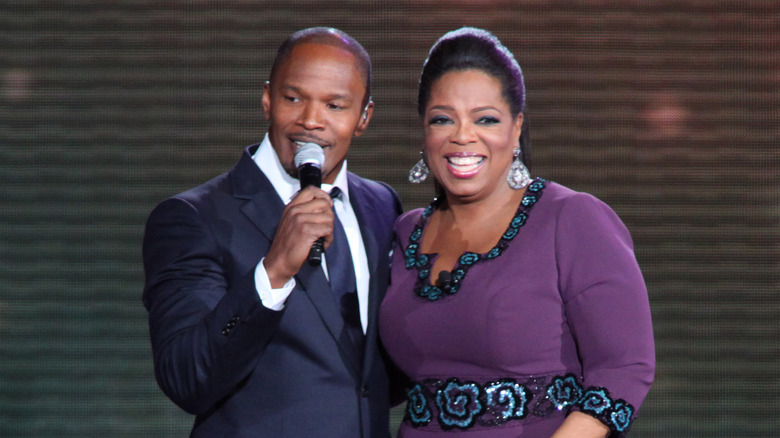 Barry Brecheisen/Getty Images
Jamie Foxx has shown gratitude for his friendship with Oprah Winfrey. During a 2012 episode of "Oprah's Next Chapter," Winfrey revisited her memories of seeing Foxx being presented with his 2005 Academy Award. "First of all, I'll never forget that Oscar win," Winfrey said. Foxx went on to describe how Winfrey bringing him to Quincy Jones's house and introducing him to Sidney Poitier was a moment that altered his path in life. "That was one of the most amazing experiences that I've had," Foxx said to Winfrey. "And I told people, that was a trajectory change. My whole life changed."
Many stars such as Foxx, Beyoncé, Madonna, and more appeared to support Winfrey for the 2011 farewell celebration of her long-running talk show, "The Oprah Winfrey Show," per The Guardian. When Foxx appeared at the event, he complimented Winfrey's work on the series, as well as her giving nature. "I love the fact that you've done what you've done. It's not just about the show," Foxx said, (via YouTube). "It's about you as a friend, and what you've done for me, and what you've done for everybody." He then performed a special rendition of "Isn't She Lovely" alongside the song's original singer and writer, Stevie Wonder, to honor Winfrey as she stood with them on stage.