Kevin Costner's Rumored Tension With Yellowstone Creator Taylor Sheridan Explained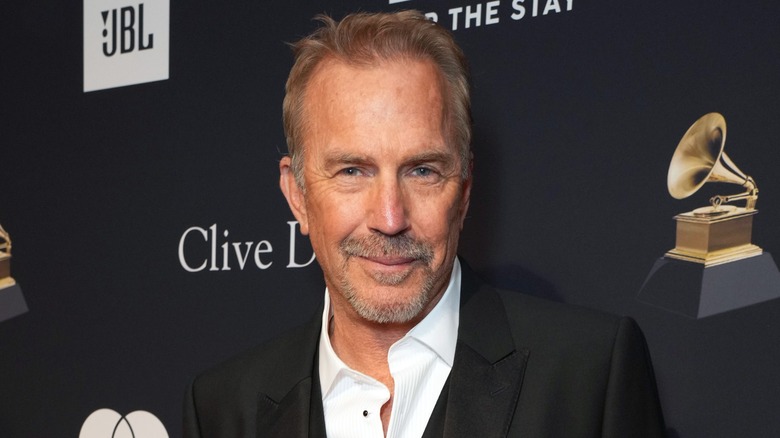 Kevin Mazur/Getty Images
Over the last few years, pop culture enthusiasts have immersed themselves in the dramatic Paramount Network series "Yellowstone." Created by Taylor Sheridan, the show follows John Dutton III (Kevin Costner) and his family as they navigate their successful ranching business — Yellowstone Dutton Ranch — and tensions with the neighboring Broken Rock Indian Reservation. Since its premiere in 2018, Yellowstone has become one of the most-watched television shows, with critics and viewers praising the series for its dynamic storylines and cast performances, specifically Costner's portrayal of the Dutton patriarch.
Sheridan gushed about teaming up with "The Bodyguard" star and even described him as an "incredible storyteller" during an interview with Variety. "Kevin's one of the biggest movie stars of the past 40 years, and well deserved," he explained. "He's an incredible storyteller as a director, as a writer, as an actor, and so when you have that kind of tool in your toolbox, you can write him into some really conflicting situations." In a "Yellowstone" featurette, Costner echoed similar sentiments on working with Sheridan, stating: "We have a level of detail set against this way of life that Taylor and I both like." However, despite positive beginnings, the pair's partnership has reportedly gone sour. On May 3, ET revealed that the "Waterworld" star is set to leave the popular series due to tension with Sheridan. Join us as we take a deeper look into their rumored feud.
The tension between Kevin Costner and Taylor Sheridan is reportedly over creative differences and scheduling conflicts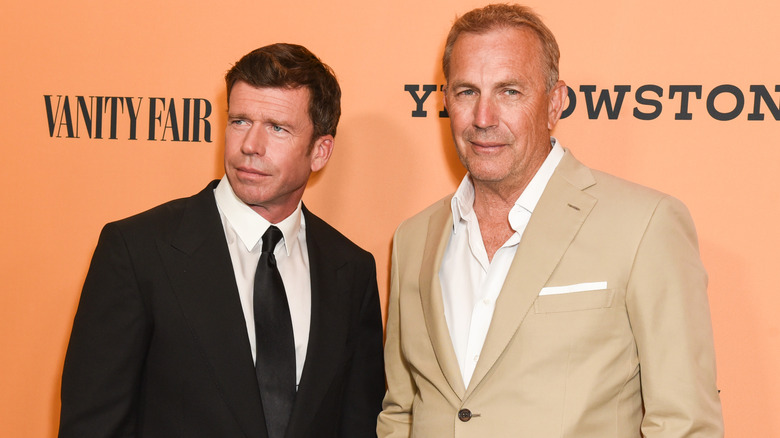 Presley Ann/Getty Images
Over the last few months, Kevin Costner and Taylor Sheridan have made headlines for being embroiled in a feud. Although both parties have declined to comment on the matter, sources blame the tension on Sheridan's ego on the "Yellowstone" set. According to a report from the Daily Mail, a source revealed that "certain people in charge of production developed a God complex." The insider also claimed that Sheridan and Costner clashed after the latter expressed concerns over the show's direction. "Kevin will forever be proud of and grateful for Yellowstone, and the cast is like family to him," they explained. "He just felt like Yellowstone is headed in a direction that was not in line with their initial vision."
In addition to egos, Sheridan and Costner have reportedly clashed over scheduling and availability. Back in February, Deadline reported that Costner asked for a one-week filming schedule for the second half of "Yellowstone" Season 5 — which was reportedly not well received by the showrunner or Paramount Network. However, in a statement to The New York Post, a source hinted that Sheridan's own tight schedule has resulted in their standoff. "Kevin's been extremely cooperative with working with Taylor and his production company, 101 Studios," the source revealed. "They were supposed to shoot the second chapter of Season 5 late last year, but they just didn't have the scripts." In addition to "Yellowstone," Sheridan is leading other Paramount projects, including "1883," "1923," "Mayor of Kingstown," and "Tulsa King."
The Yellowstone cast react to Kevin Costner and Taylor Sheridan's rumored feud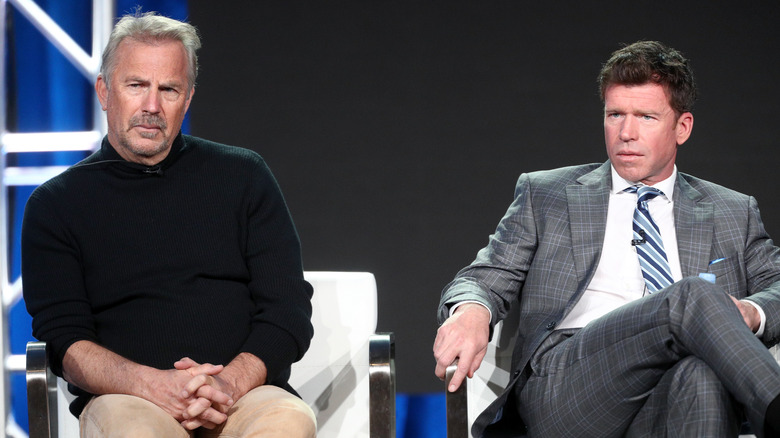 Frederick M. Brown/Getty Images
In the wake of Kevin Costner and Taylor Sheridan's rumored feud, some Yellowstone cast members have shared their thoughts on the matter. While attending the 2023 PaleyFest, Josh Lucas — who plays the younger John Dutton — told Us Weekly that the pair are putting a lot of "crazy love and pressure" on each other. "Taylor has become and Kevin has become John Dutton and John Dutton is as filled with Taylor Sheridan as it is with Kevin Costner. And for me it's finding those connective tissues," he told the news outlet. "[There's] a responsibility of a huge movie star and a brilliant writer who are putting a lot of crazy love and pressure on each other and the show to make something that people love."
Wes Bentley, who plays Jamie Dutton, echoed similar sentiments in a February interview with Entertainment Weekly. "The news that's come out recently about the show is, you know, it's above my pay grade. Different people making decisions," he explained. "I know that they're still working on it... working on working things out with everyone..." Bentley went on to say he was "confident" that the second half of "Yellowstone" Season 5 would be shot. "I think it's probably just a bit of drama over nothing," he added. While Sheridan and Costner's partnership may be coming to a bitter close, the Yellowstone universe is set to expand with Mathew McConaughey's recently announced spin-off.