Kelly Ripa And Mark Consuelos' Wedding Wasn't As Lavish As You'd Expect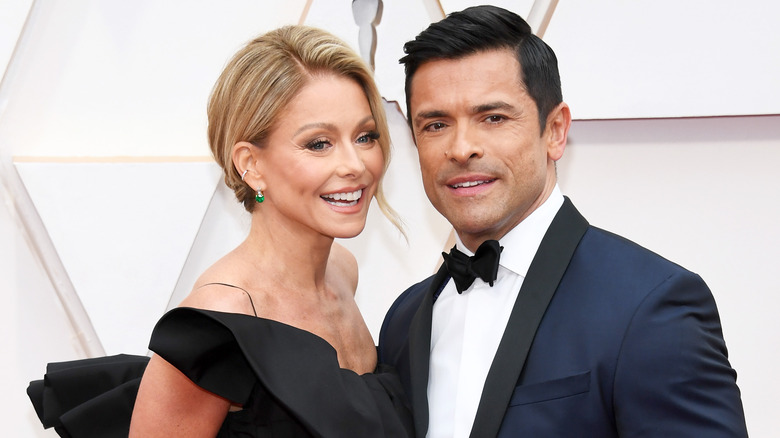 Kevin Mazur/Getty Images
Celebrity weddings are usually fabulously over the top or quaint and lowkey, and Kelly Ripa and Mark Consuelo's' wedding definitely falls into the latter category.
Soap opera fans are probably well versed on their love story, but it's too perf not to share. Ripa and Consuelos met in 1995 while working on "All My Children." Their characters, Haley and Mateo, played onscreen love interests whose chemistry was definitely not make-believe. As Ripa revealed during an episode of "Live! With Kelly and Ryan," she "fell in love with Mark the day I met him" and "knew that he was the guy I was going to marry." Obviously, she was right! Just over a year later, they married on May 1, 1996. 
Since tying the knot, the entertainers flourished in their perspective lanes, which recently merged when Consuelos permanently joined Ripa to host "Live!" But they've been living in the lap of luxury for years. For example, the pair live in a $27 million dollar property in New York, per Hello! By the way, this is just one of the many homes Ripa and Consuelos have shared with their three kids. But they definitely came from much humbler beginnings, which influenced the way their wedding panned out.
Their wedding only cost $179
Kelly Ripa and Mark Consuelos may be rolling in the dough today, but they definitely started at the bottom. That's why they decided to elope in Las Vegas. Ripa gave her audience a run-down of their special day during an episode of "Live!" in 2022. "We just had a very normal, very regular wedding," Ripa shared (via People). "It really is such an efficient way to get married. And it was fun. We were like, 'Now, this is gambling! Woohoo!'" Small weddings may not be right for every couple, but it worked for them. As Ripa explained, a large wedding could've easily ruined their relationship. "I don't think we would have made it to the wedding," she continued. "There would have been bad feelings and blame all over the place."
Ultimately, the entire event cost them only $179. Well, that's if you're not counting Ripa's wedding dress, which she bought years before Consuelos proposed. "I just bought it because it was really pretty, and I wanted to buy something from the Barney's warehouse sale," said Ripa during a different episode of "Live!" (via Entertainment Tonight). "I was working on the soap [All My Children] and I didn't make a lot of money. It was $199 on final clearance sale, and I was like, 'Do I eat this week or do I get this dress?'"
Obviously, she made the right decision! 
Did Kelly Ripa and Mark Consuelo's go all out for their vow renewal?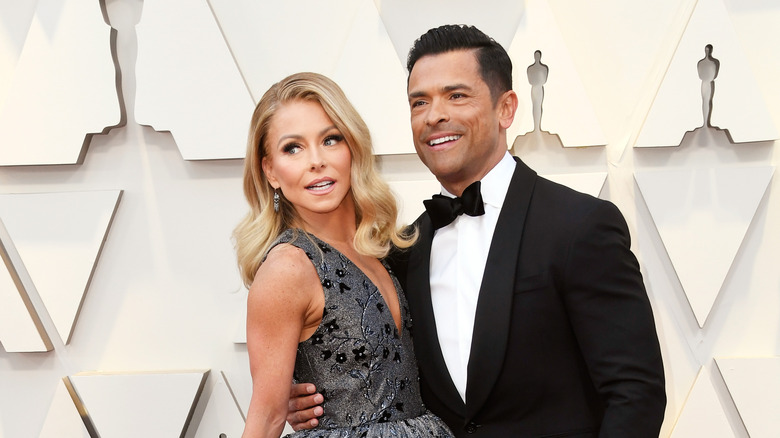 Frazer Harrison/Getty Images
Kelly Ripa and Mark Consuelos have been married for over 27 years, so they've probably dealt with a ton of relationship rumors. Back in 2019, Globe published an article stating that Ripa and Consuelos were gearing up to host a $1 million wedding vow renewal. "Ripa's finally going to have a huge wedding with all the trimmings," read the piece (via Wonder Wall). The publication also cited a source who claimed Ripa had begged Conseulos for a do-over and was "excited and coordinating all the details with a wedding planner."
Well, that rumor turned out not to have any merit. Wonder Wall cited Gossip Cop (a now-defunct site), which shut down the Globe's report. Previously, Ripa claimed that she and Consuelos don't even support the idea of vow renewals. "Mark [Consuelos] and I don't believe in vow renewal," shared Ripa on "Live!" when promoting a mobile wedding service (via Bridal Guide). "We always get nervous whenever somebody renews their vows—they almost always get divorced immediately after...but I'm willing to risk it all and renew my vows if it's a wedding wagon!"