Why Emilio Estevez And Charlie Sheen Don't Have The Same Last Name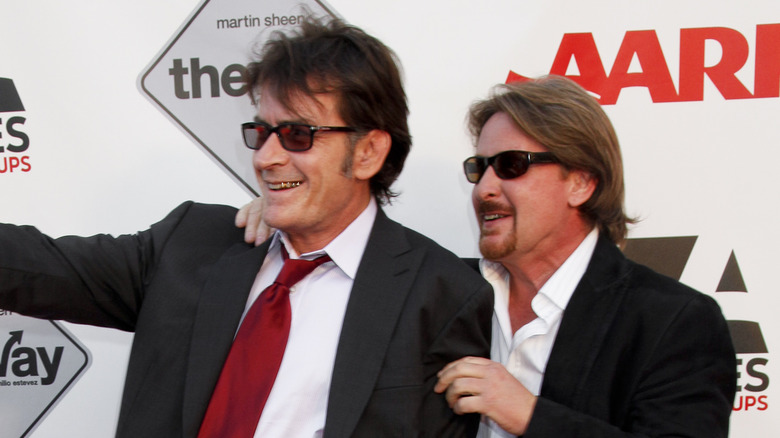 Imeh Akpanudosen/Getty Images
Charlie Sheen and Emilio Estévez make up part of one of the best-known families in Hollywood — but why don't the actor brothers share the same last name?
As many are aware, Charlie and Emilio are just two of Martin Sheen's four children shared with his wife of more than 60 years, actor Janet Templeton. They also share brother, Ramón Estévez, and sister, Renée Estévez — both of whom have an impressive number of film and TV titles under their own belts. What's more, the family has been known to work together on a number of projects in the past. From Martin featuring as Charlie's on-screen dad in "Anger Management" to the 2010 film "The Way" — directed by Emilio and starring him, Martin, and Renée — it's pretty clear this family is a tight-knit one. 
Another of their shared projects is their production company, Estevez Sheen Productions. First started by Martin and Ramón, Charlie also has a hand in the company ... but perhaps the most intriguing thing about it is how it pays tribute to both names the family is known by. So, with that in mind, our question remains. What's the real story behind the different surnames? 
Martin urged Emilio not to take his stage name
Paul Archuleta/Getty Images
Speaking to The Guardian in 2011, Martin Sheen explained that he'd opted to swap out his real name, Ramon Estévez, to Martin Sheen in a bid to secure acting roles in the 1960s. "It's difficult enough trying to get started as an actor, and my name kept throwing people — they couldn't pronounce it," he recounted. 
Despite that, he was determined that his sons shouldn't feel obliged to change their own birth names — and speaking to Closer Weekly in 2022, he shared that he was relieved to have gotten through to Emilio Estévez. "When he started out, his agent was advising him to change his name to Sheen, and he wouldn't do it. And I thank God he didn't," he said. In an interview of his own on "Talk Stoop with Nessa," Emilio expanded on why that was so important to his father. He explained that when his grandfather had gone to see Martin's first Broadway play, he'd been disappointed by the Anglicized name. "My grandfather just looked up and he just shook his head ... and my father saw that. And so, when I began to get into this business, we had that conversation," he recounted. 
It's not clear if Martin had the same conversation with Charlie Sheen, born Carlos Estévez. However, in one interview with CBC, Charlie revealed Sheen was meant honor his father's acting legacy — especially since Emilio was already repping their family name. 
... but Charlie has used his birth name professionally, too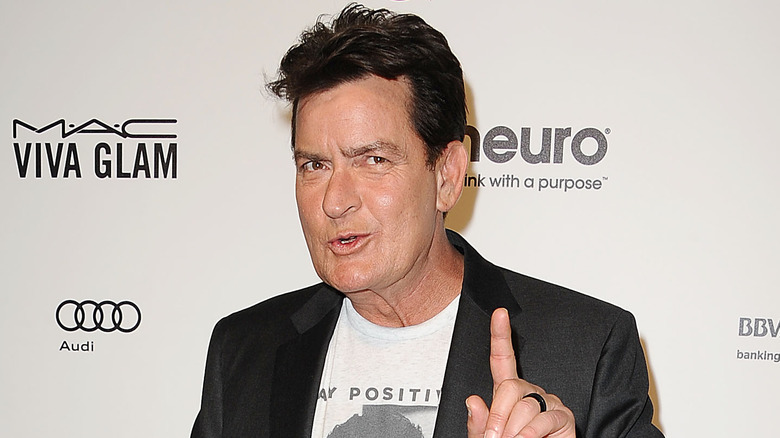 Jason Laveris/Getty Images
Another reason why Charlie Sheen wasn't as keen on using his birth name professionally? As he revealed in an interview with Univision, he didn't feel a major pull toward his Spanish heritage. "It was never a part of my life growing up ... my parents never infused it into our household," he explained.
That said, it seems he had a slight change of heart in 2013, when he was cast in "Machete Kills" — and opted to be billed as Carlos Estévez. In a sweet nod to it being the first time he'd used his legal name, the trailer even gave him an "Introducing" title. However, it doesn't seem to have marked a turning point in his career. In newer projects — like his upcoming reunion with former foe Chuck Lorre — his stage name appears to have been restored. 
As for what prompted the decision to be billed under his real name, even as a one-off, Charlie himself has never addressed it publicly, though a spokesperson told CNN he suggested it. The outlet also pointed out, though, that the film's director, Robert Rodriguez is passionate about Latinx representation, so there's a chance that played a role. Either way, his siblings, and now Charlie, too, have certainly made their mark using their given names. Something tells us their grandfather would be thrilled.