Why Stormy Daniels Thinks Donald And Melania Trump Are Headed For Divorce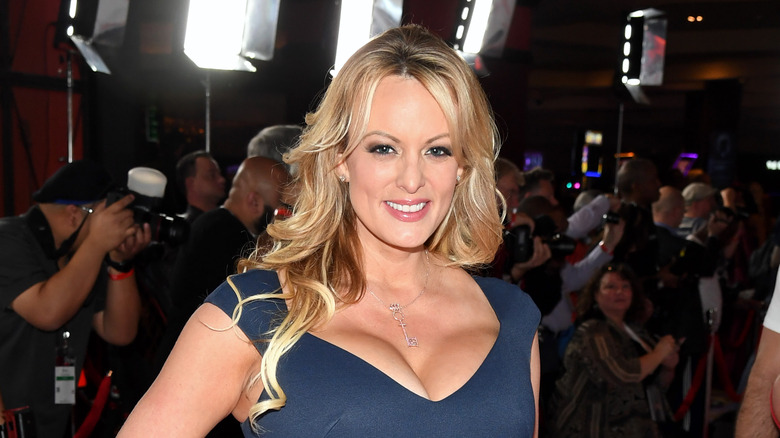 Ethan Miller/Getty Images
Stephanie Clifford, aka Stormy Daniels, the woman at the center of Donald Trump's current legal woes, has a hot new take: She thinks the Trumps are headed for Splitsville! Unless you've been living under a rock, you're probably well aware by now that Trump has been formally indicted on allegations of falsifying business records stemming from a $130,000 payment disbursed to Daniels, which prosecutors say was paid in exchange for her silence about an alleged sexual encounter she and Donald Trump had way back in 2006. But make no mistake about it. Daniels did not stay silent then, and she's not staying silent now. During an appearance on the April 18 episode of the Australian late-night radio show "The Kyle & Jackie O Show," Daniels was asked whether or not she ever thought about writing Melania Trump a letter. "No, she knows how to find me," Daniels said. "Maybe she'll ask me to testify at her divorce hearing," she quipped. And when pressed as to whether or not she truly believes the couple will divorce, she answered with a resounding, "Oh, I think so."
But why exactly is Daniels so sure the Trumps are destined for divorce? The answer may or may not surprise you. 
Stormy Daniels says Melania Trump's silence 'speaks more than words'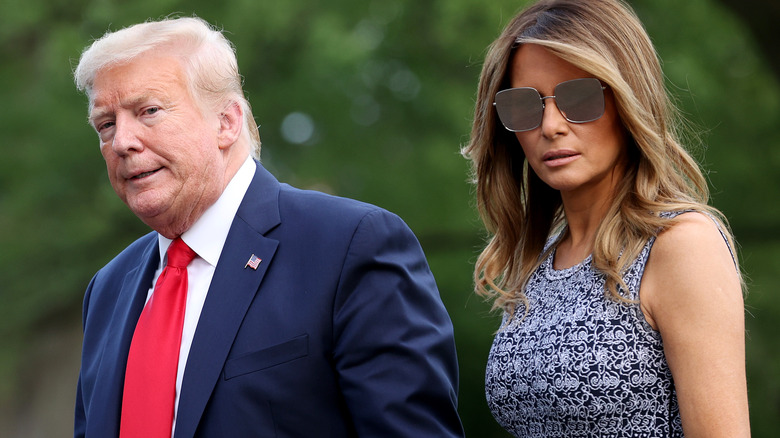 Win Mcnamee/Getty Images
In short, Stormy Daniels believes Melania Trump's notable absence at her husband's arraignment and silence around the matter altogether is very telling. "I'm not gonna presume to speak for another woman or to know what she's thinking, but she hasn't said anything, and silence sometimes speaks more than words, and she was not with him at his arraignment," Daniels said during an episode of "The Kyle & Jackie O Show." But don't just take her word for it.
Before the indictment, a source told People that while the married couple shared a residence, they lived apart. "She does very well with all of her socializing duties," the source explained. "They still see friends for dinner at the club but live separately and do what they want on their own. They don't spend that much time together." YIKES. But that's not all. The insider also claimed that Melania was still "angry" about the alleged affair and subsequent cover-up and "doesn't want to hear" about it.
However, it should be noted that Melania has publicly addressed the scandal in the past.
Melania Trump has addressed the scandal, publicly and privately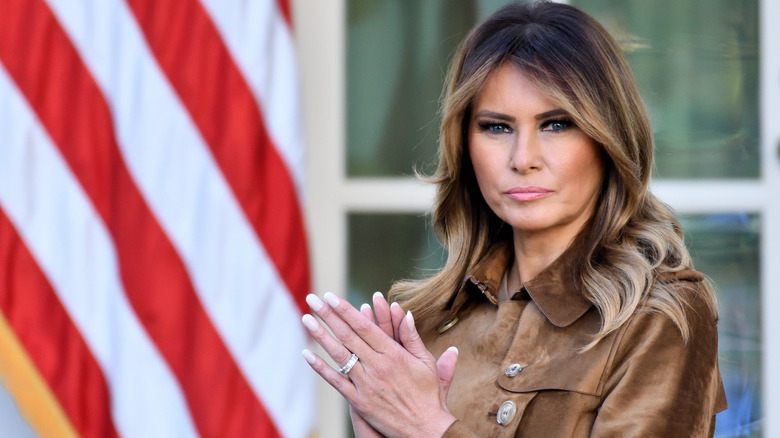 Evan El-Amin/Shutterstock
In October 2018, Melania Trump sat down with ABC News journalist Tom Llamas for a no-holds-barred interview. "It is not a concern and focus of mine," she told Llamas. "I'm a mother and a first lady and I have much more important things to think about and to do. I know people like to speculate and media like to speculate about our marriage and circulate the gossip," she said. And when asked whether or not she loves her husband, she answered with a resounding, "Yes. We are fine. Yes." She added, "It's what media speculate, and it's gossip. It's not always correct stuff."
But that's not all. In 2020, the then-First Lady was caught letting a few choice words fly after discovering that famous photog Annie Leibovitz photographed Stormy Daniels for a profile in Vogue. The audio recording was leaked by none other than Melania's former senior adviser Stephanie Winston Wolkoff. "If you Google, go Google and read it, Annie Leibovitz shot the 'porn hooker,' as she will be in one of the issues, September or October," Melania can be heard saying on the audio. When asked for clarification by a bewildered Wilkoff, Melania said, "Stormy." Oopsie. So much for having more important things to think about and do.