Melania Trump Addressed Donald's Alleged Affair With Stormy Daniels Once Before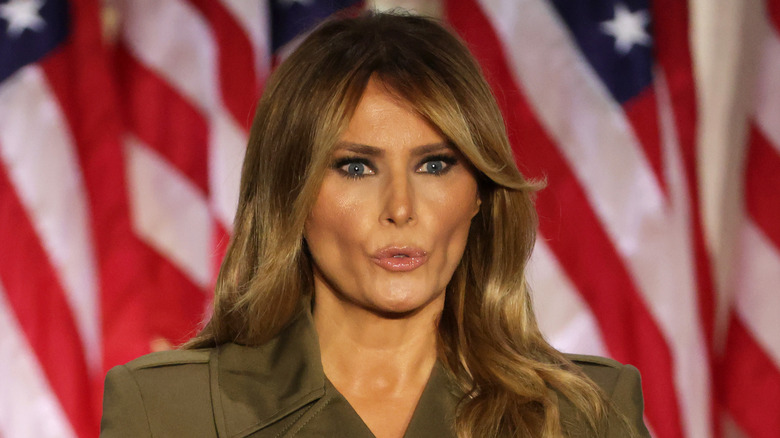 Alex Wong/Getty Images
It's probably safe to say that Stormy Daniels is not on Melania Trump's list of favorite people.
To those unfamiliar with Daniels, she claimed to have been involved in an extramarital affair with former President Donald Trump back in 2006, shortly after Melania gave birth to Barron Trump, their only child together. A decade later, when Donald was running for office, Reuters noted that he allegedly paid her a total of $130,000 as hush money through his then-lawyer, Michael Cohen, to prevent her from divulging details about their affair to the public. This served as an impetus for Manhattan District Attorney Alvin Bragg to indict Donald, saying that the business mogul "repeatedly and fraudulently falsified New York business records to conceal crimes that hid damaging information from the voting public during the 2016 presidential election."
In 2018, Donald took to Twitter to admit that he indeed reimbursed Cohen for the payment he made to Daniels but claimed that the transaction did not involve "money from the campaign or campaign contributions." He also denied their supposed rendezvous, too, saying that the adult film star had only been paid to stop her from creating "false and extortionist accusations about an affair." As for Melania? The former first lady was notably quiet throughout the whole ordeal, but a few months after Donald confessed to paying Daniels, she agreed to an interview with ABC News to air her side once and for all.
Melania Trump chooses not to pay any mind to Donald Trump's supposed affair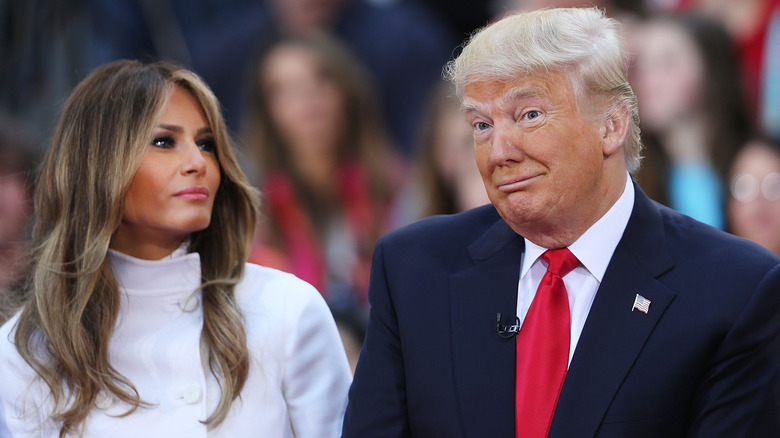 Spencer Platt/Getty Images
According to Melania Trump herself, she doesn't have any bandwidth left to ruminate on rumors concerning her husband, Donald Trump. In an exclusive interview with ABC News in 2018, she said she has other things to spend her time and energy on.
"I'm a mother and a first lady, and I have much more important things to think about and to do. It is not a concern and focus of mine," she declared, adding that she chooses to ignore the rumor mill because she knows what the truth is. "It's not always pleasant, of course, but I know what is right and what is wrong and what is true and not true," she added. "I'm very strong, and I know what my priorities are."
What happens behind closed doors, however, is a different story. While Melania refuses to address Stormy Daniels publicly, she apparently has no problem discussing her on the down-low, and even went as far as calling Daniels names. Stephanie Winston Wolkoff, Melania's former senior adviser, previously released a recording of one of their conversations on Michael Cohen's podcast, "Mea Culpa," where Melania talked about Daniels in a rather crude manner. "Go Google and read it. Annie Leibovitz shot the porn hooker, and she will be one of the issues, September or October," Melania said in the snippet. When Wolkoff asked who she was talking about, Melania simply said, "Stormy."
Melania Trump's stance remains the same amid her husband's indictment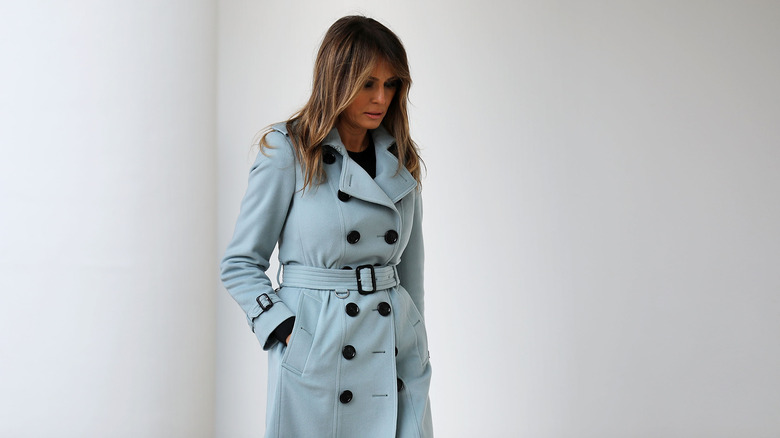 Chip Somodevilla/Getty Images
Even now that Donald Trump has been indicted as a result of his hush money payment to Stormy Daniels, Melania Trump is adamant about distancing herself from the situation altogether. She refused to release any statement about her husband's arrest, and she wasn't present for his arraignment and press conference at Mar-a-Lago.
A source close to the former first lady told People that she's not planning on getting herself tangled with Donald's mess at this time — or maybe ever. "Melania is not now or hasn't recently taken part in her husband's political events. It is not comfortable for her," they claimed, adding that she prefers to be by her lonesome. "Melania can be aloof and not particularly friendly because she simply wants to be left alone."
But Stephanie Winston Wolkoff has a theory as to why Melania maintains her silence. The "Melania and Me" author shared with Page Six that Mrs. Trump is privy to everything that is happening, but chooses to turn a blind eye in order to protect herself. "Melania lives in an ivory tower of denial," she told the outlet. "Her silence is deliberate, it is her weapon of choice and her protective armor... her silence is her dignity. She will stand by her husband, as she always does. I don't think Melania is humiliated by his affairs — but she is angry."