What Is Stormy Daniels' Real Name?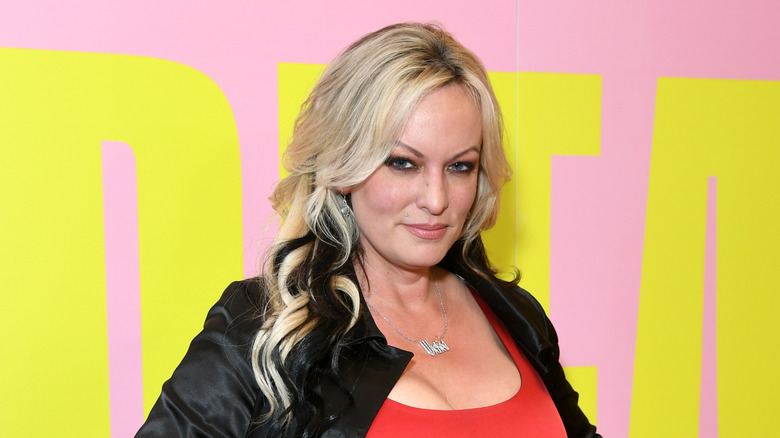 Jc Olivera/Getty Images
Stormy Daniels blew into Donald Trump's life like a cool breeze on a warm summer's day and exited like a category 5 hurricane. Her alleged affair with Trump — well, actually, the money he allegedly arranged to be paid to Daniels to hush up the affair — led to Trump surrendering himself in a historic arrest on April 4. Which, as NPR notes, makes him the first former president in US history to face criminal charges.
The timeline of Trump's alleged affair with Daniels spans from when they first met at a golf tournament and purportedly got down and dirty in 2006 — just months after Melania Trump gave birth to Barron Trump — to when he attempted to buy Daniels' silence in 2016, to when Trump's former attorney and fixer, Michael Cohen, was imprisoned in 2018 over the Daniels' hush-money payment, per CBS News.
Daniels told "60 Minutes" that after talking to In Touch magazine in 2011 about the alleged affair, a goon threatened her to keep quiet — then used her child to up the intimidation ante. "He leaned around and looked at my daughter and said, 'That's a beautiful little girl. It would be a shame if something happened to her mom," Daniels recalled. Since The Wall Street Journal broke the hush-money story in 2018, Daniels has been hauled over the coals and ripped to shreds. It seems like no Stormy stone's been left unturned. But who is the woman behind all the bravado? For starters, what's Stormy Daniels' real name? 
Straight-A student to category 5 storm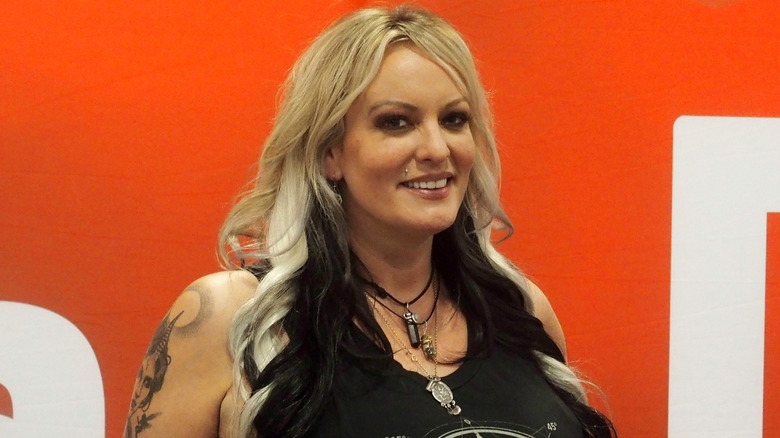 Bobby Bank/Getty Images
Per AlJazeera, Stormy Daniels' real name is Stephanie Clifford, but she prefers to go by her stage name of Daniels. She was born in Baton Rouge, Louisiana. After her parents divorced, Daniels was raised by her cold and indifferent mother resulting in a traumatic childhood. "My mother's neglect, being sexually abused next door — just 20 feet away from where they were sitting discussing me — it was all to be expected for someone who wouldn't amount to nothing," she wrote in her 2018 memoir "Full Disclosure."
A lot has been made about Daniels' career in the adult industry, and she's persistently referred to as "the porn star," often seemingly just for sensationalism. However, it's not a label Daniels shies away from; instead, she embraces it. "[Donald Trump's] done so much worse that he should have been taken down [for] before," Daniels told The Times following his historic indictment. "I am fully aware of the insanity of it being a porn star [taking him down]. But it's also poetic; this p**** grabbed back."
There's a side of Daniels that many don't know — she's a real smart cookie who excelled in school, despite her troubled home life. According to her book, she attended a magnet school, always finished her classwork before everyone else, and was a straight-A student. She was on the high school dance team and studied ballet. Daniels "started stripping in high school and still graduated with honors as editor of the school paper."
Buckle up USA, there's a bumpy ride ahead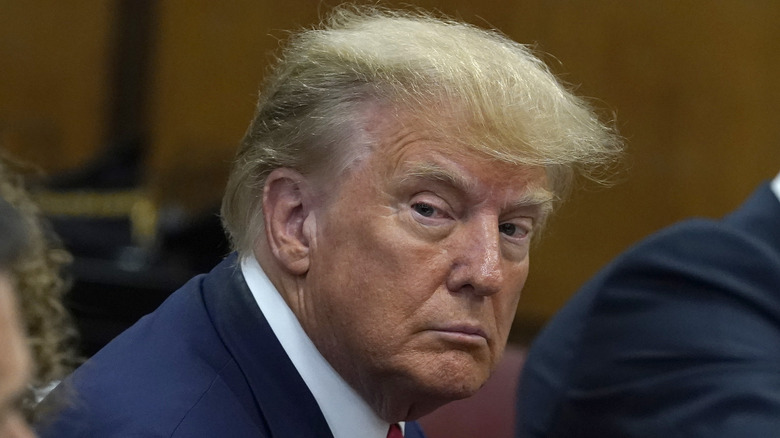 Pool/Getty Images
Stormy Daniels' interview with In Touch was iced following legal threats, according to the Daily Beast. But, everything was out in the open after The Wall Street Journal's hush-money exclusive ran. Daniels has faced ridicule, insults, and death threats ever since. "Look at [Trump's] three wives, beautiful women, classy women, women of great substance," Rudy Giuliani said during an Israeli forum. "Stormy Daniels? If you're going to sell your body for money, you just don't have a reputation." 
He doubled down while mansplaining feminism to CNN's Dana Bash. "If you're a feminist and you support the porn industry, you should turn in your credentials," Giuliani decreed. "If you're involved in a sort of slimy business (that) says something about you — says something about how far you'll go to make money," the multi-millionaire political attorney claimed, without even a hint of irony.
Meanwhile, Daniels is battening down the hatches as the threats have started coming thick and fast once again. "The number and the intensity is the same as it was the first time around, but this time it's straight-up violent," she told The Times. "The first time, it was 'gold digger,' 'sl*t,' 'whore', 'liar,' whatever. And this time, it's 'I'm gonna murder you.' They're way more violent and graphic." Daniels predicts a rocky road ahead. "There's the potential for a lot of good to come from this," she said. "But either way, a lot of bad is going to come from it, too."