Ayesha And Stephen Curry Welcome Third Child Together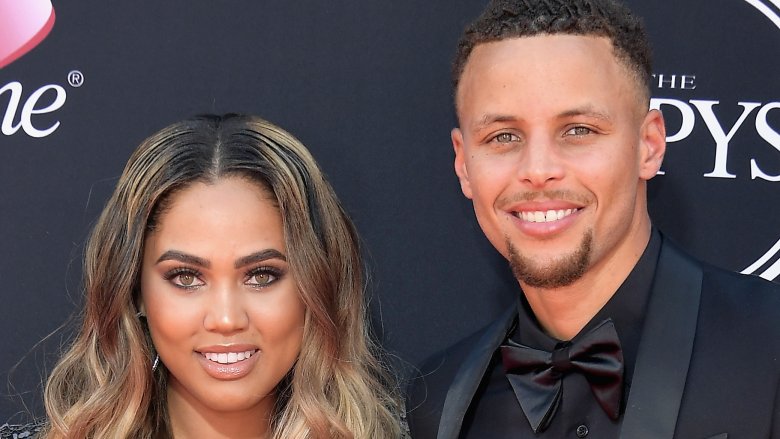 Getty Images
Stephen Curry and wife Ayesha are parents of three!
On Wednesday, July 4, 2018, the celebrity chef took to Instagram to announce that she and her NBA star husband welcomed their third child together, a baby boy, earlier this week.
"My heart is FULL. God has been too good to us. Our beautiful baby boy Canon W. Jack Curry 7/2/2018," the proud mom wrote alongside a sweet black-and-white snapshot of little Canon being held by the couple's daughters, 6-year-old Riley and 3-year-old Ryan. "He joined us earlier than we thought and we couldn't be more excited and grateful. Family of 5! @stephencurry30 #mynewman😆😍."
For his part, the basketball pro shared a photo of his newborn son in the hospital, writing, "On this journey, on this quest... protect me... I'm bless! Canon W. Jack Curry."
As Nicki Swift previously reported, Ayesha, 29, and Stephen, 30, first revealed they were expecting again in February 2018. "Heyyyy how did this happen? Curry party of 5," Ayesha captioned a pic of herself wearing a t-shirt, which read "PREGGERS." The pregnant mom added, "Feeling very blessed... and very sick. Yippie! #Curryfor3."
The cute pair, who became high school sweethearts after meeting at their church's youth group, married in 2011 and are known to gush about parenthood. "One thing that my mom always told me was to never lose yourself inside of your marriage," Ayesha said during an interview on Nightline in January of this year (via Us Weekly). "I'm happy that I've been able to find that so-called balance and be able to pursue my passions and take care of my family." She added, "Obviously mom and wife [come] first. Those are the two most important titles."
Meanwhile, Stephen previously told Parents magazine, "I think about the milestones from my childhood and what it will be like to watch our kids go through them ... All those little checkpoints are going to be fun, and there will be ups and downs along the way. Watching our children go through those life experiences will be amazing."
The Currys aren't the only celeb couple to recently expand their growing family. In June, Fixer Upper alums Chip and Joanna Gaines welcomed their fifth child together, former WWE star Stacy Keibler gave birth to baby no. 2, and Desperate Housewives alum Eva Longoria became a mom for the first time.
Congratulations to the happy couple!