Travis Barker Always Has Daughter Alabama's Back (& She's There For Him Too)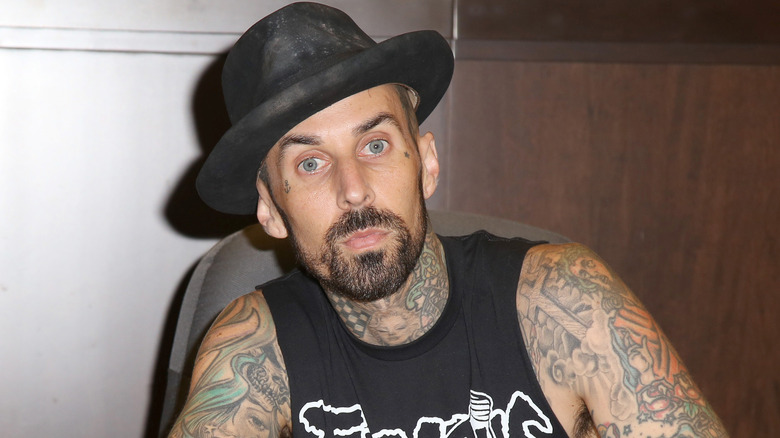 Kathy Hutchins/Shutterstock
Following Travis Barker's emergency hospitalization in 2022, Alabama Luella Barker begged for fans' support. "Please send your prayers," she posted on her Instagram Story, along with a tear emoji. Alabama was understandably distressed as she and Travis have been ride-or-die-level close throughout her parents' relationship, their nasty divorce, and the aftermath. Travis and Shanna Moekler met in 2002, weeks after the drummer divorced his first wife, Melissa Kennedy. Travis and Moekler immediately got hot and heavy, and within a year, they welcomed their son, Landon Barker. The following year, they swapped vows during a Halloween-themed wedding.
Travis and Moekler's relationship was a drama-packed and volatile emotional rollercoaster. This, of course, made for great reality TV, so they took their trainwreck on the road, starring in MTV's "Meet the Barkers," where Alabama made her world debut in December 2005. After only two seasons, the drummer kicked the show — and Moekler — to the curb.
TMZ reported that he filed for divorce in 2006. The couple regularly embarked on alleged physical and drink-throwing altercations as they reunited and broke up again — over and over. They reconciled after Travis' near-deadly plane crash in 2008 but soon split again, finalizing their divorce in 2008. Still, they continued fighting and living together for another six more painful years. Travis and Moekler's non-stop brawling obviously had an impact on their kids. But, no matter what, Travis Barker always has his daughter Alabama's back, and she's there for him too.
Alabama Luella Barker is a daddy's girl
Alabama Luella Barker shares her mom's good looks and dress style. Still, she's definitely a daddy's girl, and Travis Barker always backs his girl, no matter what. He once slammed Echosmith drummer Graham Sierota after he slid into Alabama's DMs when she was 13 and he was 20. "That's predatory behavior, and there is nothing cool, normal, or ok about it at all," Travis told The Blast.
Alabama has been ridiculed over her musical abilities, but Travis is a staunch fan. He said she used to record Christmas songs for him as a gift when she was 2 years old and that she's always had talent. "She practices for four hours at a time," Travis told KTLA 5, admitting how proud he is. "She's great in the studio, she has amazing studio etiquette, and she's a really hard worker."
Alabama has also been criticized for her Instagram posts, which some have deemed overly sexualized. The pictures feature provocative poses and revealing clothing, but the negative comments directed towards her have been harsh and bullying, which is especially concerning since she is still a minor. Travis told Entertainment Tonight that he's let both his kids have Instagram accounts since they were little but remains protective of them at all times. "I'm always with them; I watch what they post, I make sure they don't do anything weird, you know, and I watch for creeps," he said, adding: "And I go to the gun range. I go to the shooting range a lot."
Alabama has her father's back
Alabama Luella Barker also fiercely protects her dad, regularly defending Travis Barker against attackers. Seventeen reports that she clapped back after trolls slammed a Tik Tok video of her dancing to Kalan Frfr. and Bino Rideaux's "Tell Me" while a shirtless Travis looked on. "Meet my dad," she captioned the clip. Travis was condemned for allowing his daughter to dance to the decidedly non-PG track and lambasted for being shirtless. "Y'all do to f***** much stop trying to make s*** weird. Worry about yourself. It's old," Alabama schooled the haters.
Alabama's also hit back at people criticizing Travis' parenting skills. Per The U.S. Sun, Reddit exploded after Hulu's "Till Death Do Us Part Kourtney & Travis" aired, with claims Travis was more focused on Kourtney Kardashian than Alabama. "This guy is really ugly and creepy and seems like a terrible parent," one wrote. While others, including Shanna Moekler, slammed Kourtney for not being a good stepmom.
Alabama left people in doubt about the latter. "Happy birthday Kourt," she captioned a pic on her Instagram stories (via E! News). "You're the best stepmom I could ask for; you are so caring and generous for others; you are such a family person and such a hard-working mom." Meanwhile, she took to TikTok to praise her dad, posting a video of them driving together, captioned, "There is a better dad and daughter duo" in response to a TikTok thread about the best father and daughter duo stories.