A Timeline Of Jamie Foxx's Relationships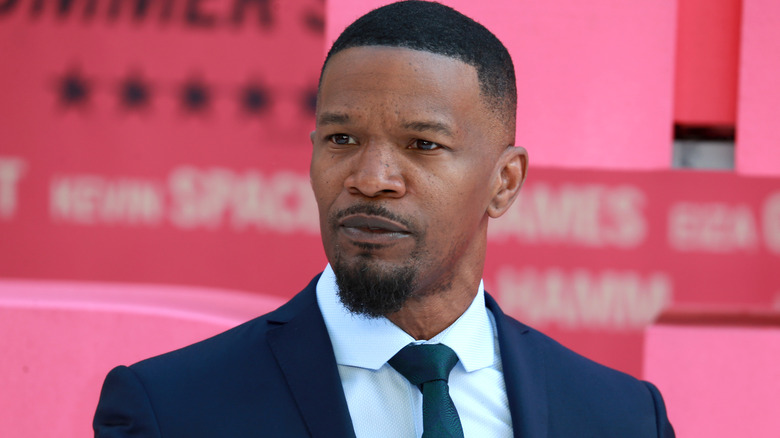 Fred Duval/Shutterstock
Not everyone in Hollywood wants their dirty laundry publicly aired. A star like Will Smith may be seemingly determined to reveal every nook and cranny of his personal life and intimate relationships, no matter how TMI that may be. However, his long-time pal and former "Ali" co-star Jamie Foxx seems hellbent on going through his entire career without ever giving away a slither of information about his history to the press. During an appearance on "Oprah's Next Chapter," he explained, "This is what I say to all of my friends that are in this business — whoever you're dating, don't let anybody know."
Indeed, you could be forgiven for thinking that the "Ray" star has always been a proud bachelor since rising to fame in the classic sketch show "In Living Color." Although he's occasionally graced the red carpet with a lady on his arm, he's very rarely mentioned anyone's name in interviews. Even the apparent six-year relationship he had with a fellow A-lister has still never been officially confirmed. Still, maybe that comes down to his approach to relationships, more than anything else. As he explained to Men's Health, he's never wanted to traditionally settle down. "Some people can want to be married their whole lives, and then some people cannot want to be," he said. "... [I'm] committed to being not committed."
From co-stars to civilians, Foxx has had plenty of love stories kept under his hat. Here's a look at 14 women that the Academy Award winner has been most credibly linked to over the years.
Jamie Foxx welcomed his first child with Connie Kline
Unlike many of Jamie Foxx's other girlfriends, little is known about Connie Kline. She spent five years serving in the U.S. Air Force and is currently the owner of an accountancy firm called CK Financial. And that's pretty much it. Well, apart from the fact that she's also the mother of the star's firstborn.
Yes, Connie gave birth to Corrine Foxx, a former model who has since followed in her father's acting footsteps with roles in the likes of "Sweet/Vicious," "47 Meters Down: Uncaged" and "Dollface." While it's unclear when the couple split, a source told the Daily Mail that Jamie at least continues to make sure that the mother to his eldest child is well-cared for. He reportedly set her up with a good home and bought her a new car.
Connie appears to prefer a quiet life but is occasionally thrust into the spotlight by her famous family, such as in the 2015 Instagram post in which Corrine wished her mom a Happy Veteran's Day. "Your strength, perseverance, and endurance inspires me everyday," the one-time Miss Golden Globe added.
Did life imitate art for Jamie Foxx and Vivica A. Fox?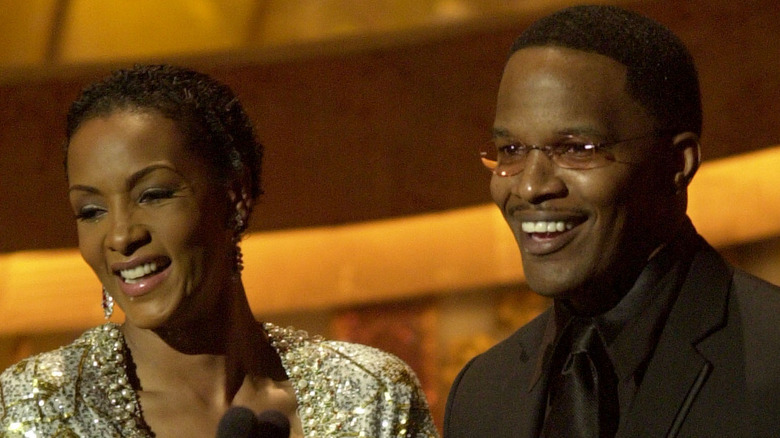 Steve Grayson/Getty Images
Although neither party has ever confirmed it, rumors continue to persist that Jamie Foxx and Vivica A. Fox got together while filming the 1997 movie, "Booty Call." Their respective characters, bad boy Bunz and loudmouth neighbor Lysti ended up getting together in the bawdy comedy with life apparently imitating art as a result. Whatever happened between the pair, it's clear that Fox doesn't see Foxx in a romantic sense anymore. When asked to marry, date, or ditch George Clooney, Will Smith, and her former co-star by Us Weekly in 2018 the actor had no hesitation in kicking the latter to the curb, responding, "Jamie Foxx, I would only ditch you because you're like a brother."
And Fox could have been alluding to her former co-star when she opened up about her private life to Oprah Winfrey on the show "Where Are They Now," three years previously. Discussing how she'd frequently fall in love with men quickly and without abandon in her younger years, she reflected, "I had to learn to stop dating little boys ... I had to learn to stop falling in love with a six-pack and a smile! ... I kept dating the same person, over and over. And then finally getting those same results I kind of went, 'Wow, let's wake up.'"
Jamie Foxx walked the red carpet with Leila Arcieri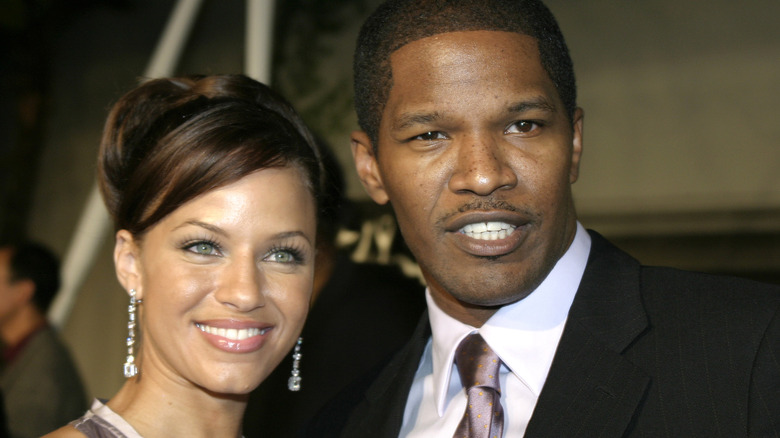 Tinseltown/Shutterstock
Leila Arcieri first found fame shaking her thang in music videos for Q-Tip, Montell Jordan, and Puff Daddy before landing the role of lifeguard Jamaica St. Croix in turn of the century "Baywatch" spoof "Son of the Beach." And in 2004, she became a staple of the tabloids thanks to her relationship with the hottest actor in Hollywood actor at the time.
Indeed, this was the year that Jamie Foxx stole the show from Tom Cruise in the neo-noir thriller "Collateral" and portrayed musical genius Ray Charles in the biopic for which he'd later win a Best Actor Academy Award. In fact, Arcieri was the leading man's date at its glitzy Los Angeles premiere of "Ray." She also has the honor of being one of the few girlfriends that Foxx has talked about in public, with the actor telling People, "I know she digs me because she was there when I was just trying to figure out how to get from point A to point B."
The couple were rumored to have broken up at some point in 2005. Neither party has since made it down the aisle, with Foxx later revealing to E! News that he had little interest in settling down the traditional way, explaining, "The 2.5 children, the wood paneling on the station wagon, and the cottage, I didn't think that was for me." 
Jamie Foxx and Fantasia kissed passionately on stage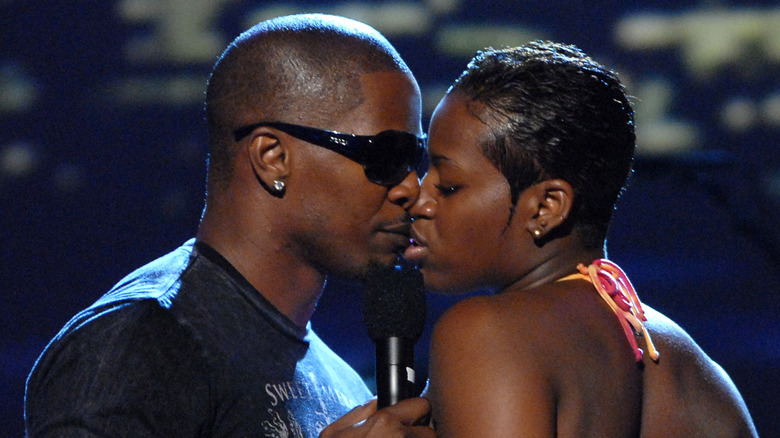 Ron Wolfson/Getty Images
Jamie Foxx has a history of kissing other celebrities live on stage. At the 2009 Spike Guys Choice Award, the "Spider-Man: No Way Home" star locked lips with none other than Halle Berry, parodying the moment when Adrien Brody passionately smooched her after winning the Best Actor Academy Award six years earlier.
In 2006, he and "American Idol" winner Fantasia Barrino decided to follow in the footsteps of Madonna, Christina Aguilera, and Britney Spears by sharing a kiss during a musical performance. On this occasion, it was at the BET Awards while the pair were treating audiences to a unique rendition of Foxx's single "DJ Play a Love Song."
The intimate act appeared to have been pre-planned, but it seems as though Barrino still took Foxx by surprise. "I didn't expect it to be that intense, but I didn't mind it either," he later told MTV. Of course, this intensity sparked rumors that the pair were getting up, close, and personal off stage, too. Later that year, the pair even went on tour together. Still, it remains unknown whether it was purely business or pleasure that brought them together — or maybe even a combination of the two.
Kristin Grannis had Jamie Foxx's second child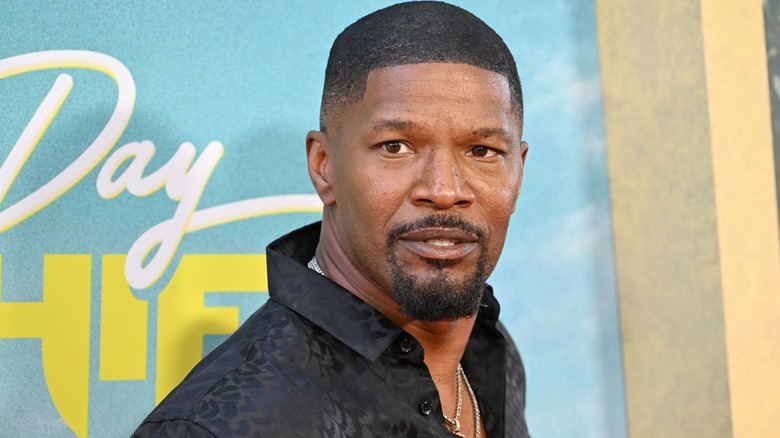 Featureflash Photo Agency/Shutterstock
In 2008, 14 years after the birth of his first child Corinne, Jamie Foxx became a father for the second time when he and his on-and-off girlfriend Kristin Grannis welcomed daughter Annalise into the world. Just like his relationship with his other baby mama Connie Kline, the new parents didn't last the distance but did remain amicable.
Indeed, Foxx and Grannis have regularly been pictured together hanging out both with and without the child they share, particularly in recent years. In the summer of 2020, for example, the exes were spotted enjoying a cozy meal at swanky restaurant Nobu. And just a few weeks previously they were snapped chilling out as a family on Foxx's cruise ship, Django, on Calabasas Lake.
Unsurprisingly, considering how famously private Foxx is about his life away from Hollywood, the pair's connection was only discovered in 2017, by which point Annalise had turned eight. It's not known how long they were together but they were reportedly introduced to each other while Grannis was employed in the PR field.
Stacey Dash went on a date with Jamie Foxx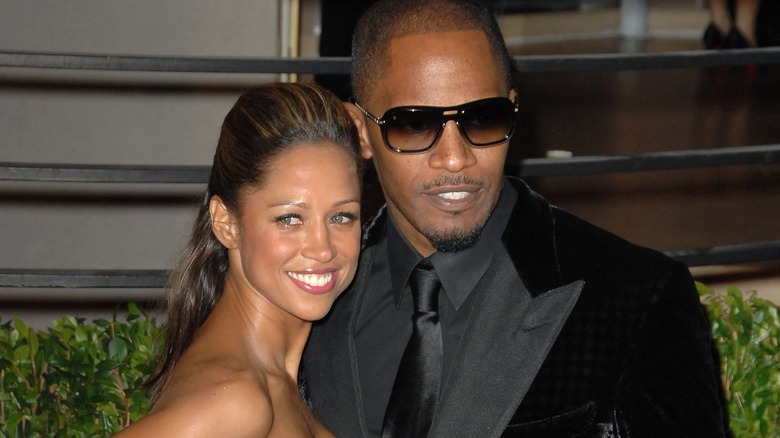 Everett Collection/Shutterstock
In 2011, Jamie Foxx surprised everyone when he attended a post-Oscars bash with fellow actor Stacey Dash as his date. And as you would expect, the outspoken "Clueless" star was keen to tell all about her night with the A-lister. Appearing on "The Wendy Williams Show" (via Rap-Up), Dash explained how she ended up on Foxx's arm. "I did his radio show, 'The Foxxhole,' and after ... he said, 'Do you want to go with me to some parties Sunday night, Oscar night?' I was like, 'Oh, yeah, sure.' And then he texted me and it was for real," she explained.
Dash went on to reveal that Foxx kept her waiting when the car he'd sent to first pick her up arrived at his home. "His family was there. It was all very, very wholesome. A real first [date]." The proud conservative, who several years later would make one of the most baffling on-stage appearances in recent Academy Awards history, claimed that Foxx was the perfect gentleman and that they didn't go past first base. It's not known whether Dash ever got the second date she said she'd be up for, though. However, she did add that they were both fond enough of each other to make it happen. "We're friends," she told Wendy Williams. "... He's a nice guy."
Jamie Foxx and Christina Milian lounged about together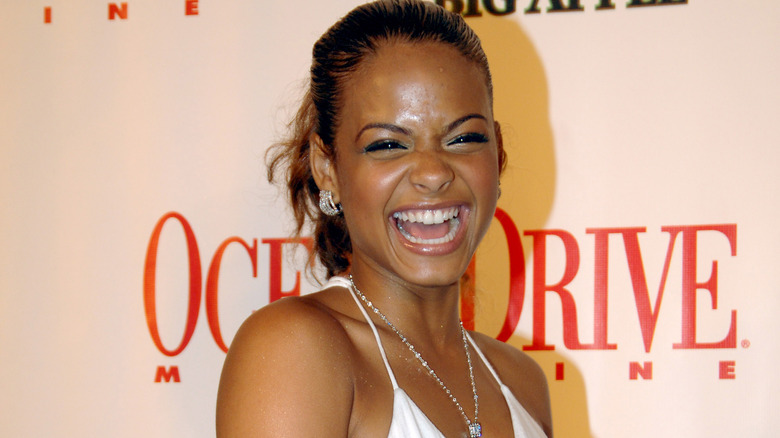 Dimitrios Kambouris/Getty Images
In 2002, Christina Milian's breakthrough hit boasted the catchy chorus, "Somebody hit the lights, so we can rock it day and night. People gettin' down, that's right — from am to pm." And nearly a decade on, the singer proved that she could still live the party lifestyle when she was spotted hanging out with Jamie Foxx.
According to the New York Post, Foxx charmed his way into the "Dip It Low" singer's affections after a two-hour performance at I'm With the DJ, a club night at Vegas joint, Haze. At the time, Milian was reported as wearing a pink outfit that left little to the imagination and had only just separated from her husband, R&B hitmaker The-Dream — and Foxx must have been the perfect tonic. Sources told the outlet that not only did she only leave the venue with the Oscar winner at closing time, but she also spent the next day at the Liquid Pool Lounge listening to music with him.
It's not known for how much longer Foxx and Milian enjoyed each other's company, but they must have remained on good terms. In 2019, the latter was all smiles when she appeared on the former's musical game show "Beat Shazam."
Cristy Rice was pictured kissing Jamie Foxx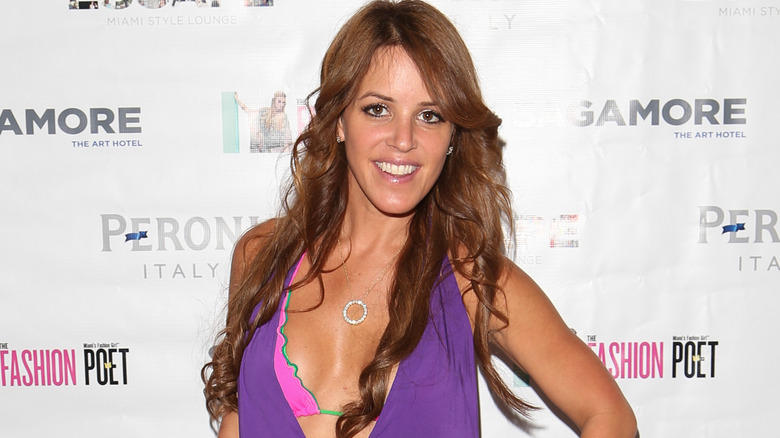 Charles Norfleet/Getty Images
Jamie Foxx appeared to add a "Real Housewives" alum to his dating history in 2013 when he was pictured with the Miami franchise's Cristy Rice. And it was the latter who got tongues wagging when she uploaded a pic of herself hugging the "Robin Hood" star at the South Beach's Delano Hotel.
Furthermore, Cristy took to another social media platform to boast about her latest celebrity encounter. Referring to Foxx's part in the action thriller "White House Down," she tweeted (via Digital Spy), "It's not every day the president kisses you." And the evidence further stacked up when an anonymous insider told Page Six that the pair were engaging in public displays of affection throughout the evening.
This wasn't the first time that Rice and Foxx had been linked, though. Page Six reported that there were rumors the pair were more than just friends in the wake of the reality star's public split from Miami Heat basketball star Glen Rice, five years earlier.
Katie Holmes and Jamie Foxx kept things hush-hush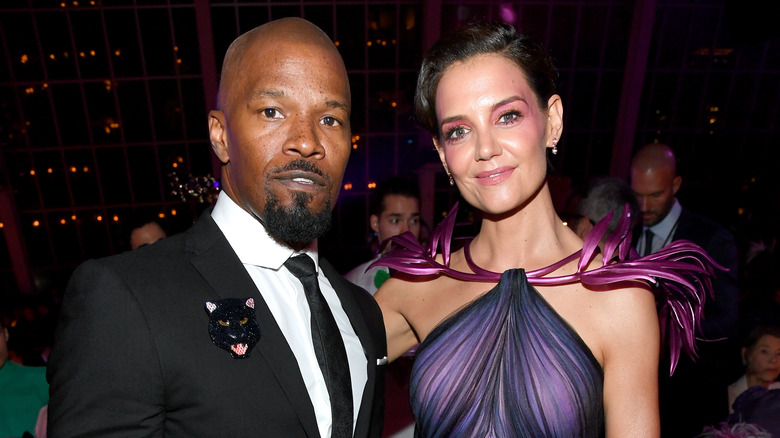 Kevin Mazur/mg19/Getty Images
Here's a celebrity relationship you didn't necessarily see coming. In 2013, romance rumors began surfacing about Jamie Foxx and Katie Holmes, the ex-wife of his "Collateral" co-star Tom Cruise, after they had been seen dancing together at a charity function in the Hamptons. The "Django Unchained" star initially told ET (via the Mirror) that there was nothing going on between them saying, "It's quite hilarious because we simply danced at a charity event along with a lot of other people." However, the rumors persisted for years — and the couple continued to keep schtum regarding their relationship status.
In a 2016 episode of the "Allegedly" podcast, Foxx's "Real Housewives of Atlanta" pal Claudia Jordan let slip that yes, the pair were officially an item. However, she quickly backtracked her statements, telling ET that she'd never seen the two together. "I don't have the knowledge of this [relationship] being fact," she said. "I misspoke." But they didn't keep things entirely on the down-low. In 2017, they were snapped at Foxx's 50th birthday bash, sat next to each other at a pre-Grammys party, and were spotted holding hands on a Malibu beach.
In 2019, they finally posed for an official photo together at the Met Gala in New York (above). Sadly, just a few months later, Hollywood's most secretive couple was said to have broken up due to irreconcilable differences, long-distance difficulties, or work interference, depending on which tabloid you read. But could there have been another juicier explanation?
Did Sela Vave make sweet music with Foxx?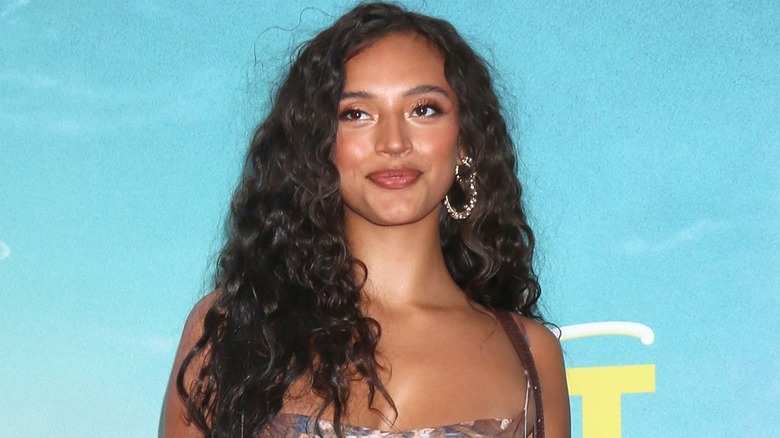 Kathy Hutchins/Shutterstock
The first sign that things weren't particularly rosy in the Jamie Foxx and Katie Holmes camp came when the former was pictured hitting the town with aspiring vocalist Sela Vave, in August 2019 — just weeks before news of Holmes and Foxx's breakup was spread. The pair were even snapped holding hands as they left Los Angeles nightspot, Bootsy Bellows.
Foxx had already gushed about Vave during an interview on Power 106 FM (via ET), telling the hosts how she impressed him on their first meeting with an acoustic rendition of a remix of Beyoncé's "Crazy in Love." He said, "She wasn't trying to be Fantasia [Barrino] or Whitney Houston. You know how hard it is to play the guitar and be quiet?"
Vave returned the favor on Instagram (via People), expressing gratitude to the "Baby Driver" actor for bigging her up alongside a carousel of monochrome photos of the pair. She wrote, "Thank you so much for everything you do and for believing in me." The fact that Vave was only 21-years-old at the time led some to believe that the fifty-something had succumbed to the same relationship syndrome as Leonardo DiCaprio. 
Natalie Friedman danced with Jamie Foxx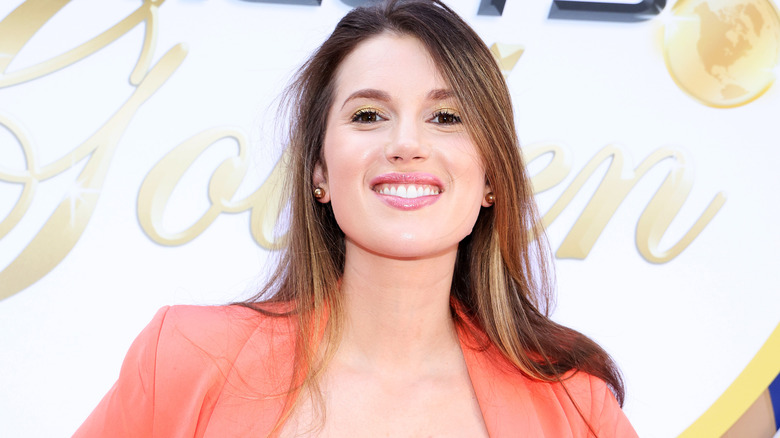 Rodin Eckenroth/Getty Images
Jamie Foxx added to his exhaustive list of rumored celebrity girlfriends in 2019 when he was pictured enjoying the company of comedian Natalie Friedman on several occasions. The pair first made headlines when they were filmed dancing in close proximity to each other in a parking lot following a meal out with friends including legendary producer Quincy Jones.
Friedman is perhaps best known for her hilarious impersonations of Cardi B. And later that week, she and Foxx enjoyed another dinner together at the same hotspot, Catch LA. They were soon spotted hanging out for a third time, on this occasion at a New York club with Lil Kim — who incidentally had also previously been linked with the Academy Award winner in the late '00s.
If that wasn't enough, Friedman also took to Instagram to share a snap of the pair posing at a screening of Foxx's latest acclaimed drama, "Just Mercy." Praising the flick, she captioned the pic, "Incredible film, highly recommend everyone go see it ... Bryan Stevenson is nothing short of a hero."
Jamie Foxx took Dana Caprio out for dinner
Jamie Foxx sure didn't waste any time in getting back on the dating horse. While the nature of his relationship with singer Sela Vave remained unclear, it appeared to be a little more certain that he went on at least two dates with Dana Caprio, a model who also works at SUR, the restaurant owned by reality TV goddess Lisa Vanderpump. Wisely, the pair decided to eat out at somewhere else on the first night they were pictured together, namely Mr. Chow in Los Angeles. Further fueling speculation, Foxx and Caprio also hit nightclub Poppy later that same week, as the latter documented on her Instagram Stories.
A source told E! News that the pair were introduced to each other by a mutual friend but that Foxx was keeping things casual. However, another anonymous insider told the same site that they'd met through the "Jarhead" star sliding into Caprio's DMs. Although it was reported that the pair planned to meet up again, things soon appeared to go quiet on the dating front.
Jamie Foxx partied with Ivana Knoll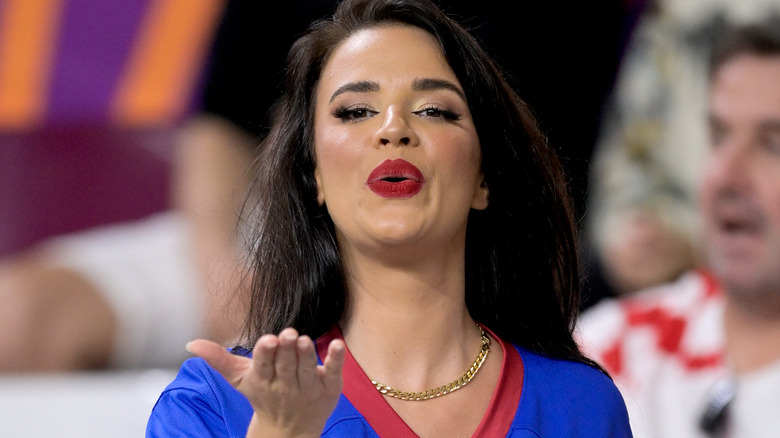 Soccrates Images/Getty Images
Jamie Foxx once again sent the tabloids into overdrive in early 2023 when he was spotted leaving a swanky party with the woman who'd sent countless soccer fans' hearts racing during the Qatar World Cup. Ivana Knoll was dubbed the hottest fan of the quadrennial tournament after being pictured flouting the strict Qatari dress code while attending a match. The former Miss Croatia soon racked up more than three million followers on Instagram and was later spotted partying with hip hop superstar Drake too.
Foxx is another famous face she appeared to have spent some time with. As well as enjoying each other's company at a star-studded bash hosted by Leonardo DiCaprio, the pair had also headed out for a meal together with friends, as Knoll documented on Instagram. However, beyond bringing in the New Year together and keeping the party going throughout January, the two weren't spotted again during the first half of 2023.