Jamie Foxx And Katie Holmes' Relationship Went On Longer Than We Thought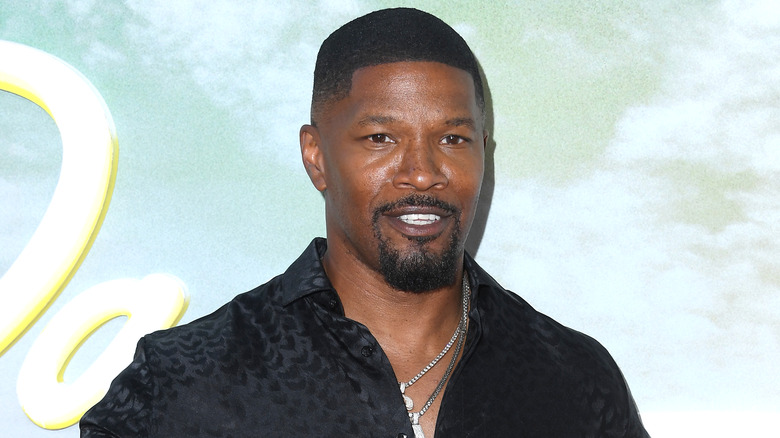 Steve Granitz/Getty Images
Keeping a relationship a secret can be difficult when you're in the public eye, but Jamie Foxx and Katie Holmes made it look pretty easy. Many may be shocked to discover the two dated, but they kept their supposed romance extremely secretive. In fact, their relationship probably went on a lot longer than you may think.
According to Harper's Bazaar, Foxx and Holmes first connected in 2006 when the "Batman Begins" star was still married to Tom Cruise. The two did not reconnect until 2013, when Holmes was seen dancing with the "Collateral" actor in the Hamptons, per People. However, Holmes and Foxx weren't alone as they were accompanied by other big names including Jon Bon Jovi and Pharrell. That didn't stop the speculation of their supposed romance, but, Foxx was quick to deny all the gossip. He told ET, "[The rumors] are 100% not true. In fact, it's quite hilarious because we simply danced at a charity event along with a lot of other people."
But things can change, and in 2015, Foxx and Holmes were spotted holding hands, per PopSugar. Through all the secrecy, their relationship remained strong. In 2017, a source revealed to People, "Jamie is very fond of Katie. They are both very happy." The couple seemed head over heels for one another as their relationship went on for quite some time.
Katie Holmes and Jamie Foxx's relationship ended in 2019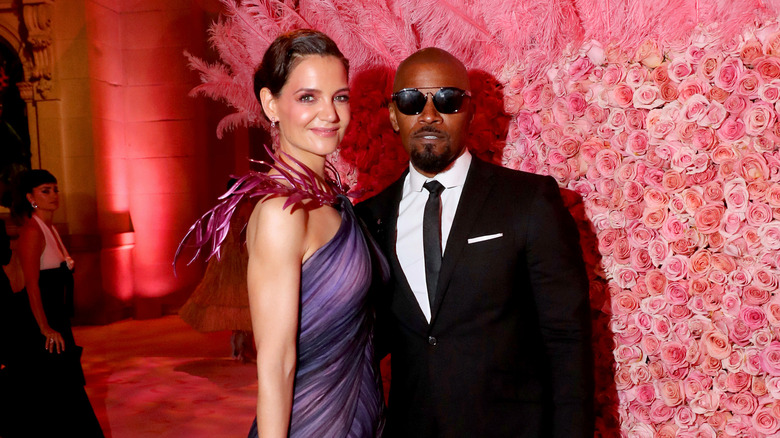 Kevin Tachman/mg19/Getty Images
From 2013 to 2019, Jamie Foxx and Katie Holmes had a relationship. From attending one another's birthday parties to visiting one another on set, the couple spent years in each other's company, per Harper's Bazaar. They did not publically display their romance until 2019. 
That was the year the pair posed together when they attended the Met Gala, per People. Although they didn't walk the red carpet together, Foxx and Holmes seemed to be taking a big step by holding hands and posing for a photo inside. In one Instagram post by Zac Posen, you can see the two laughing and enjoying everyone's company as they headed toward the big event. But the smiles came to an end just a couple of months later when they officially called it quits.
According to Us Weekly, Foxx and Holmes ended their six-year relationship because they ultimately had "different lives." It appears that the "Dawson's Creek" actor was the one to call off their romance as a source gave insight into the reasons behind the couple's breakup. They said, "It has been many years of him stepping out with other women. He's disrespectful and their lives were different. His partying ways don't fit with hers as she's focused on raising her daughter and working." Although neither Foxx nor Holmes spoke on their reported breakup, the pair continue to support one another.
Jamie Foxx and Katie Holmes are there for each other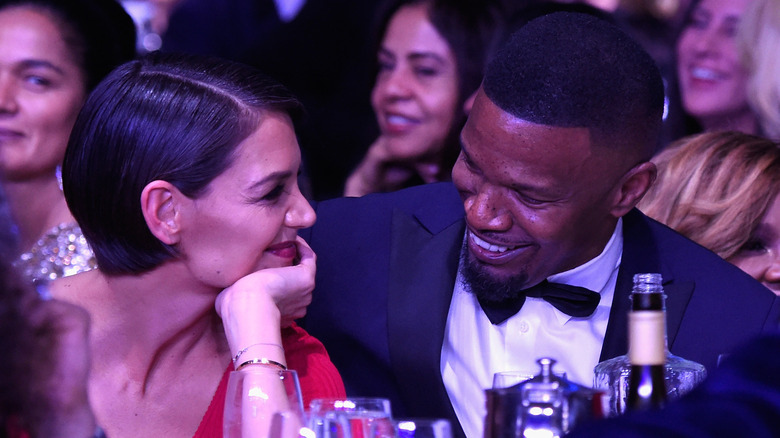 Kevin Mazur/Getty Images
Breakups can either be extremely terrible, or you can come out the other end as better friends. For Jamie Foxx and Katie Holmes, their love remained after their reported split.
When the "Batman Begins" actor began exploring a new relationship with Emilio Vitolo Jr., Foxx was all for the idea, per US Weekly. A source revealed, "[Jamie] is happy for her and wishes her the best. Jamie has moved on and is unbothered by Katie and Emilio's romance." Although Holmes and Vitolo's relationship didn't last, it was nice to see that Foxx wanted her to be in a good place. A source even told the outlet that the "Dawson's Creek" actor saw Foxx as a friend rather than someone who she had a relationship with. That proved to be true when Foxx began experiencing health problems.
In 2023, Foxx was admitted to the hospital after facing a "medical emergency," per TMZ. Although it's unclear as to what health condition the actor is dealing with, people in the entertainment industry have shown their love and support, including Holmes. According to Radar Online, the actor is "deeply concerned" for the "Collateral" star. A source told the outlet, "They spent a lot of time together, and she'll always care about him." Holmes' concern for Foxx makes it clear that no matter what they have been through, they will always be there for one another.