Why You Never Heard Much About Katie Holmes' Relationship With Jamie Foxx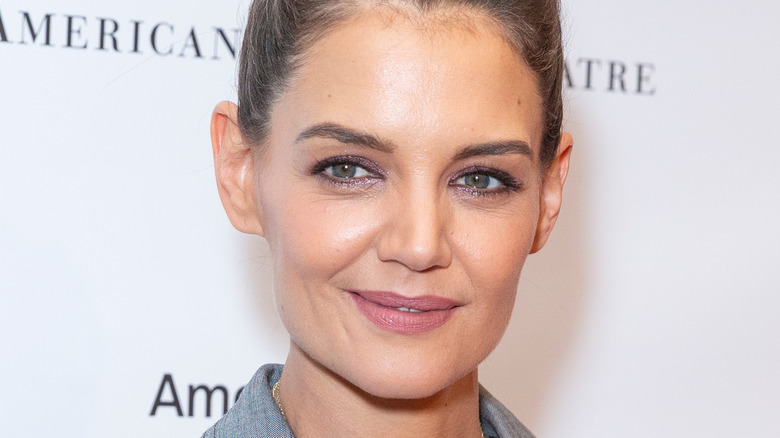 lev radin/Shutterstock
Did you know? Jamie Foxx and Katie Holmes dated for six years! The actors got together in 2013, a year after her divorce from Tom Cruise. Foxx and the "Dawson's Creek" star didn't appear together in public until 2018 when they went to a gala before the Grammy Awards, per ET. The celebrity couple kept it extremely private, although there were unverified claims that the "Ray" star spent time in Holmes' apartment. Despite the romance, it took two full years before solid proof of the A-list lovers appeared. In 2015 ET reported a photo of Holmes and Fox holding hands, finally confirming the couple. A source close to them told People in 2019, "Jamie thinks Katie is an incredible human being. They had a very, very deep connection. They brought each other a lot of joy and laughter."
Harpers Bazaar reported that the "Django Unchained" star and "Batman Begins" star walked their first red carpet as a couple at the 2019 Met Gala six years after they began dating! But the relationship between Foxx and Holmes ended in 2019, with a source telling Us Weekly, "It has been many years of him stepping out with other women." The insider added, "He's disrespectful and their lives were different. His partying ways don't fit with hers as she's focused on raising her daughter and working."
However, it turns out there's more to the story. You might be surprised to learn why you never heard much about Holmes' relationship with Foxx.
Katie Holmes' relationship with Jamie Foxx was kept private due to Tom Cruise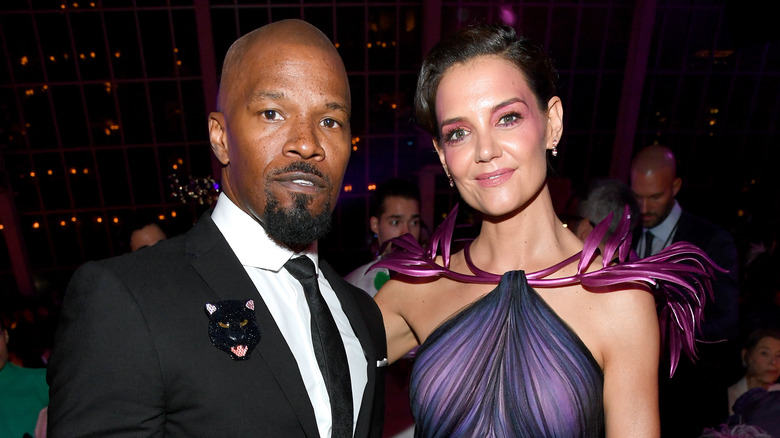 Kevin Mazur/mg19/Getty Images
Here is one stunning reason Katie Holmes' relationship with Jamie Foxx was private:  a clause in her divorce settlement with Tom Cruise in 2012. A source told Radar Online that Holmes could not "publically date" until 2017. The source revealed to Radar Online, "Katie signed a clause in her quickie divorce settlement that prevents her from embarrassing Tom in various ways ... or publicly dating another man for five years after the divorce. She's allowed to date, but she cannot do so in a public fashion." According to the insider, Holmes complied with the terms of the deal, earning millions in child support plus millions for her.
According to Huffington Post, Holmes was chosen as the next wife of the "Top Gun" star with some help from Scientology. Tony Ortega, editor-in-chief of the Village Voice, has covered the Scientology beat for years. Ortega told Huffington Post that "several young women were vetted by the church and 'tried out' as Tom's next wife before Katie Holmes was chosen." A source close to the "Ray Donovan" actor and Cruise told HuffPo that the "Mission Impossible" star was "completely in love with Katie."
But Cruise wasn't the only reason Holmes and Foxx kept their coupledom to themselves.
Other reasons Katie Holmes and Jamie Foxx's kept romance private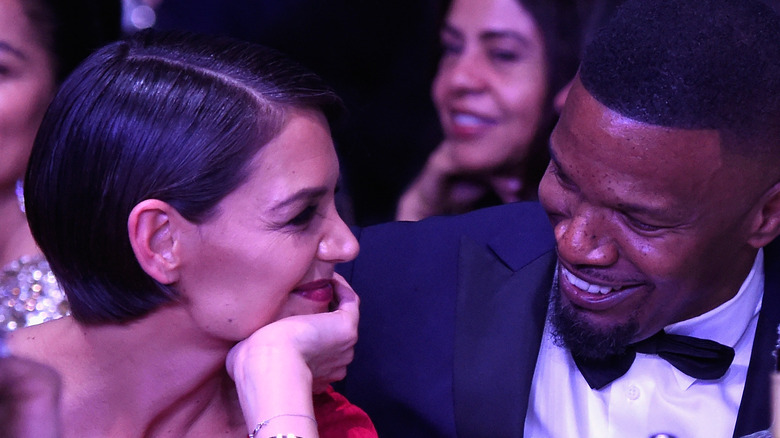 Kevin Mazur/Getty Images
Katie Holmes and Jamie Foxx had an unconventional romance. A source told ET that Foxx and Holmes "never had a typical relationship. They have always been incredibly independent, and their lives didn't revolve around each other." But another reason the two actors were mum about their romance was because of their kids. An inside source told Us Weekly, "They keep it private and protect it for the most part because they don't want to disrupt either of their families. Jamie rarely has her over his house and they mostly hang out separately from their kids." Foxx has two daughters from previous relationships. 
But the "Just Mercy" star and star of "The Kennedys" did do some couple activities with kids. In 2017, the Daily Mail reported Foxx spent the day with Holmes and Suri in California when they visited for a mother-daughter "back to school shopping spree." 
Both actors have moved on after they split in 2019. Holmes has taken a major step with her new boyfriend, Bobby Wooten. "Katie has introduced her boyfriend Bobby to Suri, and Suri absolutely approves of him," An insider told Hollywood Life. "Bobby treats Suri like an adult, which she likes, and Suri thinks it is great to see her mom happy." The inside source revealed that Suri is "all for" her mom's romance with Wooten and that he has come over to the house "countless times."