Naomi Watts And Billy Crudup Both Have Very Public Splits In Their Past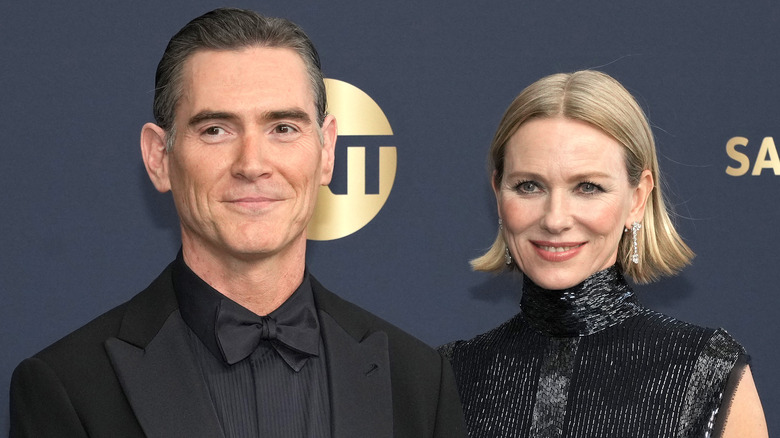 Jeff Kravitz/Getty Images
Naomi Watts and Billy Crudup have been coy at various stages in their relationship, as both have experience dating other well-known actors. The couple was first romantically linked in 2017 after they had worked on the Netflix series "Gypsy" together. "Naomi Watts and Billy Crudup walked in holding hands," an observer told Page Six before the two had become an official item. "Pretty cool seeing two big stars so into each other."
After being together for six years, it appeared the two were ready to tie the knot, as Watts wore what appeared to be a diamond engagement ring. This became a topic of discussion when "The Ring" star appeared on the "Today" show in April. "It's like a big glint coming from some ring over here," Hoda Kotb said, referring to the bling. Watts was asked point-blank if she was engaged, but eluded the question by joking that she had "brain fog."
Prior to dating Crudup, the "Mulholland Drive" actor had an 11-year relationship with Liev Schreiber. The pair had two children together but called it quits in 2016. A year later, Watts seemed in no hurry to settle down with a new beau. "'[Dating] just seems completely frivolous and counterproductive and just not really in my world right now," she told Redbook in 2017, via the Daily Mail. Meanwhile, Crudup had his own long-term celebrity partner before meeting Watts, as he dated Mary-Louise Parker for seven years. That relationship, however, ended in scandal.
Billy Crudup's infamous relationship with Claire Danes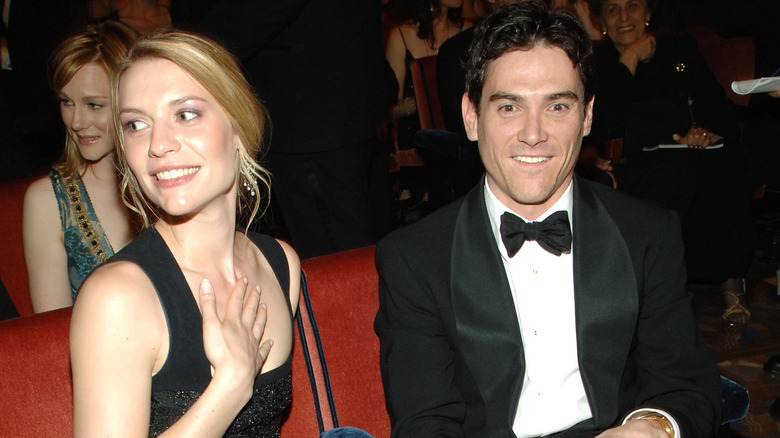 Kmazur/Getty Images
Billy Crudup started dating Mary-Louise Parker in 1996 but left her in 2003 for Claire Danes. What made the split from Parker salacious, was that she was seven months pregnant with their child when Crudup decided to be with Danes — whom he met working on the film "Stage Beauty." Years later, Danes opened up about the scandalous relationship. "I was just in love with him," the "Romeo + Juliet" star said while appearing on "The Howard Stern Show" in 2015, via Entertainment Weekly. "And needed to explore that and I was 24 ... I didn't quite know what those consequences would be," Danes added, referring to the backlash she received then.
In early 2004, Parker gave birth to her and Crudup's son. Although they had an unceremonious breakup, she still named the child "William," after his father. Over a decade later, the "Weeds" actor addressed her breakup with Crudup in her 2015 book "Dear Mr. You," a compilation of various letters written for men throughout her life. In a letter titled, "Dear Mr. Cabdriver," Parker recalled a contentious encounter with a cabbie not long after Crudup had left her. "I am alone. Look, see? I am pregnant and alone. It hurts to even breathe," the "RED" actor wrote, via Jezebel. "I'm trying to get through it but I'm by myself every night and every morning and no one, nothing helps," Parker added. 
Unfortunately for Crudup, his relationship with Danes did not have a happy ending either.
Naomi Watts remained on good terms with Liev Schreiber
A few years after Billy Crudup left Mary-Louise Parker for Claire Danes, the "Homeland" star ended things in 2006. Per rumors that appeared in multiple publications at the time, Danes became romantically involved with Hugh Dancy — while she was still with Crudup — after the pair worked together on the film "Evening" together. That relationship did last however, as the two tied the knot in 2009.
As mentioned, before becoming romantically involved with Crudup, Naomi Watts had a public relationship with Liev Schreiber which fortunately came to an amicable end. "We have huge love and respect for one another, and high hopes for it to remain that way going forward," Watts and Schreiber said in a joint statement after their split in 2006, per People. That statement was not simply PR-speak, as the former couple remainded on good terms as they co-parented their two children post-breakup. Watts and Schreiber spent time together during the COVID-19 lockdowns in 2020. On Mother's Day that year, the "Birdman" actor uploaded a video of her dancing alongside Schreiber and their two kids. 
In June 2022, Watts and Schreiber attended the middle school graduation of their oldest child. Not only did the former couple both show up for the event, but they brought their respective partners, as Crudup and Schreiber's long-term girlfriend Taylor Nielsen were also in attendance. Watts even uploaded a selfie of the whole group at the graduation.