Chrissy Teigen's Years-Long Feud With Donald Trump Started Before His Presidency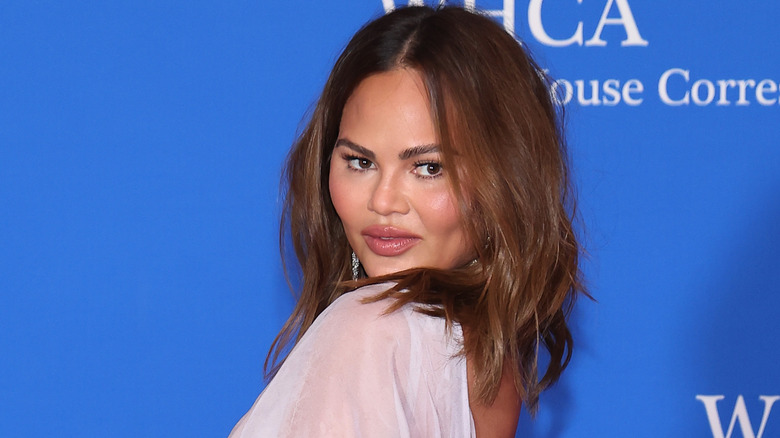 Paul Morigi/Getty Images
It is a truth universally acknowledged that former President Donald Trump has a penchant for instigating beefs with pretty much everyone. But his more entertaining feuds happen to be the ones that involve Hollywood folks.
Case in point: at the 2018 Tony Awards, Robert De Niro got up on stage and uttered a phrase that garnered him a standing ovation. "F*** Trump!" he said. In true Trump fashion, the business mogul took to Twitter (where else?) to express his disappointment, and went on to call De Niro "a very low IQ individual" who has "received to [sic] many shots to the head by real boxers in movies." Even Meryl Streep wasn't immune to Trump's insults. When the multi-Oscar winner called out Trump at the 2017 Golden Globes for mocking a reporter with a disability, Trump took it personally and retaliated, tweeting that Streep is "one of the most over-rated actresses in Hollywood," even though Streep's speech never mentioned Trump's name explicitly.
Many of Trump's feuds with celebrities are one-offs and have long been forgotten (just like his Twitter account). His rivalry with Chrissy Teigen, however, has spanned more than a decade and started even before he occupied the Oval Office.
Chrissy Teigen's beef with Donald Trump started in 2011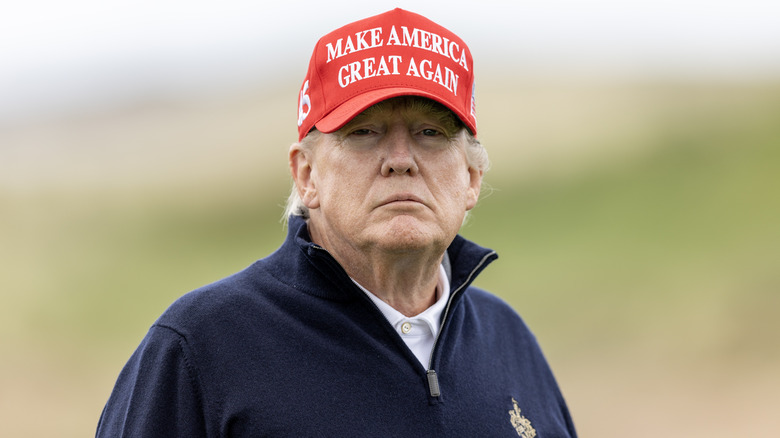 Robert Perry/Getty Images
If there's anything Chrissy Teigen is better at than roasting chicken, it's probably roasting former president Donald Trump. Even before the "The Apprentice" host decided to vie for the presidency, Teigen was already one of his most vocal critics, with her first public diss dating back to 2011. "At the comedy central roast of trump. hands down the best room I've ever been in," she tweeted at the time.
Not long after, Teigen would periodically tweet about her disdain for the real estate tycoon, and let's just say that her statements were borderline unhinged. Exhibit A: "Just realized I am at a Starbucks inside a trump building. I knew it smelled psychotic and racist here," she wrote the same year. The model even boycotted both the Miss USA pageant and Macy's department stores because of their association with Trump. "I never shop at Macy's and I will continue not to if Donald Trump is in their commercials. So. This tweet is pointless goodbye," she penned.
Teigen was truly ahead of her time. She trolled Trump even before it was considered cool. When he withdrew his bid for the presidency in 2012, the "Lip Sync Battle" host reacted with a scathing comment: "trump's statement basically said, 'if i were to run, I would have definitely won.' i used to say things like that on playgrounds." Little did Trump know that was only the beginning, and Teigen would publicly berate him in the years to come.
Chrissy Teigen loves being a Trump troll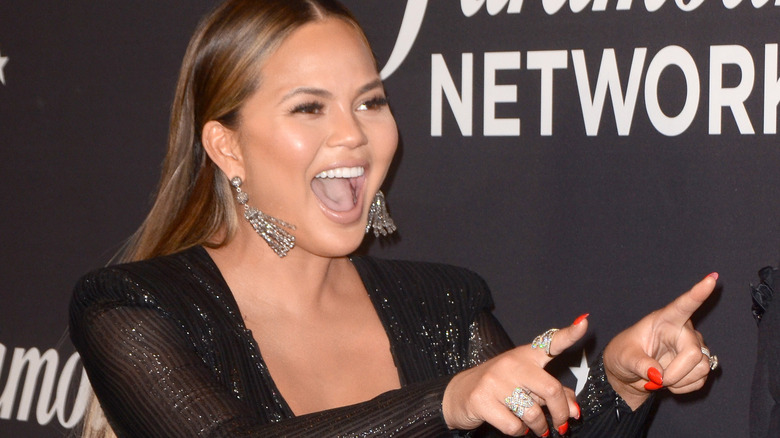 Kathy Hutchins/Shutterstock
Chrissy Teigen basically made it her life's mission to troll Donald Trump to give him a taste of his own medicine and to get under his skin. And apparently, she has fun doing it. "I've actually been a big Donald Trump hater (for a long time). I've been trolling him for about 5 to 7 years now," she told USA Today in 2017. "I've been doing this forever, and I take pride in that." Teigen also explained that her relentless trolling of the former president was just her way of expressing discontent with the way he ran the country. "I can't believe that somebody could actually do this all day everyday and be president," she added. "If I mysteriously go missing in the next four years, that is what happened."
Trump acknowledged her quips at times, and in 2019, he called her "filthy-mouthed." But it's not like she cared anyway. "lol what a p**sy a** b***ch," she responded. "tagged everyone but me. an honor, mister president." And the one tweet that made Trump block her? It's when she reminded him that "no one likes you."
Teigen's tweets about Trump waned when his term ended, but she bid him farewell in the best way possible — through an Instagram post. "Maybe it wasn't such a good idea to have the guy with barely enough well done steak with ketchup fueled brainpower to power a lightbulb who doesn't even know how to close an umbrella run the country," Teigen wrote. "History will not be kind to you, you absolute psychopath. But I never was anyhow."