A Look At RHOA Alum Kim Zolciak-Biermann's Laundry List Of Financial Issues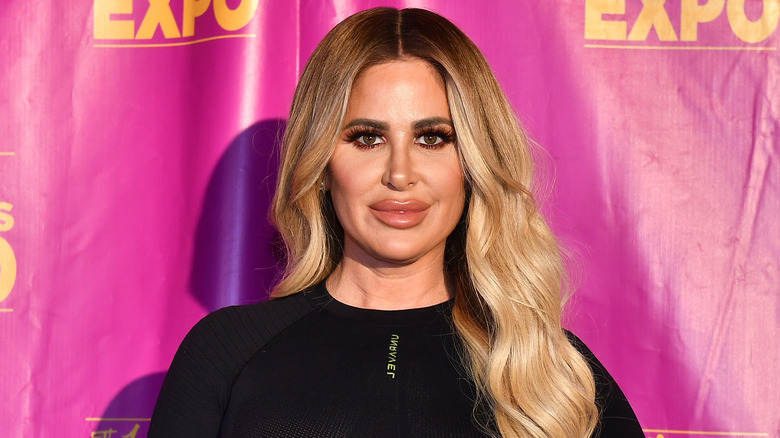 Paras Griffin/Getty Images
The stress of being really tardy for the payments may have caused the demise of Kim Zolciak-Biermann and Kroy Biermann's marriage of 11 years. The pressure had been building between the two for a while, and the shady side of Kim was evident as she scrambled to cover up the dire debt situation. 
TMZ was the first to report that the couple had officially split. According to the legal documents, Kim listed April 30 as their separation date. Kim also states that the marriage is "irrevocably broken" with zero hopes of fixing it. However, Kim is hoping for spousal support from Kroy. Kim also demands primary physical custody of the kids and is asking the court to erase Biermann from her name so she can return to her pre-marital name, Kim Zolciak. 
Whatever you think of Kim — and let's face it, she's definitely a polarizing figure — it's a sorry state of affairs for all concerned. Per People, the former couple shares four biological children: Kroy, Jr., Kash, Kaia, and Kane Biermann. Kroy also legally adopted Kim's daughters, Brielle and Ariana Biermann. However, after years of living way beyond their means with their large family, it's been clear that Kim and Kroy could no longer conceal their financial nightmare, which involves a seemingly never-ending list of demands. So, how did the "RHOA" alum rack up all of these financial problems, and what are they?
Fake it till you don't make it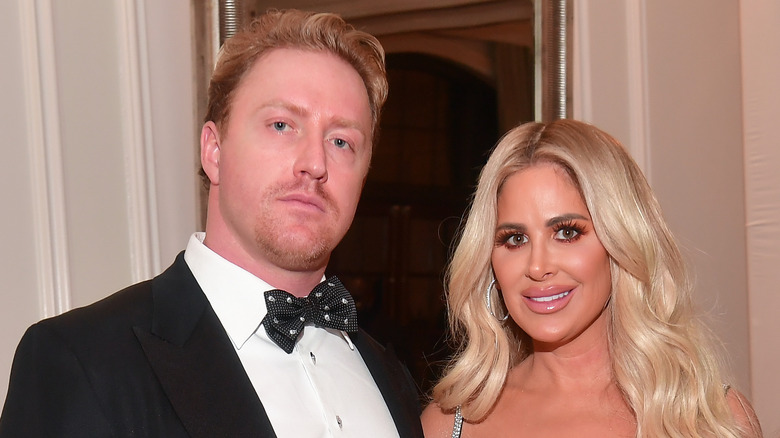 Prince Williams/Getty Images
Kim Zolciak-Biermann and Kroy Biermann have been drowning in the ocean of debt they accumulated. However, you'd never think it at first glance as the "Don't Be Tardy" star and the retired NFL player continued living large. Per People, the couple, who met at a charity gala in 2010, was facing foreclosure on their Georgia mansion after reportedly skipping payments on their $1.65 million mortgage. Thankfully, they managed to wangle their way out of becoming homeless just weeks before the house was set to hit the auction block.
However, instead of thanking her lucky stars and keeping her head down, Kim treated her millions of fans to a tour of her narrowly saved home on her Instagram Stories. Among the many luxuries was a totally pimped-out 90s-style games room with arcade machines along with foosball and air hockey tables. Clearly, Kim spared no expense in decking out the play area, which likely made AmEx very unhappy.
RadarOnline.com reports that, in 2019, American Express National Bank was forced to take Kim to court over a $215,925.90 balance she failed to pay. Kim had buried her head in the sand, ignoring the situation and the bank's constant demands. However, she couldn't any longer after a judge ordered Zolciak to repay the debt in full — minus a $103.22 credit adjustment. And we haven't touched on the really big debts yet.
Soon to be single but definitely not free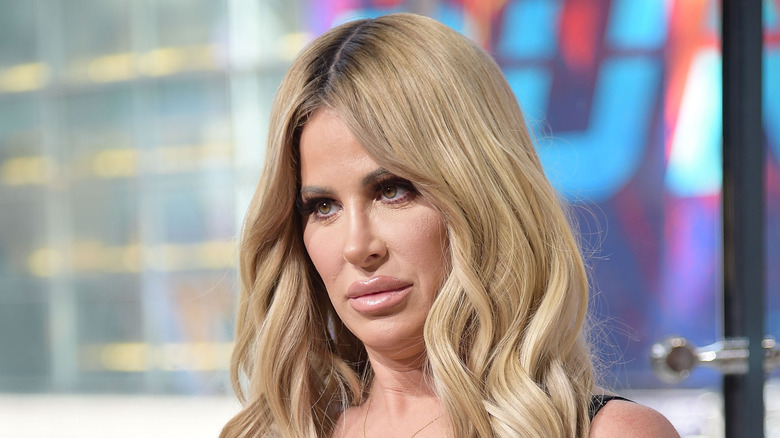 J. Kempin/Getty Images
Kim Zolciak-Biermann and Kroy Biermann escaped the foreclosure on their Georgian mega-mansion by the skin of their teeth. Their next hurdle's going to be a lot harder, though. "In this world, nothing is certain than death and taxes," Benjamin Franklin wrote in 1789 (via Constitution Center). It's as true now as it was then — a lesson Kim and Kroy are learning.
TMZ reports that the couple owes the IRS over $1 million in unpaid taxes. Legal documents filed against the soon-to-be divorcees list that $1.1 million is owed to the IRS in due taxes, penalties, and interest from 2013, 2017, and 2018. Meanwhile, the state of Georgia is also coming after them, albeit for a considerably lower amount of $15,000 in unpaid taxes for 2018.
All in all, Kim will have to sell a boatload of KAB Cosmetics even to scratch the surface. The former reality star must be eating her words now regarding the cancellation of her Bravo show "Don't Be Tardy." Kim insisted it was a mutual decision to end the series in 2021, with a source telling US Weekly she felt it was a positive move in the right direction. "She feels like she's finally free after a 13-year-long relationship to get to do other projects she's wanted to do," they said. Judging by Kim's cameo in the "Real Housewives of Atlanta" Season 15 trailer, freedom's just another word for nothing left to lose.