Faith Hill Rejected Tim McGraw's Marriage Proposal Multiple Times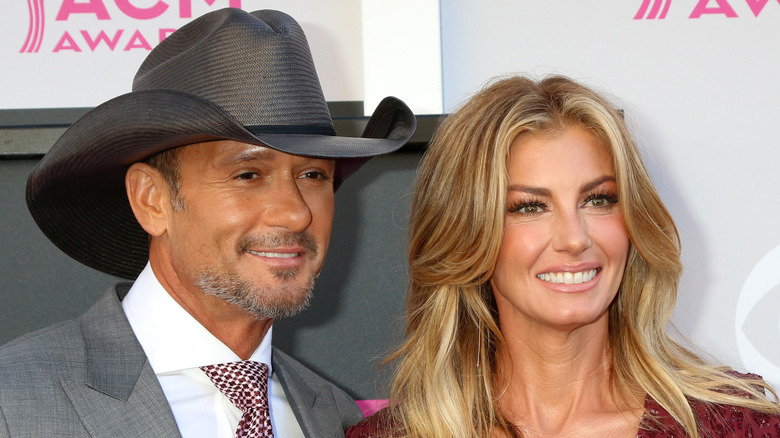 Kathy Hutchins/Shutterstock
It's hard to find a more iconic country music couple than Faith Hill and Tim McGraw. While Hill and McGraw met at a Nashville event in 1994, the country stars fell in love in 1996 when she went on his "Spontaneous Combustion" tour. And they wasted no time. That October, only months into dating they tied the knot. Hill and McGraw also didn't wait to start their family, welcoming their first daughter, Gracie, the following year. The couple had their second daughter, Maggie, in 1998, and completed their family in 2001, with the addition of Audrey.
More than a decade and a half later, Hill and McGraw are as strong as ever. In honor of his wife's birthday in 2022, McGraw thanked his lucky stars for finding her in this lifetime. "My best friend, my soul mate, the love of my life. I can't believe that I get to spend my days and nights with you for the rest of my life!" he captioned the Instagram post. Hill is similarly open about her love for her husband. 
In October 2022, Hill celebrated their 26th wedding anniversary by sharing a cute video to Instagram of them joking together during a joint speech. "I love making my husband laugh, but nothing is more fun than making him do so in public," she wrote. Hill and McGraw's long-lasting marriage has shown they were the right people for each other. But Hill was initially hesitant, going so far as to reject McGraw's proposals. (Yes, plural.) 
Faith Hill wasn't sure about marrying a country singer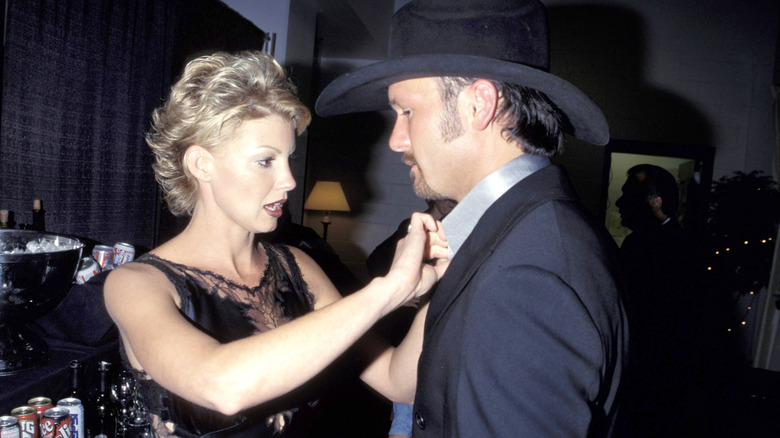 Kmazur/Getty Images
When Tim McGraw and Faith Hill began their relationship, the "Country Strong" star knew right away he wanted to become her husband. Hill was less certain. "We had dated for a while. I actually asked her to marry me quite a few times and she kept saying no," McGraw said in an Instagram video in celebration of their 25th wedding anniversary in October 2021. Her hesitation, however, had nothing to do with how she felt about McGraw.
Hill fell hard for McGraw, but past experiences haunted her. "She said, 'I'm not going to get involved with another country singer, it's just not going to work out,'" McGraw detailed. Hill decided she was going to go for it during one of McGraw's less romantic attempts. They were standing in a trailer housing their dressing room at an outdoor event when he blurted it out. "She says, 'You're asking me to marry you at a country music festival in a trailer house?' And I said, 'Well, it's pretty apropos if you think about it.'"
Hill thought it was just another one of McGraw's silly proposals. "She goes, 'Well, you've asked me that several times.' I go, 'This time I'm serious,'" McGraw said on "The Tonight Show Starring Jimmy Fallon" in May 2022. She didn't answer right away. And she also didn't say "yes." Hill wrote it on the trailer's mirror with lipstick. "We still have that mirror," he said in the Instagram clip. 
Faith Hill left her fiancé for Tim McGraw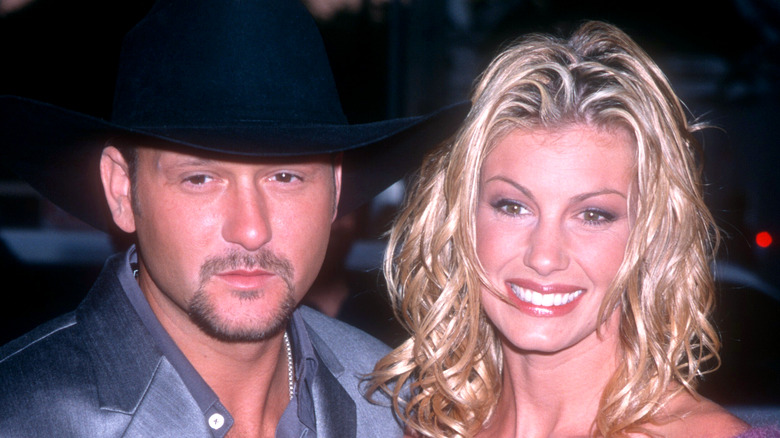 Ron Davis/Getty Images
Faith Hill may have rejected all of Tim McGraw's early proposals, but she felt strong enough about him to call off an engagement just so she could date the country singer. In 1996, when she joined McGraw on that fateful 1996 tour, Hill was engaged to Scott Hendricks, a record producer. However, as soon as she acknowledged her feelings for McGraw, Hill ended the relationship with Hendricks. Hill's move attracted quite a bit of negative press. And she hasn't regretted her decision for one day. 
"If someone is going to judge my character because I was engaged to somebody and then I left him for somebody else ... I can't control that," Hill told People in August 1998. But Hill knew if she didn't take action, she might miss out on the biggest love she'd ever felt. "I wasn't about to let Tim slip through my hands," she argued. When Hill first met McGraw two years before falling for him, she had just divorced her first husband, Daniel Hill. 
At that time, McGraw was also in a relationship with Kristine Donahue. But after spending time together, the "1883" co-stars knew what they felt for each other went beyond. "We were young and silly and goo-goo-eyed in love," McGraw later told People. All these years later, McGraw still knows better than to take what they have for granted. "I didn't know love could feel so good," McGraw told Esquire in 2021.