Does Tom Cruise Really Know How To Fly Jets?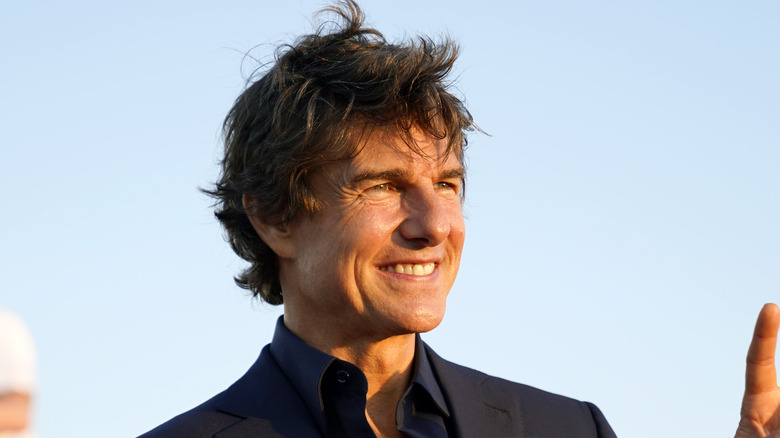 Christopher Jue/Getty Images
Tom Cruise has made headlines for a lot of unique reasons over the years, from his epic on-set rants to his volatile love life, passionate devotion to Scientology, celebrity feuds, and various disturbing truths that fans tend to ignore. Even his passion for aviation has often gotten folks talking, like when he accepted his 2023 MTV Movie & TV Award from a plane, took James Corden for a flight in a World War II P-51 Mustang, and intensified his weird relationship with the royals with a bizarre fly-by message to King Charles on coronation weekend.
Indeed, fans will know Cruise loves flying, and he's all about doing his own stunts. Remember his climb up Dubai's Burj Khalifa in "Mission: Impossible Ghost Protocol"? Yes, he really was 1,700 feet in the air, hanging by a thin wire. "The whole thing was one, extended, hair-raising moment," director Brad Bird told the New York Daily News at the time. How about that scene in "Mission: Impossible Fall Out" where he's dangling off a helicopter? Yes, he did that too. "It's all Tom flying, 100% of it," stunt coordinator Wade Eastwood told the Los Angeles Times. Most impressive, however, are all of the scenes in which Cruise appears to be piloting various fighter jets, which has left many wondering whether the actor can really fly. We can explain.
Yes, Tom Cruise does really know how to fly
Tom Cruise doesn't just talk the talk — he loves flying, and he really does know how to fly. As he told Conan O'Brien in 2019, "As a little kid, I wanted to fly airplanes, and I wanted to make movies." With his work, he's found a way to combine the two, and many of his films, like "Top Gun: Maverick," are an ode to his beloved hobby. "I'm a pilot myself," he enthused. "I love flying, and I love aviation, so this is also just a love letter to aviation." This is why he demanded that he be allowed to fly an F-14 himself, and the studio agreed. "I went through all the pilot training, and then I filmed three flights in the F-14 in one day — it was a dream of mine," he said.
However, Cruise was flying long before then. He originally got his license in 1994, and as he told WIRED in 2017, he can indeed fly airplanes. "I'm a multi-engine instrument-rated commercial pilot," he explained. What's more, he can also pilot a helicopter and got his license so he could film his dream helicopter sequence for "Mission: Impossible – Fallout." Not too shabby! "I fly aerobatics in that," he shared. "I'm a commercially-rated helicopter pilot also." As the movie's stunt coordinator, Wade Eastwood, told Thrillist, Cruise also underwent stunt training and totally crushed it. "Tom is a great pilot," he applauded.
The military refused to give Tom Cruise access to one special plane
Tom Cruise's flight skills may garner plenty of confidence from his crew, but the US Navy didn't fully share that sentiment. In 2020, Cruise told Empire that when he and producer Jerry Bruckheimer started planning "Top Gun: Maverick," he wholeheartedly opposed the use of special effects and demanded that he be allowed to fly an actual F-18. However, despite being allowed to helm an F-14, Bruckheimer told Empire (via USA Today), "The Navy wouldn't let him fly an F-18." Even so, his skills as a pilot are on full display in the flick. "He flies a P-51 in the movie and he flies helicopters," the producer shared. "He can do just about anything in an airplane."
As for those F-18 sequences, they had to get creative. They agreed to use two-seater F/A-18 Fs instead, so a professional could pilot the plane, the actor could be in the back, and CGI could take care of the rest. As "Maverick" stunt coordinator Kevin LaRosa II told GQ, it was the next best thing. "The beauty is that really is a shot of Tom in the back seat of that F-18, so he is there, being piloted by a genuine naval aviator," he enthused. What's more, Cruise told Channel 4 Sport, he was sort of allowed to fly the plane. "They let me have a stick in the back and a throttle, so there were times where they let me fly in fly formation," he said.