Zendaya Admits To Having One Issue In Her Relationship With Tom Holland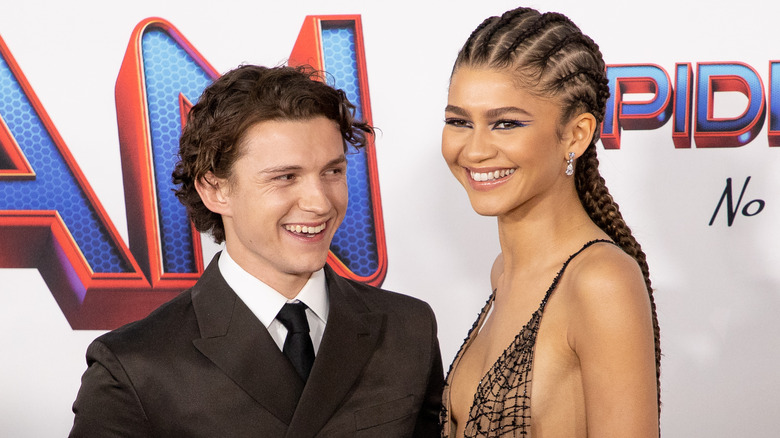 Emma Mcintyre/Getty Images
The only couple more perfect than MJ Watson and Peter Parker (or fine, Spider-Man) is the couple behind their characters: Actors Zendaya and Tom Holland. The two had the classic friends-to-lovers story, and we wouldn't have it any other way — but there was one issue.
Before they were attached to the hip via spider webs, the lovebirds were the best of friends. They started as co-stars in the "Spider-Man" films, and their professional relationship evolved into something more. "I didn't really know what to expect with Zendaya, but I was excited to see what she was like, and I was so surprised and so happy," Holland told The Hollywood Reporter of the first time they met. "She's one of the most professional and hardworking people I've ever met in my life." Zendaya, of course, gushed about him, too. "He's so nice. He's one of the nicest people I think I've ever met. He's just a good dude, so it's really good thing to see good things going on for a good person." It wasn't until September 2021 that they made their relationship public (via an Instagram post, no less), and now, we can't ever imagine them being apart.
Between the witty banter, constant holding of hands, and Holland's seemingly innate talent in bringing out the "Zendaya laugh," the so-called TomDaya is, by all accounts, perfect. If Zendaya could pinpoint one setback in their relationship, though, it's that she and her boyfriend have a disconnect when it comes to British slang.
Zendaya has trouble understanding British slang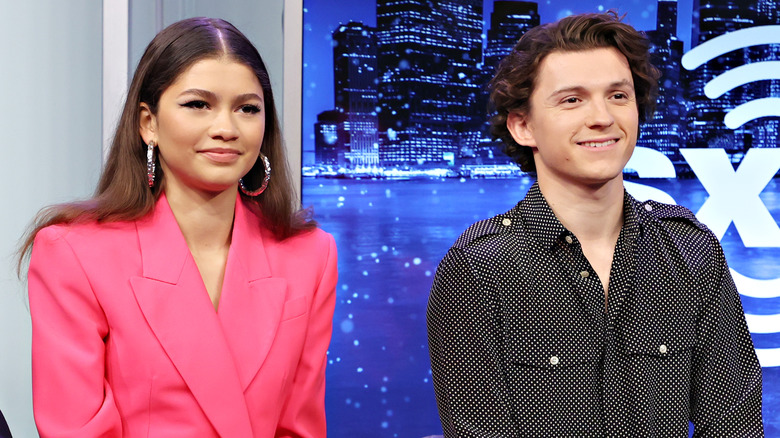 Cindy Ord/Getty Images
Zendaya is an all-American girl, while Tom Holland is a full-blown Londoner. They had starkly different upbringings and understandings of culture, so at times, Zendaya admits to having difficulty gettings to grips with what Holland says — at least when he churns out British slang.
"I love the ­British accent, but as much as Tom tries to explain it to me, I will never understand rhyming slang," the "Euphoria" star told The Sun. While she says she understands the meaning behind some of the expressions, she can't wrap her head around why they came about in the first place. "It's cute when he tells me all the different phrases — but I really don't get it! Like I understand the concept — but what do apples and pears have to do with stairs?" Still, she can't help but adapt the British twang from Holland, telling the Evening Standard that when they're together for a long period, she finds herself speaking with a "British inflection." She also admitted to adding some British slang to her repertoire, including "funny wunny" and, well, the C-word.
Meanwhile, Holland shares the same frustration about the American culture with millions of British folks out there. He, too, doesn't understand the point of American football. "I just will never understand why it's called football, 'cause they don't use their feet," he said in a LADBible feature. "I just don't understand why it's called football."
Did Zendaya move to London for Tom Holland?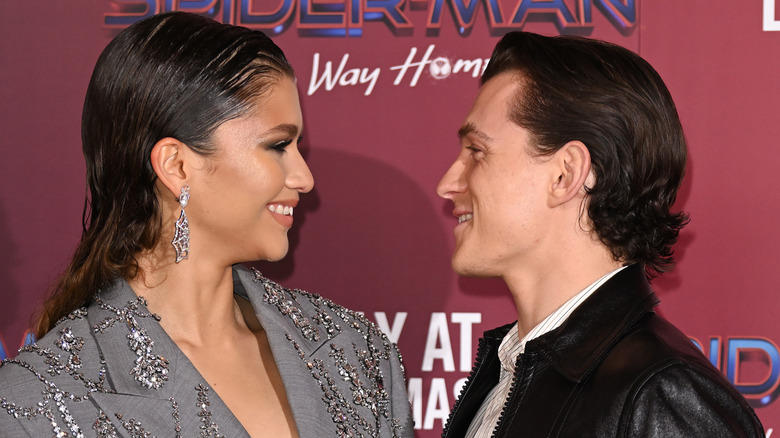 Karwai Tang/Getty Images
Zendaya may not understand British slang, but reports say she's well on her way to becoming a Londoner anyway. In January 2022, Mirror reported that Tom Holland purchased a £3 million ($4 million-ish) house in London so the two could have a home base together whenever they visit his hometown. Apparently, he outfitted the property with state-of-the-art security tech, too. "Tom has made it clear he wants hi-tech security all around the premises, starting with an 8ft steel security gate on the drive," a source told the outlet. "He was also very specific about his man cave and the cinema room."
But Holland was quick to squish the rumors, clarifying that he didn't acquire any new property at that time. "I have had so many people call me up because apparently, I bought a new house in South London. Which is completely false!" he said in a "Live with Kelly and Ryan" appearance a month after the initial reports surfaced. "I was like, 'Wow! What a surprise! I wonder when I'll get the keys.'"
And while they don't have a London home (at least not yet), Zendaya previously hinted that they're already shacked up. In Los Angeles, maybe? "He is really good in the kitchen, which is fortunate as I am really accident-prone," she shared with The Sun. "We learned early on that only one of us could be in the kitchen at a time, we are both control freaks so we can't be in there together."