Hallmark Star Michael Rady Has A Little-Known Connection To Meghan Markle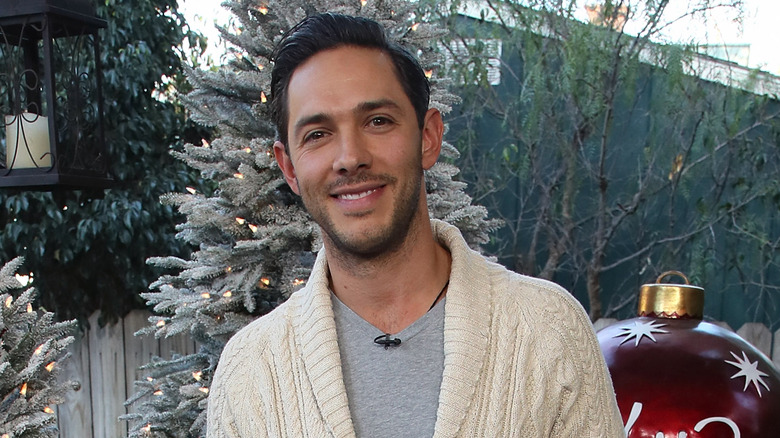 David Livingston/Getty Images
The starting points of Meghan Markle and Michael Rady's career trajectories are vastly different. The Duchess of Sussex got little screen time when she played a nurse on two episodes of "General Hospital" in 2002. Rady, meanwhile, kicked off his career with a much larger role in the 2005 dramedy "The Sisterhood of the Traveling Pants." In the enduring classic, he plays Kostas, the love interest of Alexis Bledel's character, Lena.
In an interview with My Devotional Thoughts, Rady revealed that he booked that first huge Hollywood gig after a failed audition for a stage show in London. While he missed out on the opportunity to launch a career in theater, he managed to impress a New York casting director, who offered to help him find a good agent. Before Rady knew it, he was jetting off to Santorini, Greece, to film with Bledel, Blake Lively, Amber Tamblyn, and America Ferrera. It would still be a few years before Meghan finally got her big break — a starring role in the USA Network's "Suits." She appeared on the show from 2011 to 2018, and her final episode marked the end of Meghan's acting career; she gave it up to marry Prince Harry.
By the time Meghan became the Duchess of Sussex, Rady had become a Hallmark star. He'd also appeared in a number of television series and a low-budget movie that just happened to feature Meghan herself in a supporting role.
Meghan Markle and Michael Rady's racy scene
Ahead of Meghan Markle and Prince Harry's 2018 wedding, a 2013 rom-com starring Meghan was re-released in the U.K. The film, "Random Encounters," also stars Michael Rady and Abby Wathen as Kevin and Laura, two people who feel an instant connection after a — you guessed it — "random encounter." They spend the rest of the movie trying to reconnect while knowing almost nothing about each other. Meghan plays Mindy, Laura's close friend and roommate. She's a queen of the party scene and a certified player who acts as her bestie's wingwoman. After having a random encounter of their own, Mindy and Kevin wind up in bed together. However, Kevin can't stop talking about the mystery woman who has a hold on his heart (and whose room is just down the hall!), making Mindy yawn as she's in the process of removing his pants.
Rady spoke about the movie in a 2019 Media Village interview. "That's my biggest claim to fame and biggest contribution to the globe," he joked. "There was a pretty sensual scene that I now find hilarious." While Rady didn't get to know Meghan very well during their brief time working together, he said, "She was so sweet and lovely. ... Watching the circus that surrounds her now is interesting." Rady also noted that Meghan scored a prominent spot on the movie's cover when it was re-released; her head is the size of Rady and Wathen's entire upper bodies.
Michael Rady and Meghan Markle are both Hallmark stars
There are a few similarities between Meghan Markle and Michael Rady's résumés. They've both appeared in episodes of "Castle" and "CSI: NY," and they're both Hallmark Channel alums. Meghan starred in two of the feel-good network's films, "When Sparks Fly" and "Dater's Handbook," while Rady is one of its most in-demand leading men. His Hallmark credits include "Christmas Bow," "Two Turtle Doves," "You're Bacon Me Crazy," and "Christmas in Homestead."
In 2023, Rady explained to Media Village what he finds so appealing about filming Hallmark movies. "You're working with good people, and the fans are so effusive and wonderful," he said. Meghan also praised the network in an interview for the Hallmark Channel website. "It keeps it really light and easy and makes everybody feel good," she said. "At the end of a long day, that's what I want to watch."
Meghan and Rady have something in common besides their acting careers. In an interview with Phillyburbs.com, Rady revealed that one of his favorite hobbies is calligraphy, and Meghan told Esquire that she actually worked as a freelance calligrapher before she began making enough money from acting to pay the bills. If Meghan ever returns to acting, here's to hoping that she and Rady co-star in a Hallmark movie about a small-town calligrapher whose business is threatened by a greeting card conglomerate — until he helps its overworked CEO rediscover her love of handwriting thank-you notes.