Meghan And Harry Admit The Truth About Their Secret Wedding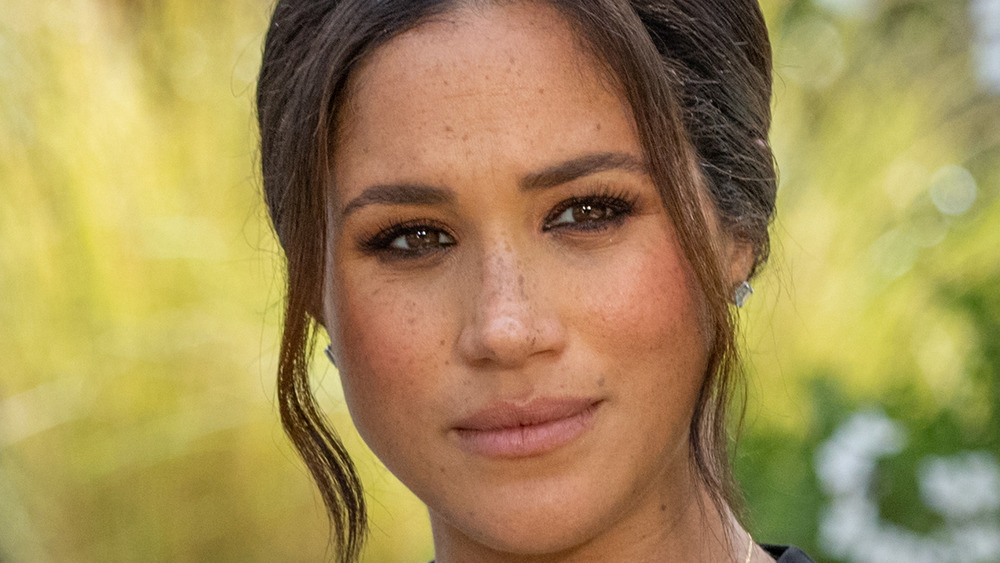 Handout/Getty Images
When Meghan Markle and Prince Harry's interview with Oprah Winfrey aired on March 7, 2021, many explosive pieces of information came to light. From Meghan revealing her struggle with depression and suicidal thoughts during her time as a senior royal to someone in the royal family expressing concerns about what color Archie's skin would be when he was born, many viewers found themselves with their jaws dropped for the two-hour sit-down interview.
Meghan also talked to Oprah about the royal wedding, sharing that the media story claiming she'd made Kate Middleton cry was false. In fact, she alleged that the opposite was true. "A few days before the wedding, she was upset about something — yes, the issue was correct, about the flower girl dresses — and it made me cry and it really hurt my feelings," Meghan explained (via CBS News). She continued, saying that her sister-in-law felt remorseful about the situation, so she sent her flowers and wrote a note apologizing. "If you love me, you don't have to hate [Kate], and if you love her, you don't have to hate me," the former Suits star said.
This wasn't the only big reveal about the royal wedding. Meghan told Oprah that the couple actually got married a few days prior to the ceremony at Windsor Castle on May 19, 2018. So, why is this being refuted? Did the pair really get married before the day the world followed along? Read on to find out.
Meghan and Harry admit their backyard wedding wasn't legal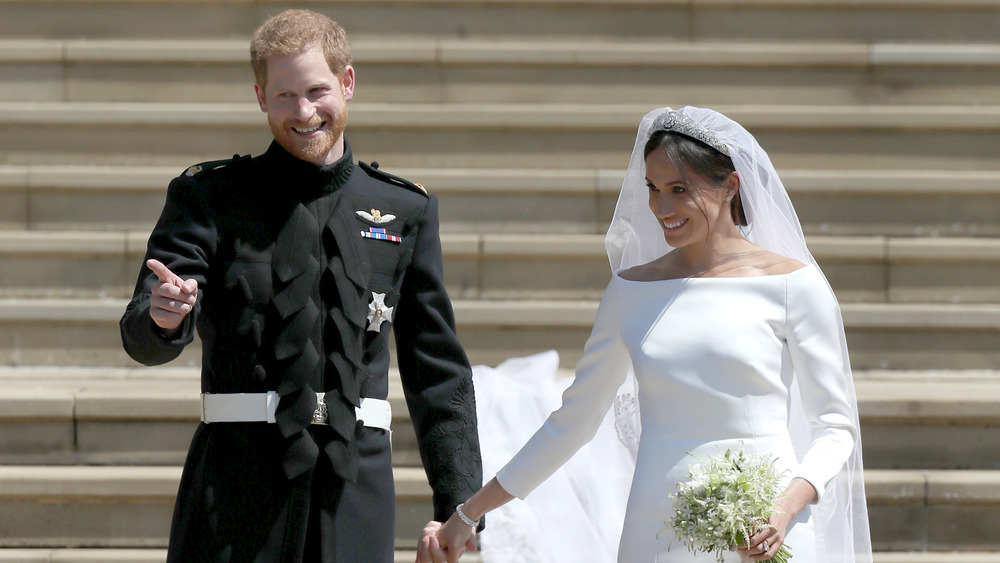 Wpa Pool/Getty Images
Meghan Markle told Oprah Winfrey during their interview that she and Prince Harry got married in their backyard three days before their televised, star-studded wedding. This claim was refuted after The Sun obtained a copy of their marriage license. The date on the license lists May 19, 2018, as their legal wedding date. Per the Daily Beast, a spokesperson for the couple revealed that "the couple exchanged personal vows a few days before their official/legal wedding on May 19 [2021]."
Stephen Borton, the former chief clerk at the Faculty Office who helped the couple draw up the special license to get married in St. George's Chapel, told The Sun Meghan was "confused and clearly misinformed," adding, "They did not marry three days earlier in front of the Archbishop of Canterbury." Borton did elaborate, however, explaining, "What I suspect they did was exchange some simple vows they had perhaps written themselves, and which is fashionable, and said that in front of the Archbishop."
Meghan told Oprah the vows from that day in their backyard are framed in their bedroom. Despite it not being constituted as "legal" or "official" in the eyes of the Church of England or the law, Meghan and Harry clearly see their secret backyard wedding as a very occasion for the two of them. "This spectacle is for the world, but we want our union for us," she told Oprah (via CBS News).