Body Language Expert: Ben's Red Carpet Frown Has 'Nothing' To Do With Jen - Exclusive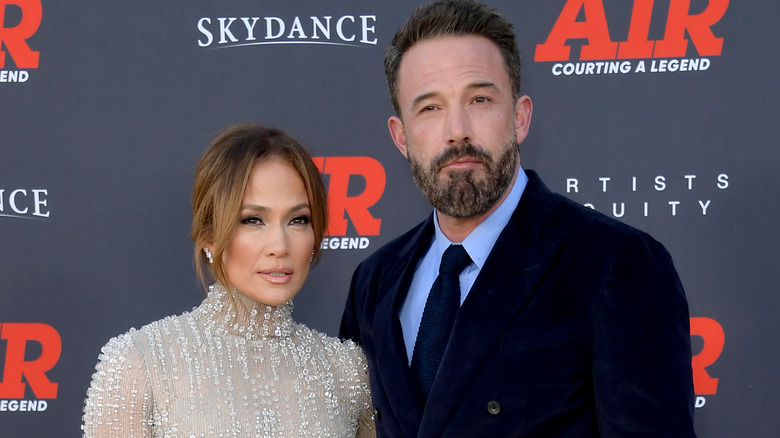 Unique Nicole/Getty Images
Ben Affleck can't seem to catch a break. Memes are scouring the internet of Affleck's latest outing with his wife, Jennifer Lopez, and fans are wondering if there's real trouble in paradise.  
Now, the "Argo" actor is no stranger to having headlines surrounding his facial expressions while attending events. In February 2023, the internet pointed out the actor looked incredibly miserable while attending the Grammys with Lopez. During the show, a camera captured a moment between the couple that appeared as though they had gotten in a bit of a tiff. The entire night, Affleck didn't look like he was enjoying the show as he solemnly sat in the audience. Fast forward to May 2023, the happy or maybe not-so-happy couple was out in Los Angeles when a video captured Lopez and Affleck heading toward their car, per Page Six. The "Gone Girl" actor looked unhappy as he opened the door for his wife, and even seemed to slam the door on the singer. 
While Affleck has addressed some of his miserable-looking behavior to The Hollywood Reporter, his latest outing only seemed to fuel the rumors that he is unhappy with Lopez. The couple was attending the premiere of Lopez's film, "The Mother," when it seemed like they got into an argument on the red carpet. The video of the two "arguing" went viral and convinced fans that Affleck is miserable. But, in an exclusive interview with Nicki Swift, Jess Ponce III, body language expert and author of "A.W.E.S.O.M.E," revealed that he doesn't think so.
Body language expert says Jennifer Lopez had nothing to do with unhappy Ben Affleck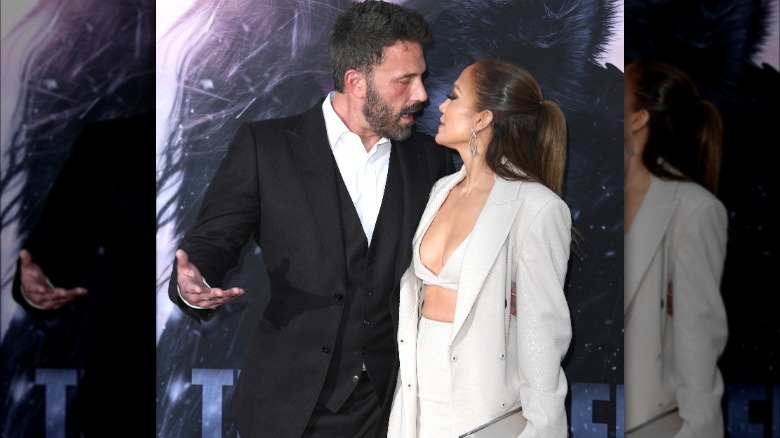 Steve Granitz/Getty Images
Although the internet might think Ben Affleck is unhappy in his relationship with Jennifer Lopez, that doesn't seem to be true. The actor may just need to get a full 8 hours of sleep. From Affleck's appearance, body language expert Jess Ponce III thinks he simply needs rest. Ponce exclusively told Nicki Swift, "Ben's 'unhappy' demeanor has nothing to do with Jennifer. He is tired. Literally, he's worn out."
The viral video of the couple supposedly "arguing" proved to Ponce how tired the "Air" actor is. "You can see it in his eyes. From his slow, forced movements to his physical effort to be in this moment, he looks exhausted," Ponce explained. "This may be initially from whatever he just did, but it may be also from the continuous spotlight on their relationship." With the crazy life the couple lives, it's not surprising that Affleck would be drained.
In fact, when the "Air" actor went viral for his "unhappy" demeanor at the 2023 Grammys, a source revealed to ET that Affleck was worn out. "Jen and Ben had a fun date night out at the Grammys, but they have both been very busy working on several projects, and Ben was feeling tired," they shared. So, Affleck may just need a good nap or a nice vacation to get back to his usual self. Because regardless of what people think, he and Lopez are better than ever.
Ben is committed to Jennifer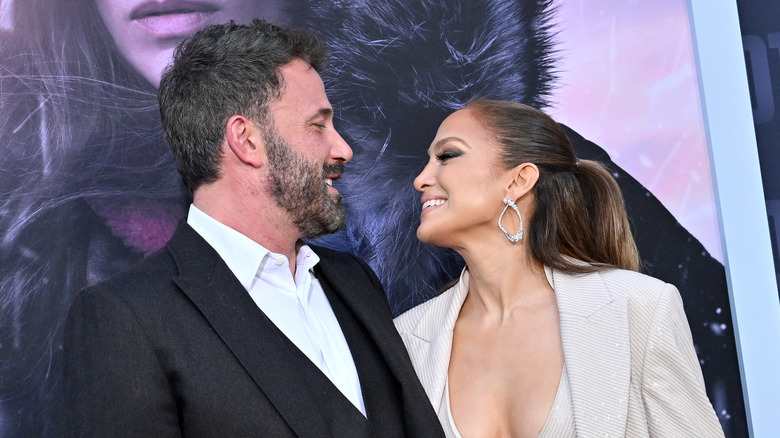 Axelle/bauer-griffin/Getty Images
All the gossip doesn't seem to bug Ben Affleck and Jennifer Lopez, because the couple continue to be head over heels for one another. Even though they were reportedly arguing on the red carpet for Lopez's upcoming film, "The Mother," the couple was also packing on the PDA, per People. Affleck and Lopez shared a sweet kiss on the carpet and were laughing with one another. And according to body language expert, Jess Ponce III, it's events like this movie premiere that show how dedicated Affleck is to his wife.
Ponce exclusively told Nicki Swift, "If anything his willingness to continue to be seen publicly together is a sign of his commitment to her. She thrives on the attention. He doesn't." While other people may not see it, Lopez and Affleck seem to have their own way of communicating with one another. "You can definitely see when he looks at her directly, in a moment between the two of them, that he's totally into her. He's in it to win it," Ponce revealed.
And it's more than just looks. The "Air" actor is constantly showing his love language through physical touch. "He looks directly at her, puts his arm around her, and pulls her into him. Then he continues to talk privately into her ear," Ponce shared. "Whatever is being said you can tell it's him cluing her into something." Affleck's facial expressions may not always show it, but it's evident that he's in love with Lopez.